The team reviving Omaha's Blackstone Hotel is working to bring back historic and charming elements, down to the tree rising out of the reincarnated Cottonwood Room bar.
"We are making every effort to recreate as accurately as possible the look and feel, the grandeur of its heyday," said Tom McLeay of Clarity Development.
Clarity is partnering with GreenSlate Development on the $75 million effort to transform the building to its original use. The restoration calls for a newly constructed west wing, 205 guest rooms, a steakhouse and about 11,000 square feet of meeting space.
This week, the development team released new renderings of the future venue, including the resort-style swimming pool and top-floor Grand Ballroom.
An epicenter of social life for the Gold Coast elite in its day, the hotel at 302 S. 36th St. also featured rooftop gardens and the Orleans Room restaurant. Locals say the Reuben sandwich was invented at the Blackstone.
Sign up for World-Herald news alerts
Be the first to know when news happens. Get the latest breaking headlines sent straight to your inbox.
The team also announced this week that the hotel, set to open in spring 2020, will carry the flag of Kimpton Hotels & Restaurants. McLeay said the property will still be owned by the two Omaha development firms and investors that led the revival of the larger Blackstone commercial district in midtown Omaha.
Attaching to the Kimpton brand, which is in the family of InterContinental Hotels Group, gives the hotel access to a rewards program and expertise, McLeay said.
Mike DeFrino, chief executive officer of Kimpton, said the Blackstone will be the first hotel in the state to carry the brand.
"Adding Omaha alongside other Kimpton cities like Chicago and Milwaukee strengthens our presence across this part of the country and is key to our continued growth," he said.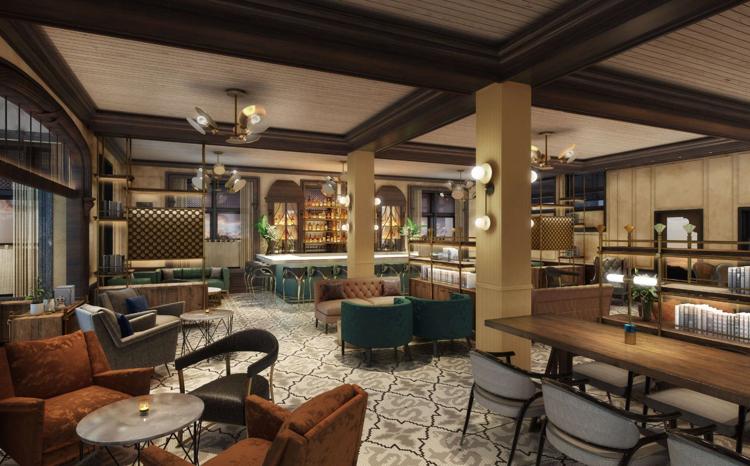 McLeay said Kimpton is a good fit, as the brand is known for letting hotels shine with their own personal and local identity.
What the exact name of the Blackstone will be when it opens has yet to be decided, he said.
Leo A Daly and DLR Group are leading the architecture and interior design process in partnership with Kimpton's design team. The property will be managed by Pivot Hotels & Resorts, a division of Davidson Hotels & Resorts.
McLeay said the hotel restoration is moving at "full-bore" and that among this week's discussions was how best to recreate the Cottonwood tree in the room that bears its name.
He said he just booked the hotel's first wedding, for September 2020.