The year was 2002, and Chuck Olson nervously signed a long-term lease putting his fledgling team in new office space in what then was frontier land near 175th Street and West Center Road.
The chief executive wondered: Would OCI, then just a handful of employees, grow into the space?
Would anyone move into the vacant lots around them?
Indeed, the broader area bloomed. The staff of the Omaha-based insurance brokerage operation has since grown eightfold — tipping to where it now needs a new and larger home.
The planned shift to a $13 million headquarters set to rise northeast of 204th Street and West Maple Road, in a pocket largely bereft of commercial bustle, has evoked familiar feelings for Olson.
"You're always nervous," said Olson, calling himself an insurance agent, not a land developer. "This is a huge project; again, way out there."
Still, the move up is a challenge he and his workforce, projected to grow another 50 percent in the next four years, are excited to take on.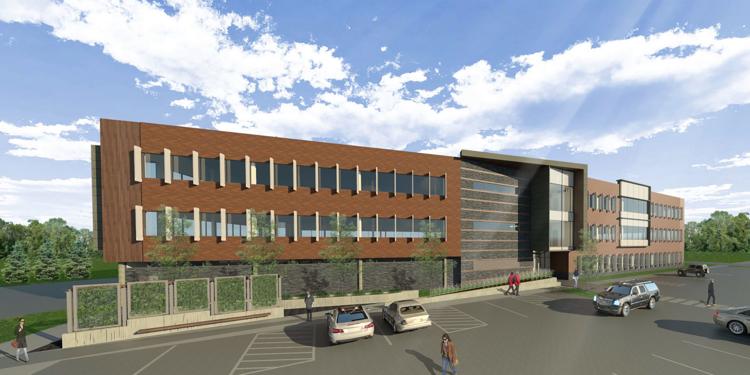 As soon as weather permits, construction is to start on the three-story office structure west of the established 27-hole Indian Creek golf course that's north of the Elkhorn area's downtown . A smattering of businesses, including two bank outlets, a Walgreens and the Good Life Bar, already have sprouted in the adjacent Indian Creek commercial development.
Hy-Vee owns land there, but has yet to announce a plan for a supermarket. Rural Media Group, a provider of rural and western lifestyle-focused content, including its RFD-TV, is listed as the new owner of a few acres nearer to the golf course clubhouse and West Maple Road, but its owner did not return phone calls to talk about what might be planned on the property.
Other owners include Methodist and Children's Hospitals, which likely will build clinics in the future, said Tim Kerrigan, who represents the area's developer.
When OCI's three-story headquarters is completed, expected in the summer of 2019, Dale Scott of CBRE/Mega Real Estate said it will be the first multitenant Class A office structure in the Elkhorn area.
OCI will own the 65,000-square-foot structure to be built on about 5 acres along 204th Street. To start, the company will occupy about half; the rest will be available for lease to other tenants.
Scott, who also represented the newly founded OCI in 2002 when it settled in the now-popular Lakeside Hills and Legacy area, predicted it will be just a matter of time before more office users and retail services fill out the commercial area.
"Elkhorn is such a fast-growing community," Scott said. "We feel this (OCI building) is going to fill a need and that 204th Street corridor will draw not only from Elkhorn but Bennington, Gretna, Fremont."
Kerrigan said high-end office users are a natural progression to the Indian Creek golf course and nearby residential estates, and are spurred by Omaha's westward growth.
"Omaha's population density has come to the point where all of those other services are needed, banking, office-users, those things just make sense at Indian Creek today," Kerrigan said.
OCI at first bought a few acres closer to the West Maple Road corridor. As building design progressed, Scott said, the site seemed too small. Then came a timely inquiry from another group, and OCI sold the parcels and bought the larger site closer to 204th Street north of Laramie Road, and within eye shot of St. Patrick's Catholic and Bethany Lutheran Churches to the west.
Olson expects the office building, when full, to hold 250 to 300 people, including the 46 OCI employees.
He recalled a much smaller group of five (including two of his own sons) moving 16 years ago to the top floor of 17445 Arbor St. They had way more space than needed.
"You hope you can grow, but there were no guarantees," Olson said. Sons Charles and Nate continue to help lead the business. Signing that lease, Olson thought at the time, "was either the smartest or dumbest decision."
As it turned out, demand required even more room. Olson said growth accelerated with the federal Affordable Care Act and related complexities. The expanding team eventually took over the entire floor, and now are crowded.
The OCI staff works with and does "behind-the scenes, backroom" tasks that regularly help over 1,000 insurance agents serve clients, Olson said. He said the staff's reach extends to more than 3,000 agents across the country. Olson anticipates expanding his corporate staff to about 75 employees in the next three to five years.
Whether the Affordable Care Act is in place or not, he said, understanding health insurance has become harder. "We've become more and more valuable because we have those experts that understand."
He said the company also is expanding more into life insurance, as agents in that field want similar efficiencies and expertise the brokerage group offers.
When OCI began to realize it needed to move, Olson said he knew he wanted physical room for growth. Owning the home base (rather than leasing) offered tax benefits, he said. He liked Elkhorn for its development potential, yet "small town" flavor. He likes the thought of telling visitors they'll find the headquarters by the town water tower.
Despite growth, Olson said he wants his workforce to remain close-knit. He said OCI hiring is based on how well a person fits the culture and treats others, and that job training is offered in-house.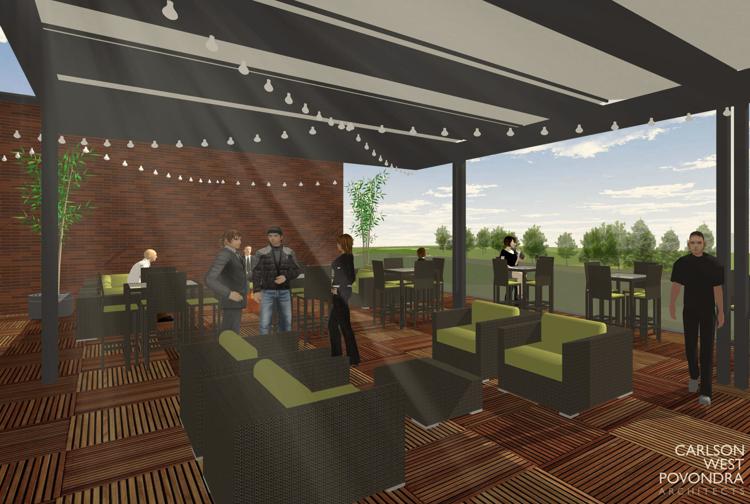 The future headquarters will rise on a high point of the area, Scott said. A large top-floor deck will open up to the golf course, a feature attractive for training, meeting clients and entertaining.
Olson isn't as concerned about visibility to passers-by as he is surrounding workers with an inspiring vibe. He looks forward to looking up from a desk, and out into golfing green space.
"If you're in an office building," Olson said, "the best thing you can do is have a nice view."