A new residential and commercial building is filling the last gap on the storied 100 block of West Broadway in Council Bluffs — further shrinking the amount of idle land that sits between the downtowns of Omaha and the Bluffs.
Officials on both sides of the river say such in-fill projects should help create a stronger Omaha-Council Bluffs metropolitan area.
Bluffs merchants say, spiritedly, that they're more poised than ever to give Omaha competitors a run for patrons' money.
Indeed, the latest $5.7 million project under construction on the Bluffs' 100 block carries a name — the Rise — that reflects a page-turning era for the city, said Ryan Spellman of J Development, which is a partner in the project.
"It's intended to be forward-looking," he said of 103 West Broadway. "It represents the future of Council Bluffs."
Spellman said the development team had considered rehabilitating the three buildings that once occupied the corner site, but that a history of neglect and costs closed that door.
The nonprofit 712 Initiative is also a partner on the 26,800-square-foot Rise project, though ownership is to turn to J Development upon completion.
Set to open next spring, the Rise will add 24 market-rate apartments, ground-level retail and outdoor dining space to the 100 block, which stretches from First to Second Streets on West Broadway.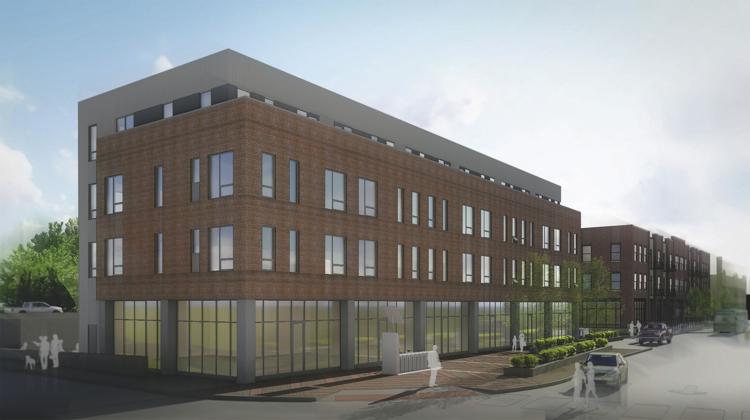 It will stand taller than its newly constructed neighbor to the east, the Sawyer, whose 36 units and commercial bays opened two years ago. Spellman said it also will feature a more contemporary style, designed by downtown Omaha-based Alley Poyner Macchietto Architecture, to help attract a young and key demographic population.
Just a short drive away is the former Playland Park redevelopment tract that's on its way to becoming a 25-acre, $100 million office, retail and residential and entertainment magnet on the Iowa side of the riverfront.
That River's Edge project, led by Omaha developer Noddle Cos., is underway adjacent to the Tom Hanafan River's Edge Park. Broadmoor Development recently began construction on the site's first residential units.
Helping to better link the riverfront to the Bluffs' downtown is the $36 million West Broadway streetscape project currently underway, said the city's community development director, Brandon Garrett. He said the five-year plan funded by public and private sources will change the character of nearly two miles of West Broadway and include such improvements as colored pavers, artistic light poles and pillars.
Garrett said the city also owns former industrial sites south of Broadway and plans to prepare them for future development, including housing options for workers on both sides of the river.
Bluffs restaurateurs Brian Cadwallader and Jim Smart say they've been watching the Bluffs evolution and have long had their eyes open for a spot on the 100 block — which they called the heart of Council Bluffs. Until the Rise, they didn't see the right fit.
Last week, they jumped in with a lease to occupy all the street-level commercial space, about 5,600 square feet.
Cadwallader and his wife, Jayme, own other Bluffs' businesses: the Salty Dog bar and grill and Caddy's Riverside Grille. Smart owns Cellar 19, also in the Bluffs.
Their yet-to-be named Rise restaurant and bar will offer American casual food and vibe, with a smattering of favorites from their other restaurant menus. Multiple big-screen TVs will be available for sports enthusiasts; the space also will offer a private party room.
The two Bluffs restaurateurs are among local merchants with a mission: to get their neighbors to stay in their own backyard for food and entertainment, and to lure patrons from the other side of the river, too.
"We are trying to get the Council Bluffs folks to stay in Council Bluffs," Smart said.
Cadwallader said their new venture comes at a ripe time in the city's development — as natives are "getting a little more adventurous and willing to take a (culinary) risk."
They're trying other things as well — ask John Avey, who earlier this year moved his Palm Beach Vapors shop to the 100 block.
He has seen an increase in his sales, with people dropping by to see what vaping is all about.
"It's the atmosphere, the nostalgia of the old brick buildings," he said. "It's helped us build a community around our store."
A Bluffs native, Avey, 27, said he appreciates the growing assortment of services in the city where he was born and raised. Customers range from age 18 to 92, he said, and that has helped earn Avey recognition as the Bluffs' entrepreneur of 2017 by the local chamber of commerce.
Many patrons, Avey said, are Omahans who spied the vape shop on their way to visit neighboring retailers.
"We're in a very competitive spot," he said.
Lori Shields, spokeswoman for the Council Bluffs Area Chamber of Commerce, noted other revitalization efforts, including the Bluffs' new YMCA facility that is nearing completion, the recent opening of the Iowa West Field House for youth activities and downtown "bike night" parties so popular that they've expanded to multiple blocks.
At the 100 block, Cadwallader and Smart said their restaurant should contribute to a growing sort of Old Market feel on the strip.
Jim Royer of J Development anticipates more traffic as people have another option beyond already popular places such as Dixie Quicks restaurant and art gallery and Barleys bar and grill. Other neighbors include the BLK Squirrel tavern, the restored Hughes-Irons building and shops that sell flowers and fix and sell bicycles and vacuum cleaners.
Palm Beach Vapors moved into the office vacated by J Development, which moved to a larger headquarters in Omaha.
Spellman doesn't anticipate a problem filling the new Rise apartments, which will be one-bedroom units leasing for $850 to $950, as there is a waiting list of residents for its neighbor. The Sawyer's 36 apartments are full. Of about 9,300 square feet of commercial space there, Spellman said, about 2,100 square feet has yet to be rented.
He said the increased number of apartment-dwellers — and the walkable feel the Bluffs is trying to create — also helps bump up business and pedestrian traffic on the 100 block.
"It's hitting its critical mass, finally," Spellman said.
Sign up for World-Herald news alerts
Be the first to know when news happens. Get the latest breaking headlines sent straight to your inbox.