Kiewit Corp.'s new headquarters will anchor a key two-block stretch of north downtown Omaha, linking TD Ameritrade Park and other developments to the east with Creighton University to the west.
Kiewit's own company training center, which opened across the street in February as Kiewit University, is a prime reason Kiewit chose the location for an office building and parking garage hosting as many as 650 people, with construction costs as high as $76 million.
That's Phase 1, said Jay Noddle, whose development company is working with Omaha-based engineering and architecture firm HDR Inc. on the project site, bounded by 15th, 16th, Cuming and Mike Fahey Streets.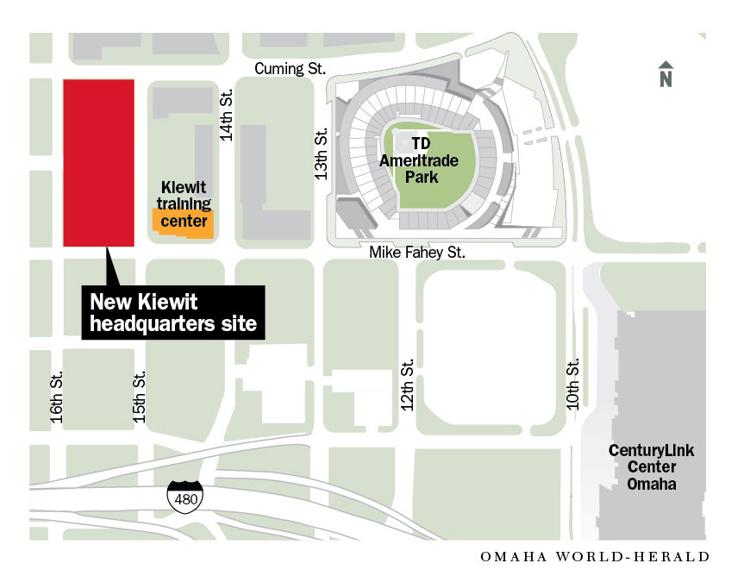 Already, Kiewit said in a press release Thursday, the neighborhood is popular with Kiewit staffers because it is close to Creighton, Eppley Airfield, TD Ameritrade Park, the CenturyLink Center and the rest of downtown.
"The new headquarters will give Kiewit's Omaha-based employees a location suited for greater collaboration and interaction as they continue to support Kiewit's nearly 20,000 other employees delivering construction and engineering projects," said the company, which had $8.6 billion in revenue last year.
"The new headquarters should continue to encourage development in the neighborhood and reaffirms Kiewit's commitment to Omaha and Nebraska, the company's home since 1884," Kiewit said.
Noddle, who also has developed Aksarben Village and other properties in the city, said Kiewit's plan calls for a building with 165,000 to 185,000 square feet at a cost he estimated between $49.5 million and $60.2 million.
An adjacent garage would hold 600 to 650 vehicles and cost between $13.2 million and $16.3 million.
"We're just starting in on the design process," Noddle said, but the office building will have from five to nine stories. "We're concerned about developing a highly efficient and high-quality campus and fitting into the neighborhood."
The company reached a "memorandum of understanding" with Mayor Jean Stothert on Tuesday and hired Noddle Development Co. and HDR.
Noddle said the agreement calls for the City of Omaha to vacate the block of Burt Street that crosses the property and to help with acquiring the land, including the use of eminent domain if necessary. Kiewit has bought or signed purchase agreements for all but one parcel and is working to buy that, he said.
Construction would begin as soon as is practical, he said, and Kiewit could move in as early as 2020, although exact dates are not set.
Kiewit's need for the first office building is "fairly well-defined," Noddle said, but later structures are undetermined. There's enough land to at least double the office space if needed. "We have no idea how their company might grow in the future," he said.
Planning will include landscaping and other work on the remaining part of the two-block site "on an interim basis, however long that is," Noddle said.
"We want to get the first-phase requirements, the immediate need, firmed up, locked down, and then think about how to organize the site for future expansion," he said.
The Session Room, a bar and grill at 1506 Mike Fahey St., is in the path of the proposed new Kiewit headquarters. Owners Bret and Cindy Schnittgrund told The World-Herald that the establishment would close at its current location on July 15.
Until then, it's business as usual, they said.
In the meantime, the couple are on the hunt for a new location in the north downtown area. They were adamant about staying in an area where they've built relationships with other local bars and eateries — like the Old Mattress Factory, Blatt and DJ's Dugout — and with local employers, whose workers often stop in for happy hour.
They said they were "95 percent sure" their new location would be within a block of the current bar and grill. After all, they said, a new Kiewit headquarters will only increase business.
Were there hard feelings with Kiewit? Not at all, the couple said, describing their relationship with the construction and engineering giant as "phenomenal."
Employee-owned Kiewit and its parent company, Peter Kiewit Sons' Inc., have been based in the Kiewit-built Kiewit Plaza at 3555 Farnam St. since 1961. The company has employees in several other Omaha locations, including much of the former Blackstone Hotel just across 36th Street.
A Kiewit spokesman said discussions are just starting on the future of Kiewit Plaza, but Kiewit doesn't intend to occupy it.
The late Peter Kiewit, who built the business into a construction, energy and engineering powerhouse, lived on the building's 15th floor. One floor in the 216,000-square-foot building is rented to Berkshire Hathaway Inc., the investment company run by Warren Buffett, for its headquarters.
The Sherwood Foundation, headed by Susan Buffett, announced earlier this year that it plans to move out of Kiewit Plaza to a former ConAgra Foods building along the Missouri River.
Hal Daub said there was speculation about a downtown Kiewit headquarters when he was Omaha mayor 20 years ago.
"I knew it was going to happen. I just didn't know when," Daub said Thursday. "This is a vote of confidence in our city, one more reason why the heart of the city is so important. This is another real report card on the health and the confidence that the business community has in Omaha and its leadership."
World-Herald staff writer Brad Davis contributed to this report.