It was just another day at Richie's Chicken and Hamburgers.
Walls were peeling. Aluminum pans were catching drips from leaky rafters. A customer walked through the cafe's kitchen to get to the restroom.
And, as lunch hour ticked on, almost all of the 10 tables filled up and individual diners also dotted the extended counter that overlooks the kitchen.
"Here at Richie's, it's just like a small town," longtime waitress Carol Armbrust said before she whisked by with an armful of fried chicken dinners for a table of men.
But days like these are numbered for the mom-and-pop restaurant that 50 years ago moved into an old laundromat at 3528 Center St. Richie Huntzinger, whose family leases the small building, said he and the landlord could not come to terms on the updates needed to keep the place going.
So at the end of the year, when his building health permit expires, Huntzinger plans to close what has become a neighborhood institution of sorts, providing some jobs and countless late-night takeout orders over the years.
The heir to the family diner said he's 55 years old, too young to retire, and is open to other ventures. One option, he said, is to find a different spot where his mom's popular fried chicken and other recipes might carry on in some fashion.
Sign up for The World-Herald's afternoon updates
Receive a summary of the day's popular and trending stories from Omaha.com.
Demolition of the 1,313-square-foot shack built 80 years ago, meanwhile, seems likely, said Mike Peter, who is part of a group that owns the Richie's building and a few other nearby properties.
Some of the same investors also control the home of Vis Major Brewery Co., a pub and eatery that launched two years ago in a rehabbed century-old grocery across the street from Richie's.
When Vis Major opened, Peter spoke of a dream the group had for a stretch of Center Street west from 32nd Avenue and Hanscom Park to roughly 38th Street and the Greek Islands restaurant.
Eventually, the Richie's ground could become a key part of that vision to transform the strip into the kind of walkable entertainment and retail district popping up elsewhere in Omaha and urban areas across the nation.
For now, though, Peter said the grander vision is in a "holding period," and neighborhood leaders are talking with city officials about issues such as street improvements that could narrow the road.
"Local development, especially in neighborhoods, is hard and can take a long time," said Peter, also a partner in Clarity Development, which has helped build up the Blackstone District. He's working separately on the Center Street properties.
As for Richie's, Peter said that the diner has been a good tenant but that all involved recognized the need for substantial renovation. He said such a project would require investment from beyond the landlord, or a rent hike, which didn't appeal to Huntzinger.
"It'll be tough; I grew up in this," Huntzinger said recently during a break from preparing the day's Swiss steak special.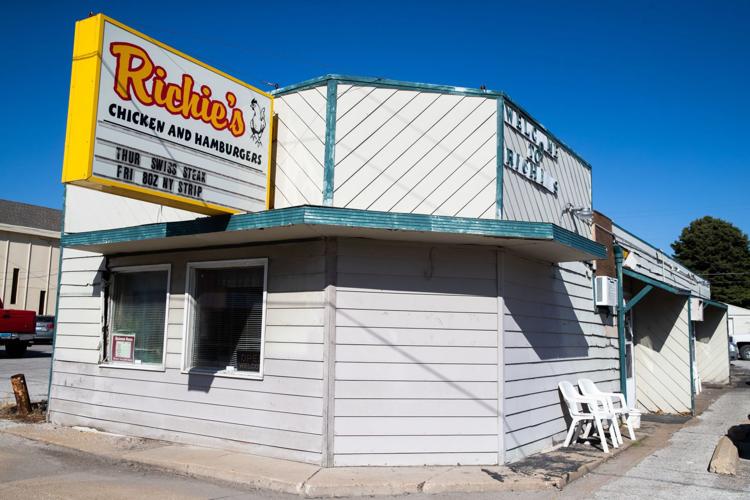 His family business dates back to the mid-1950s when Huntzinger said his folks, Dick and JoAnne, opened a cafe a few blocks away at 32nd Avenue and Frederick Street. The couple opened a second location (Richie's) in 1969 and, for a few years, ran both.
Soon, Richie's was open seven days a week and on weekends until bars closed. "Things were different back then," said Huntzinger, noting that the Ak-Sar-Ben racetrack was still running, as was a tavern next to the diner.
Richie, the only son of six kids, helped at the restaurant over the years and took the full-time helm in 1996 when his dad's health started to fail.
Other patrons and workers have been a part of the storied diner that features Husker photos and artwork from patrons.
Armbrust, the waitress, said she's a newbie compared to co-workers such as dishwasher and cook Hal Perry. Said Armbrust: "He came with the building, people say."
James Russell, 75, is a longtime fan who now visits twice and sometimes three times a day since his wife died. On this particular day, the disabled veteran cut short his breakfast to meet a plumber and then returned for a hamburger. He said he'll probably order the steak at dinnertime.
"I don't like eating alone," he said.
Also at the counter sat an old Gross High School buddy of Huntzinger's who hadn't seen him for years but dropped in after the Richie's sign caught his eye.
The two reminisced, laughing about the time a high school-aged Huntzinger got busted throwing a party at the diner while his parents were out of town.
"I had no idea it was closing," said Craig "Gus" Boro, a radiation therapist from the class of 1982. "Ask anyone in South Omaha about Richie's, they'll know."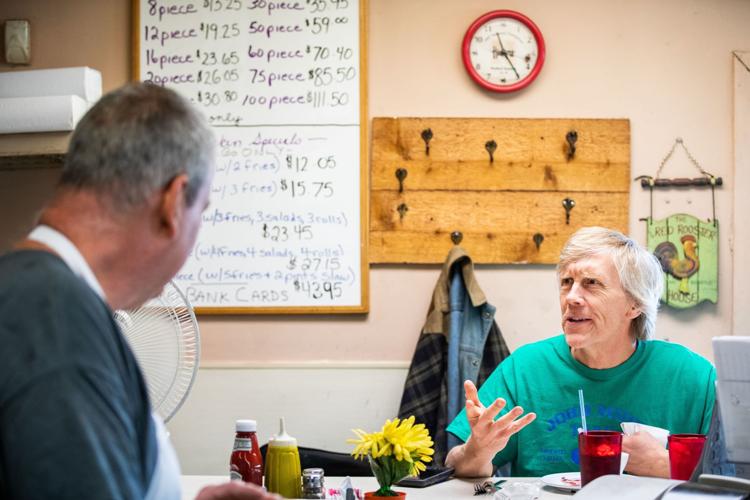 Doug Johnson, who works at a local TV station, said he stopped for a bite after running into Huntzinger at a different diner and learning of the impending closure. Like many others, Johnson has had his share of take-out chicken. "But the atmosphere (inside) is pretty awesome," he said.
Newcomers wander in, too. Vivian Creswell was a first-time visitor, invited by retired medical social worker friend Dean Pierce, who hadn't been in for years but had a hankering for Richie's old-style dishes.
"After 40 years, you gotta come back," he said.
Nearby sat neighborhood resident Mike Danze, who said his daughters had gotten weary of tracking through the kitchen to use the ladies' room. He knew son-in-law Joe Dekker, an Omaha firefighter, would appreciate the casual vibe and affordable prices.
"It's anti-yuppie," said Danze. "Come as you are and you're accepted."
Huntzinger said business has been down after booming a few years back. He doesn't take credit or debit cards, and wonders whether that might scare off some customers.
He said the fix list also was growing, and the air-conditioning units he reinstalled every summer were "getting heavier by the year."
"It's going to be a bittersweet ending," he said. "We'll have to see what happens next."
Omaha Dines: Here are the city's 38 essential restaurants
Our 38 essential restaurants represent a list of eateries that define the Omaha area's food scene. We asked readers for suggestions, aiming to cover the Omaha area's array of cuisines, price points and tastes.
The restaurants are listed by location, from east to west.