Colleges are producing academic programs and companies are creating jobs to maximize the ability to gather and analyze huge sets of data.
Business and finance intersect in a big way with the information superhighway, and enterprising individuals are getting better at figuring out how to use technology to assist business.
The more a business knows about its customers, sales, inventory, employees and itself, the smarter and more efficient it can be.
That can mean grasping what truck routes lead to driver turnover, what retail products should be most aggressively displayed, what impact a 3-cent price cut has on sales and what hot new food is being hailed on social media.
"Today we can scrape social media, and we get hundreds of thousands of people talking about food," said David Tomlinson, vice president of information technology with food giant Conagra Brands. "Looking at what people often post gives you a better idea of what their true feelings are" about a product.
This has helped lead to Conagra products such as the Nashville hot fried chicken bowl and a line of ramen noodle bowls.
"It's scary but exciting," said Lee Dunham, Creighton's chairman of economics and finance.
And it's not just the use of "big data" that is changing the business and finance scene. It's also mobile phone applications and automated service that improve efficiency and enable customers to make decisions digitally.
The University of Nebraska at Omaha last month received the go-ahead from the NU Board of Regents to add an interdisciplinary master's degree in data analytics to several existing UNO data science programs. The program melds business, statistics and information science.
At First National Bank of Omaha, Courtney Dobson has an internship in innovative strategies through Creighton's FinTech program.
The junior from Cedar Falls, Iowa, is gung-ho. She is one of the first to dive into Creighton's FinTech major. She has two other majors — finance and business intelligence and analytics.
"I've always been someone who enjoys a challenge," she said.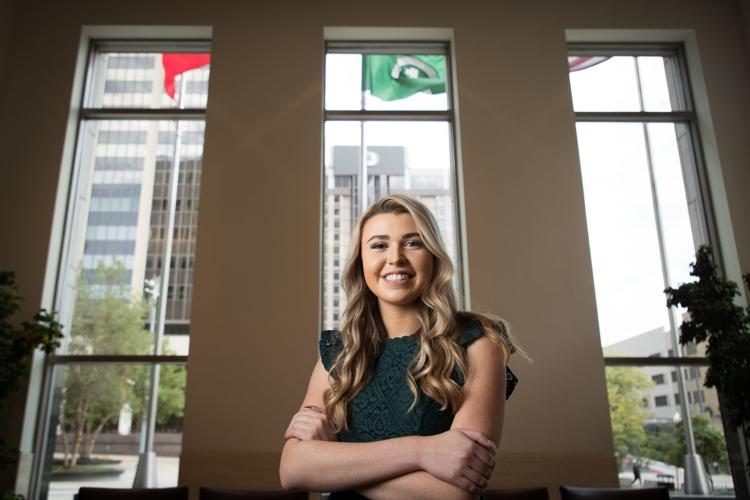 Her internship concludes this month, just as First National finishes building an innovation center on the 22nd floor of its downtown headquarters. The center will employ about 15 people and will anticipate trends in finance and technology.
"You're seeing more and more companies using the data to solve problems," said Cory Mann, First National's director of innovation and disruption. "Data's definitely at the center of what companies are doing and what financial institutions are doing."
Ben Smith, associate professor of economics at UNO, said business and industry have an increasing need for people who can do computer programming, grasp the use of statistics and understand how they apply to particular business fields.
Among students, such programs are becoming more popular, Smith said.
He said data analysts and data scientists with undergraduate degrees enjoy starting salaries of $67,000 to well over $100,000.
But even though "the salaries are commensurate with the difficulty," Smith said, it can be challenging to persuade students to get involved in the field. It's a lot of work, he said.
Completing Creighton's FinTech major requires taking five classes in finance and five technology courses in the College of Business.
Dunham said he will have a better idea in two years how attractive FinTech is to students. As it is, he said, about 15 students major in FinTech now, and about 20 have expressed interest in switching to FinTech.
Dunham said he developed the major because it became clear to him that it's not enough to just study finance now. Those students must be competent in the use of technologies, he said, to be competitive in the new world of finance.
That includes development of smartphone applications, or apps, understanding programming and knowing how to use huge sets of data. The data are available, he said, but the question is: "How do you mine that data?"
Sign up for our Money headlines newsletter
Get the latest development, jobs and retail news, delivered straight to your inbox every day.
In some elements of insurance and investing, robo (automated) advisers have emerged so that a human middleman isn't necessary, Dunham said.
Faster computers, better software and other advances have elevated the importance of technology, said Jennifer K. Ryan, chairwoman of supply chain management and analytics in the University of Nebraska-Lincoln College of Business.
"All of these developments have allowed organizations to collect more data, better manage that data, and do more analysis with the data to create insights, improve decision-making and build value," Ryan said through an email message.
Ryan said every student in the UNL College of Business gets training in analytics.
UNL, Creighton and UNO are among schools that offer a variety of programs in business analytics or data science.
Tomlinson said that bringing 20 to 30 people a month to Conagra for taste testing isn't as productive as looking at 10,000 responses on social media. "To us, that's a better indication of how successful a product will be," he said of the social media sample. For that reason, Conagra has closed its Omaha consumer test site.
Experts in finance and technology are in demand in business and industry. "It is very difficult to find the right talent to do the data analytics and data science that we want to do," Tomlinson said.
Dobson intends to work for a startup company in FinTech or perhaps for a bank. Wherever she goes, she should be prepared for the new demands of finance.
First National's Mann describes her as a "superstar."