At the Gordmans store in west Omaha, bathing suits are on the clearance rack, and backpacks are front and center.
Goodbye, summer. Hello, back-to-school season.
Most public school students in the Omaha area will return back to school the week of Aug. 12. That means many families — and teachers — are starting the time-honored tradition of back-to-school shopping, scouring the aisles for deals on notebooks, crayons and new sneakers.
Some will undoubtedly hit up stores in Iowa on Friday and Saturday, during the state's sales tax holiday. Others are taking their time.
At the Gordmans last week, sisters Lauren and Hannah Wertz, Texans visiting family in Nebraska, scoped out the juniors section and picked out some Husker gear. Their grandfather, Jerry Ryan, said he was guarding his wallet.
Their back-to-school needs aren't all that complicated — they stick to the classics.
"My wardrobe consists of leggings and T-shirts," 17-year-old Hannah said. For 14-year-old Lauren, it's jeans and simple shirts.
The World-Herald talked to store buyers, a thrifty mom and others about what's trending for fall, how to scope out the best deals and how to find your child's school supplies list.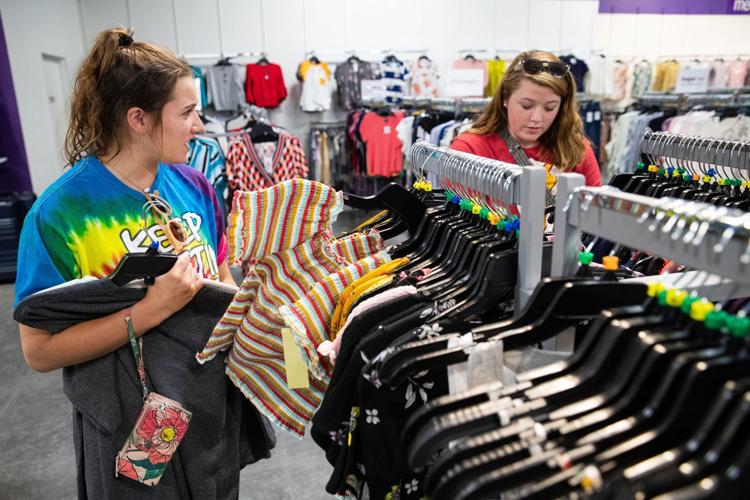 Iowa sales tax holiday — how does it work?
During the first weekend of August — this Friday and Saturday — shoppers in Iowa can save a few bucks by getting a break on paying sales tax, which is 7% in Council Bluffs.
Omaha's sales tax is also 7%, but Nebraska doesn't offer a tax-free holiday. That doesn't stop plenty of Nebraska shoppers from crossing the state line to score a few deals, although the Nebraska Department of Revenue maintains that Nebraskans are still supposed to list their tax-free finds and pay taxes on them once tax season rolls around.
Businesses that are normally open on those days have to participate. The tax-free weekend starts at 12:01 a.m. Friday and ends on midnight Saturday, meaning any sales tax breaks do not apply on Sunday.
The sales tax holiday isn't a total free-for-all, though. The savings applies only to clothing and shoes selling for less than $100, and there's a long list of what is and isn't exempt.
In the market for bathing suits, underwear, sneakers or jeans? You won't have to pay sales tax if the items are under $100. But backpacks, school supplies, baseball gloves, jewelry and fanny packs aren't eligible. For the full list of rules, visit tax.iowa.gov/iowas-annual-sales-tax-holiday.
How much are families expected to spend this year?
The National Retail Federation estimates that households will spend an average of nearly $697 on clothes and supplies for elementary, middle and high school students.
Have a college student? That number soars to $976 — laptops, phones and extra-long sheets for dorm mattresses can add up.
The industry group said those are record-setting estimates, likely buoyed by a strong economy. The latest annual survey was conducted in July and includes responses from 7,660 shoppers.
"Consumers are in a strong position given the nation's growing economy, and we see this reflected in what they say they will spend on back-to-class items this year," National Retail Federation President and CEO Matthew Shay said in a press release.
Plenty of shoppers indicated they would shop for sales on Amazon Prime Days, which took place earlier this month. Others planned to hit up department stores, dollar stores and office-supply retailers.
Teens will have some skin in the game, too — they're estimated to spend an average of $36 of their own money.
Teachers often spend out of their own pockets, too, sometimes to the tune of hundreds of dollars, on extra snacks, socks, books and classroom decorations. Earlier this month, Target offered a 15% discount on select items for teachers getting their classrooms ready.
Sign up for our Money headlines newsletter
Get the latest development, jobs and retail news, delivered straight to your inbox every day.
That's a lot of money. How can I find bargains?
Nicole McDonald, a local mom who's the founder of MomSavesMoney.net, a personal finance blog, said there are plenty of ways to stretch your dollar and resist the allure of bright-and-shiny store displays.
"Nobody needs to go into debt over school supplies," she said. "There are ways to get what your kids need."
McDonald recommends doing inventory at the end of every school year, and setting aside the clothes that still fit and the notebooks that can be reused. Chances are, last year's ruler is still going strong. She doesn't even buy pencils because her kids get so many free ones at fairs and the local library.
"I feel like people overdo it," she said. "They feel like they have to go and buy a bunch of new clothes for their kids and new lunch boxes and a new backpack. I don't think it's necessary."
See whether your kids can stretch another year out of an old backpack, or wait until later in the fall when backpacks might go on sale.
At the same time, if there are hot deals right now — 10 cents per notebook or four glue sticks for $1 — McDonald recommends stocking up on school supplies for the entire year. And with summer clothes on clearance, think ahead and grab more T-shirts and shorts for next summer.
She's also been hitting up neighborhood garage sales and consignment shops, which can be a good source of gently used kids' clothing for bargain prices.
Single mom Liz Martinez has four kids, three of them school age. While she's usually a last-minute shopper, this year she said she's strategized carefully in an effort to be budget-conscious.
So she bought backpacks on sale last spring, has been combing through Goodwill stores all summer and ordered pens, pencils, markers and crayons on Amazon. The next stop is Nebraska Crossing Outlets, where she hopes to find some shoes on sale.
At Goodwill, "I've found nice (name brand!) clothing for all of my kiddos — and haven't spent more than $5 an article of clothing," Martinez wrote in an email. "It does take time, but thankfully both girls enjoy the hunt for a good deal as much as I do."
McDonald said her family tries to talk openly about money, budgets and spending limits, so there are no surprises at the cash register.
Some schools, stores and nonprofits also hold backpack drives or provide other help for families who may be struggling with the cost of school shopping.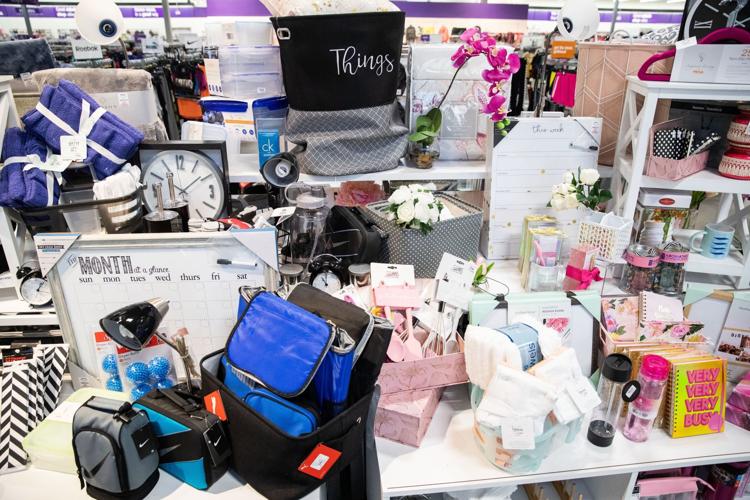 What's flying off the shelves? Toy Story 4 and '90s fashions
For teenage girls shopping for clothes, the '90s aesthetic has been reborn, said Blakeley Graham, the manager of brand publicity for Gordmans. Think chokers, grunge-era plaid and crop tops. Animal print and kimono-style wraps are big, too, and the athleisure look popularized by the Kardashian-Jenner family is still going strong.
For younger girls, store buyers have stocked plenty of oversized hair bows — they're the signature look of YouTube sensation JoJo Siwa from Omaha. For boys, parents will find deconstructed denim and brands such as Adidas and Air Jordan, Graham said.
Backpacks might feature camo print or characters from movies such as "Toy Story 4."
"We have them with unicorns, which are so hot for now, glitter, mermaids, dragons, animals, superheroes and popular characters from those movies," Graham said.
Not on board with branded merchandise? The nonprofit Common Sense Media has tips for parents searching for items that aren't tied to a particular movie or toy franchise.
Walmart has stocked up on popular art supplies like metallic glue and make-your-own slime kits, spokeswoman Tiffany Wilson said. Scratch-n-sniff stickers, notebooks and markers are making a comeback, too, and shoppers can find lots of notebooks and folders in bright prints — rainbows, unicorns and marble, including some that will match specific outfits.
What's on your school supply list?
Many schools provide lists or suggestions for school supplies — everything from boxes of tissues to antibacterial wipes to folders and dry erase markers.
Supply lists can be found on school websites for the Westside, Millard and Bellevue districts. Many stress that the lists contain suggestions, not mandatory purchases, and in some cases the items will be used for benefit of the whole classroom.
The Walmart app offers Teacher's Lists, a section where customers can search for supply lists at specific schools and add all those items to their online cart. Shoppers can also order school supplies for pick-up or delivery through Walmart's grocery service.
Many stores have supply lists for their area schools.
In Omaha Public Schools, where roughly 75% of students qualify for free- or reduced-price lunch, the district's website says that schools will provide common supplies like pencils and scissors, but parents can opt to bring in items for the whole classroom.