A hotel, a sports bar and bunches of other retailers soon will start filling out a corner of the Antler View mixed-use development near 192nd Street and West Maple Road.
Quantum Real Estate, a leader in the transformation of the broader 180-acre site, says the expanding Elkhorn school district and busy West Maple corridor are driving interest for those retail goods and services.
Typically, inquiries from retailers start coming after a commercial building begins to rise, said Quantum's Scott Brown and Rob Luellen. But in Antler View's case, they said, a for-lease sign went up on the grassy corner lot — and in flowed a stream of calls.
"We've had more interest with just a vacant piece of ground than we can imagine," said Brown.
Next week, he said, passers-by should start seeing grading and other construction work related to the commercial district around the southeast corner of 192nd and West Maple.
Apartments already have sprouted at the broader Antler View site that stretches along West Maple between 180th and 192nd Streets. So far, four of 10 apartment buildings in a 384-unit complex developed by Vann Realty Co. are completed.
Demand for those apartments has exceeded expectations, the developers said, so another phase of 252 apartments is planned to start construction in the spring of 2020.
Changing Omaha: More than 50 stories of local development projects in the works
An ongoing list of some our development stories from 2018-20, with the most-recent stories at the top. 
Brown said a commitment from developers of the planned 90-room Holiday Inn Express on the corner lot generated a burst of interest and queries from retailers interested in leasing a spot nearby.
Just east of the hotel facing West Maple will be a DJ's Dugout. The 7,800-square-foot sports bar and restaurant is to open in mid-2019, as is the hotel.
Construction on both is to begin in September.
East of DJ's will be two strip shopping centers. Tenants secured for one of them include: Scooter's Coffee Shop, Verizon Wireless, B2B Children's Consignment Store and a craft cocktail bar. Those stores are to open next summer.
A bank is expected to anchor the second strip mall, said Brown, who also is negotiating office leases with a physical therapy and urgent care provider. More space is available in each of the two structures.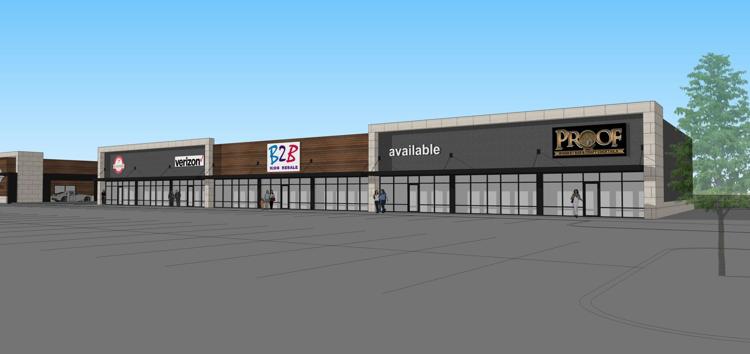 The hotel-retail-shopping area is to cover about 30 acres of the overall Antler View development. Also among the 350,000 square feet of commercial ventures are stand-alone buildings housing an Extra Space Storage and a day care center.
Developers are looking to secure a convenience store, a small grocer, and fitness-related and other tenants.
They're also hoping to fill about 15 acres of the tract with senior citizen housing.
Antler View's roots go back to about 1990, when Vann Realty started assembling eastern portions of the then-agricultural tract — banking that land for future development. Quantum, another family-owned Omaha business, joined the Vanns later in buying the western parcels.
In 2015, the partners started preparing the site for the first phase of apartments. They since sold off about 60 acres of the original 245-acre tract to a separate developer that wanted to build residential housing.
Those and other new homes popping up are driving growth of that area of town, along with the new high school planned in 2021 and road and traffic improvements intended to create a straight shot on 180th Street from West Dodge to West Maple.
"Residential growth in this area, since the downturn, has been on steroids," Brown said.
He said the multilevel self-storage facility would provide needed temporary storage for nearby apartment-dwellers and others moving into the area.
The hotel and restaurants, Brown said, should attract sports teams in town for tournaments or high school games, and business travelers. He said the Holiday Inn Express would be the lone hotel so far on the West Maple corridor west of 108th Street.
The development team thinks it will wrap up construction on the overall site a few years earlier than the seven to 10 years originally anticipated.
"We didn't expect everything to happen this fast," said Brown. "We have been developing retail shopping centers for almost 18 years and this is the first time we have had a building almost fully leased before we started construction."