There's more to that potato chip bag than meets the eye, and that's what makes it so darned difficult to recycle.
What to do with that bag once the Lay's have been eaten — whether to send it to a landfill or to a national pilot program in Omaha that sends the bag to a new life — has sparked debate.
You see, the plastic packaging that keeps bread and salad fresh (and chips crunchy) is not as relatively simple or economical to recycle as, say, a milk jug.
Take the humble potato chip bag as an example: it actually comprises a few different types of materials. One of them is a plastic that prevents moisture from turning your chips stale, and another plastic keeps oils from leaching through the bag and onto your lap.
Those materials are layered onto aluminum, which you can see on the inside of the bag.
And that's the problem, as far as recycling goes: Because the bag itself is multiple types of materials sandwiched together, it has no place in a traditional recycling program, where once you fill your recycling container and put it at the side of the road, workers eventually separate the plastics from the glass and the paper.
So into the landfill these potato chip bags go, where they can take centuries to degrade naturally.
Something could change that. Enter the waste-management program that just wrapped up a yearlong pilot in Omaha. It's found alternatives to tossing these "non-recycled plastics" into the local landfill.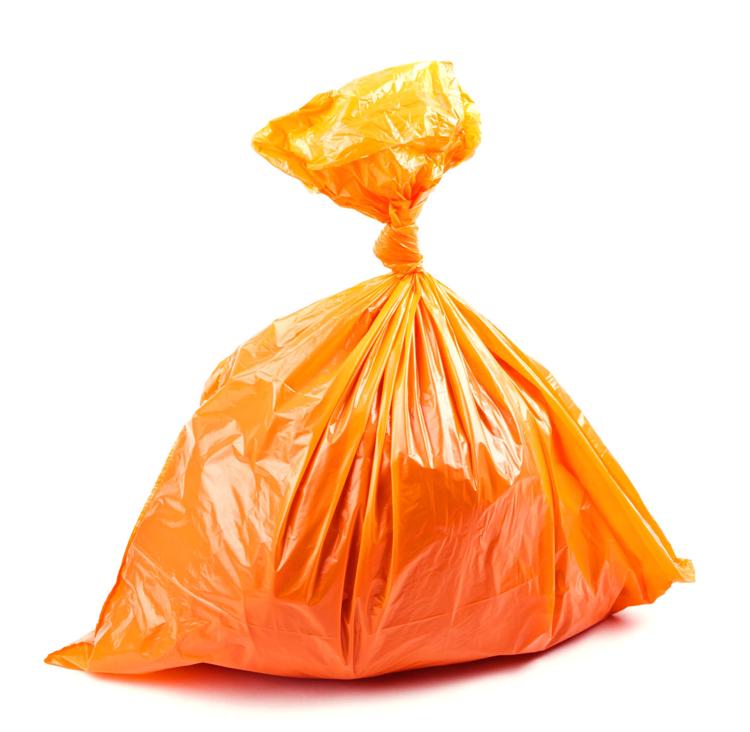 It works like this: People in the Omaha area buy orange Hefty-brand bags from local Hy-Vee stores or from online vendors. They then fill the bags with stuff that's not otherwise recyclable, like foam cups, chip bags and plastic utensils. The bags go into recycling bins, and once they arrive at the City of Omaha's contracted recycling sorting facility, they're picked off a conveyor belt and stockpiled for alternative uses. One such use is a fuel source at a Kansas City-area cement kiln.
Dawaune Lamont Hayes, 23, of Omaha has spent the better part of this year stuffing the orange bags with such plastics. Hayes, who is communications director for a local art gallery, says he fills one up about every two months.
"I know that I have an option not to throw it into a landfill," Hayes said.
Sounds simple, right? But along the way, the program has also found vociferous criticism.
On one side, program advocates say finding alternative uses for these materials is an improvement over sending them to rot in a landfill.
On the other, local and national sustainability advocates have blasted the program. They say if we're going to continue to use such materials as they're currently made — think the multilayered potato chip bag — it'd be better to just let the stuff sit in a landfill.
If that potato chip bag, for instance, is incinerated, as has been one use case with the program so far, it will emit carbon dioxide — exactly what environmentalists and many scientists say the Earth doesn't need more of.
The Hefty EnergyBag program has diverted nearly 10 tons of the previously unrecyclable materials since it launched in Omaha in October 2016, according to program sponsor Dow Chemical. Some of that has been shipped to a cement kiln in western Missouri, where it was burned as a fuel. (Typically, cement kilns burn fossil fuels like coal or petroleum coke, a product similar to coal.)
A 2016 study published by engineers at the University of Texas-Austin concluded that the practice is "likely an advantageous alternative to disposal of the residue in landfills" when used, as it was in the kiln, as a power source instead of coal.
But there were some trade-offs: Emissions of smog-causing nitrous oxides can increase when such alternative fuels are used.
Says Dow, defending the program: "This is a significant step forward in achieving positive long-term environmental and economic advantages, including more alternative energy resources and fewer tons of valuable plastics ending up in landfills."
Burning more greenhouse gas-emitting fuels at any rate is enough to convince opponents that the program should be trashed.
"They're taking a petroleum fuel product, which is what plastic is ... and rather than putting it in the landfill where the carbon is stored, they're putting it into an incinerator where (carbon) is emitted," said Rick Yoder, chief sustainability officer at the University of Nebraska at Omaha's College of Business Administration.
Yoder also argues that the EnergyBag program flies in the face of Nebraska law. The state's solid waste-management hierarchy gives a ranking of sorts of where trash should go. Best on the list is volume reduction of waste materials at the source; at the bottom of the list is incineration.
The program that was piloted in Omaha was started by Dow Chemical, the Flexible Packaging Association and waste management company Republic Services. It's poised to expand to cities beyond here.
Dale Gubbels, chief executive of Firstar Fiber, the contractor tasked with processing recycled materials for the City of Omaha, says critical backlash against the program is "unfounded." (Since the EnergyBags are picked up with recycled materials in bins across the city, Firstar is a natural fit to recover the orange bags and divert them to other organizations that have ways to use them.)
Recovering the energy trapped in the bag — exactly what happens when the bags are burned — is better than simply wasting it by dumping such bags in a landfill, Gubbels said.
Plastics manufacturer Dow Chemical used materials collected through a smaller-scale project in a Sacramento, California, suburb in 2014 to produce synthetic crude oil. Though Dow's stated aim is to eventually collect enough non-recycled plastics to begin actually recycling them, it argues that even if it's not perfect yet, the program can still reduce dependence on fossil fuels right now.
That's what happened in Missouri, where instead of burning traditional fossil fuels, potato chip bags and other would-be waste materials fueled the kiln.
And that, says Dow's Jon Pyper, is better than doing nothing.
Conversely, opponents contend that plastics packaging manufacturers and the food processors who rely on them should just abandon these products, eliminate them at the source and head off the issue completely.
That's the position held by GAIA, an environmental and zero-waste advocacy coalition of more than 800 groups from around the world. "Zero waste" is the goal of emulating nature, wherein every material contributes to another at the end of its life cycle.
GAIA spokeswoman Claire Arkin criticizes the EnergyBag program as a "Band-Aid-type solution" that distorts the idea of recycling at best and poses a threat to the environment at worst.
Ignoring the fact that these materials are difficult to manage in the first place and burning them off, Arkin says, creates a missed opportunity to talk about what else could be done with them.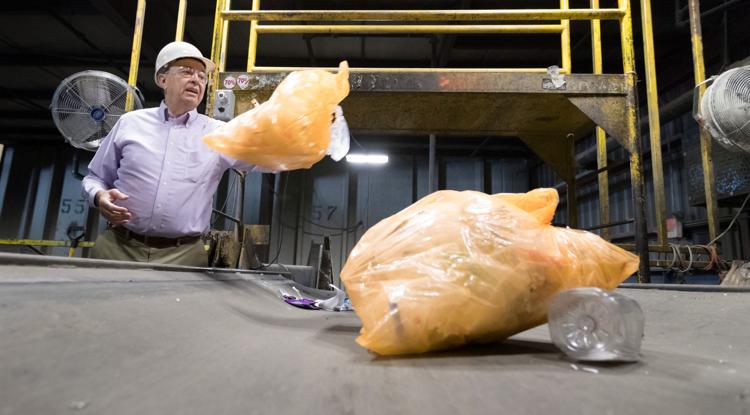 Zero-waste advocate and program participant Craig Moody, who also is on the Omaha Public Power District board of directors, stops short of lampooning the EnergyBag effort. But he doesn't give it any passes, either.
In a white paper that summarized a study of the program, Omaha-based sustainability consulting firm Verdis Group — where Moody is managing partner — pointed out harmful emissions of greenhouse gases and dioxins as a byproduct of burning EnergyBag materials at the cement kiln.
But that isn't the only destination for Omaha's EnergyBag collections, and program organizers are exploring opportunities to convert diverted materials into other products, such as railroad ties, for example.
Hayes, the local man who is using the EnergyBags, ceded that incineration is a less-than-optimal destination for local waste, but he noted that the program has other benefits. For one, it has encouraged him to be more fastidious about what goes into the garbage bin (or not). It has influenced his purchase decisions when it comes to buying groceries, so he now avoids certain products if they're sold only in non-recycled packaging.
Moody, like Yoder and GAIA, would rather see reduction of these materials at the source. But unlike program opponents, he offered cautiously tepid support for it — for now.
"Are we happy that these materials are being incinerated? Certainly not," he said. "But we're hopeful that the program partners are committed to that being an intermediary step toward what we think is a better longer-term solution."