When Brian Kelly's architecture students want to see a world-class building, he says they road-trip to Kansas City, Minneapolis or Chicago.
In my view, Kelly's UNL architecture students don't drive to Omaha because of a simple, harsh truth: Most experts don't believe that our city has produced a single world-class building since the Great Depression.
But architects and architecture critics I talked to this month believe that could change soon. It might change because the Joslyn Art Museum and deep-pocketed donors have picked architecture firm Snøhetta to design a new building and expand the museum.
Architects and critics alike think Snøhetta has the chops to design a world-class building. The sort of building that may appear on Omaha postcards for decades to come — similar to the way that the original Joslyn Museum, opened in 1931, still does.
"Snøhetta isn't the safe choice," says Tom Trenolone, an award-winning architect and a vice president at HDR, the Omaha architecture company. "What they are is a choice that will continue to push Omaha forward."
The Norwegian-and-New York-based firm isn't flawless, says an award-winning design critic. The high-profile expansion of the San Francisco Museum of Modern Art, for example, has attracted both love and loathing.
Sign up for World-Herald news alerts
Be the first to know when news happens. Get the latest breaking headlines sent straight to your inbox.
Success isn't guaranteed, but the following things seem likely:
Snøhetta will try to design something that fits Omaha's landscape while simultaneously pushing Omaha's boundaries.
Its architects will design something that includes outdoor spaces — maybe around the building, maybe on top of it — that will attract Omahans like sugar does flies.
And, when complete, you may cheer the building Snøhetta has built. You may bemoan it. Either way, the building will not be boring.
"I think it's a really good move by Joslyn, to treat this project as an opportunity to push an architectural agenda," says Kelly, a UNL architecture professor for the past decade and a former lead designer for Randy Brown Architects, an Omaha firm. "I was somewhat surprised, but ... I'm really excited to see what they produce."
A Joslyn selection committee picked Snøhetta from 20 architecture firms, including five the committee interviewed, said Joslyn director Jack Becker. They chose Snøhetta unanimously, reacting to the mix of respect for the existing Joslyn buildings and spark of creativity in that firm's pitch.
Snøhetta, in turn, picked local architecture firm Alley Poyner Macchietto as its Omaha partner from a list of local firms that the Joslyn had pre-approved. Alley Poyner will be the "boots-on-the-ground" firm handling Omaha logistical issues like permits while also putting its own stamp on the design, Becker said.
"I think the challenge is a real opportunity to do something that will be unique and respectful to the site. Something that's engaging to audiences in the 21st century, and not a (third) pink box," Becker said, referencing the existing two pink museum structures, the original building plus the well-regarded 1995 addition.
"We believe Snøhetta can do that."
In the past few decades, Snøhetta has famously produced the Norwegian national opera and ballet building and also re-imagined the ancient library of Alexandria, Egypt.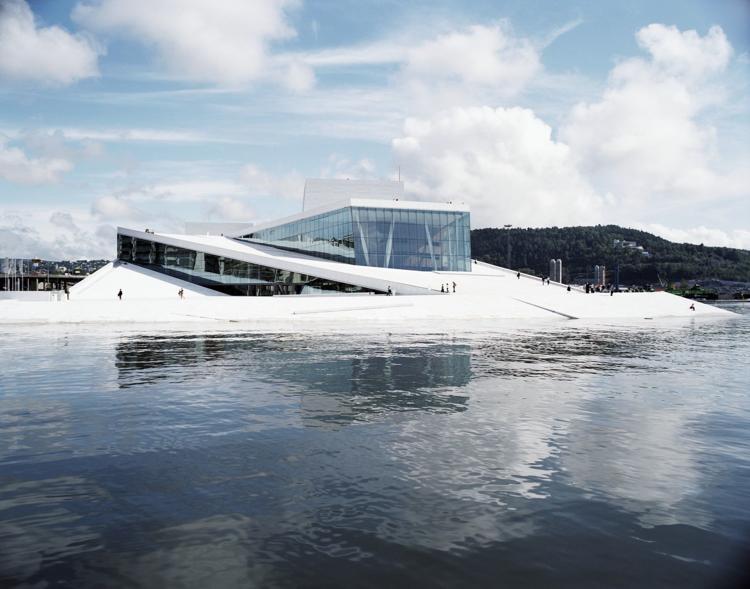 More recently the firm's architects have redone the kitchen of the famed French Laundry restaurant in Napa Valley and designed the new headquarters for the famed newspaper Le Monde in Paris.
And they have edged increasingly into North America, redesigning the public spaces in New York's Times Square, building a high-profile museum in Canada and then winning a gigantic commission to make the San Francisco Museum of Modern Art the largest modern art museum in the United States.
Oh, and if that isn't a sufficiently high-profile list, Snøhetta is also putting the finishing touches on Europe's first underground restaurant, a project that has received nonstop headlines since being announced.
Many of these buildings, like the Norwegian National Opera and Ballet, seem nearly universally beloved. The type of buildings that the public loves to shoot selfies from, and also the type of buildings that architects will travel halfway 'round the world to visit.
HDR's Trenolone went there a few years ago. He walked up the sloped side of the building to the public roof, as millions of Norwegians and visitors do annually — it's become one of the most-visited spots in Oslo.
"It looked even better than in photos," Trenolone said.
One of the hallmarks of Snøhetta buildings has been a commitment to indoor and outdoor public space, particularly at places — like an art museum — that might sometimes feel elitist.
That means interesting landscape architecture that attempts to draw you in. That means rooftops, welcoming atriums and lobbies, intimate nooks and crannies where you can hang out with a friend.
"Museums are seeing themselves more and more as social spaces," says Alex Bozikovic, the design critic for the Toronto Globe and Mail, who has written about Snøhetta's North American projects. "They are public places that need to work well, that need to be open and feel open.
"In each of these ways, Snøhetta is quite skilled."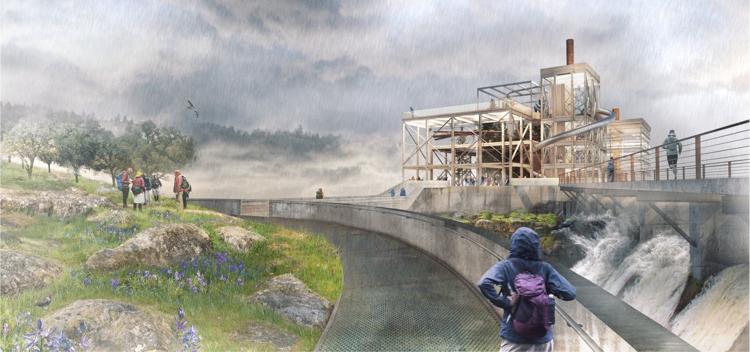 Another signature of Snøhetta buildings is that Snøhetta buildings have no signature, Bozikovic says. Many renowned architecture firms talk about designing each building differently based on the customer, the city, the landscape. Snøhetta actually does that.
"To me that's a very good thing."
That doesn't mean the firm's buildings always work for everyone.
The SFMOMA addition, which more than doubled the museum's size and cost a stunning $300 million, has a billowing shape and a rippled surface meant to evoke the San Francisco fog. Some critics liked it when it opened in 2016. Others did not.
Those who didn't include the San Francisco Chronicle's Pulitzer Prize-winning design critic John King. He told me that he found the design thoughtful and efficient. He also said that, two years after SFMOMA opened, the gallery floors feel too similar to one another and bland. The addition "doesn't have this spark or surprise or intimacy or joy ... these little 'ah-ha' moments that you want from a museum," he said.
"Basically I think the enormity of it just got the best of them."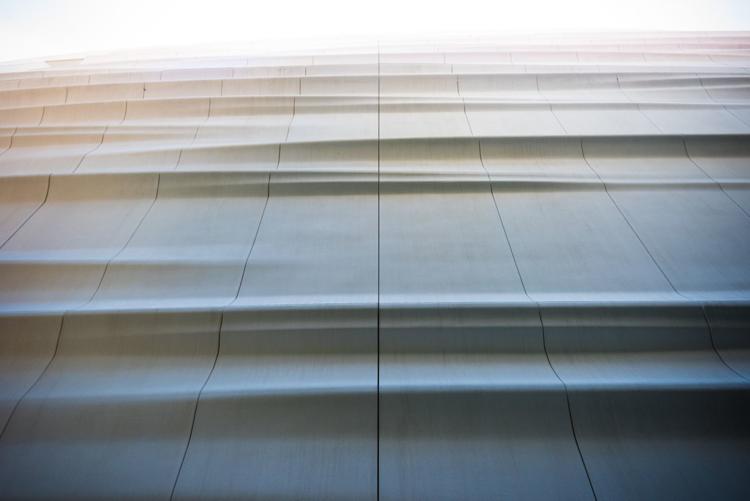 King said that, despite Snøhetta's imperfect building in San Francisco — and maybe because of it — the firm is a good choice for the Joslyn. What they learned from that project will make mistakes less likely in Omaha, he said.
The local architects I spoke to and Joslyn director Becker all can see the potential pitfalls of the expansion project. Adding a third building to the previous two will be tough, Kelly said, especially because the original building and the 1995 addition are similar in material and structure.
But everyone can also see the potential. The potential that, with enough money and enough creative license, Snøhetta could build something beautiful and lasting right here.
"I always say that some of the greatest objects in Joslyn are the two buildings themselves," Becker said. "We want that to be said for the next building, too.
"It's an opportunity ... to build another iconic structure that becomes part of the identity of Omaha."
Check out 42 stories that built, defined and characterized Nebraska
The World-Herald has gone back through the archives and uncovered stories that define not only the Omaha area, but the entire State of Nebraska.