First Data's topsy-turvy history in Omaha has entered a new phase, and now the company is part of the Fiserv empire.
Fiserv this year acquired First Data, which got its start in Omaha, and retains about 4,000 employees in seven locations in the metro area.
George Wehbe, senior vice president of Fiserv, said there have been no layoffs in the Omaha area this year. First Data started the year with 4,000 employees in the metro area, and Fiserv still has that many here, said Wehbe, who was a First Data executive before the acquisition became final in late July.
"It's very much a business as usual operation for us at this point in time," Wehbe said recently.
Over the long haul, Wehbe said, Fiserv will take whatever action is in the best interests of its clients. Fiserv will adapt as clients and their needs change, he said. He didn't predict what the future holds for the Omaha operations but said it would be a shame if that alarmed employees.
Sign up for our Money headlines newsletter
Get the latest development, jobs and retail news, delivered straight to your inbox every day.
Fiserv officially took control of First Data at the end of July after placing a bid of $22 billion. Anthony Hendrickson, dean of the Creighton University College of Business, said: "One thing you can count on is things always change in business."
He said the merger provides "an opportunity for consolidation of duplication of efforts," which means there is potential for layoffs.
But Hendrickson said the fact that Fiserv hasn't laid off people in Omaha yet indicates that the situation won't be "catastrophic" for Omaha employees. A comparatively low cost of living, strong work ethic and flexibility in skills can insulate Omaha workers from harm, he said.
"I'm always bullish on what we can do in Omaha," he said.
Fiserv is a global leader in financial services technology and performs numerous tasks for banks, credit unions, retailers and other organizations. Ann Cave, a Fiserv spokeswoman, said people "probably interact with us every day and don't know it."
Fiserv produces credit cards and processes payments and can play a role in paycheck deposits, online bill payments, accessing bank account balances by mobile phone — "It's all done by Fiserv," Cave said.
Wehbe, who declined to say how much the Omaha renovations cost, said First Data had planned the remodeling projects before it was acquired by Fiserv. Nevertheless, Cave said, the upgrades bring the Omaha plants into the modern tech world.
On a recent tour of Fiserv's building at 6855 Pacific St., Wehbe said the renovations are appropriate for a business in the hot fintech business.
The smell of remodeling and fresh carpeting pervaded the building. Workers will finish the renovations this fall.
They have remodeled the facility to let in considerable light. Cubicles have been lowered so people can more easily see one another. Many offices have been removed, and Wehbe himself now works out of a nondescript cubicle in the corner of one area on the first floor.
Solid, painted interior walls have been replaced by glassy barriers that allow people to look in at meetings from the hallways. There are fewer classroom-type meeting areas and additional less-formal spaces with a couch here, a couch there, chairs and tables.
Video screens abound, replacing fliers and signs. Video technology enables employees in the Omaha facility to meet with employees elsewhere in the Fiserv network. Wisconsin-based Fiserv employs 44,000 people around the world. Wehbe said Fiserv has clients in more than 100 countries.
Open spaces for meeting, talking, socializing and relaxing are abundant. Wehbe said Fiserv wants employees to "collide" and collaborate with one another rather than hide away. Trash receptacles in cubicles have been replaced by centralized receptacles, simplifying cleaning and encouraging employees to get up and walk.
Many small meeting spaces have been created so that a boss can meet with a staffer in private, or a staffer can make a personal call.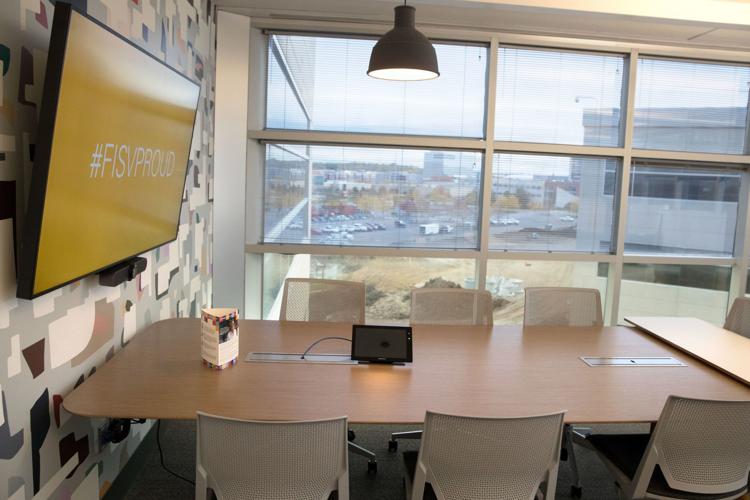 Longtime First Data employee Kim Morehead, regional head of sales and relationships for Fiserv in Omaha, called the renovated spaces "awesome."
The facilities "now represent a true technology company," said Morehead, of Bellevue.
As for questions about the Omaha facilities' future, Morehead said in an email that employees haven't expressed uneasiness. "They are confident that our Omaha operations will continue to exist," she said.
On a recent tour of the Pacific Street building, a visitor saw 25 people in new-employee orientation. Fortune magazine this year recognized Fiserv as one of the World's Most Admired Companies for the sixth straight year.
First Data started in Omaha in 1971 as First Data Resources. Through the years it experienced incredible growth as well as considerable shrinkage. At one time, The World-Herald reported, the company employed about 8,000 people in the Omaha area.
American Express owned First Data for about 10 years, until 1992.
Layoffs have taken place numerous times. Wehbe, who joined First Data in 2016, said he didn't know how much of the decline in employee numbers could be attributable to layoffs or to companies spinning off from First Data over the years, as Western Union did in 2006.
First Data was publicly traded for years, then went private after being acquired by investment firm Kohlberg Kravis Roberts 12 years ago. First Data Corp. went public again in 2015.
Fiserv said at the time that it acquired First Data it would invest $500 million in innovation.
Cave said it's too early to know how or where in the Fiserv kingdom that money will be spent.