King Kong of midtown Omaha is looking out of sorts, lost, rather emasculated.
For years, the bulky beast has stood out on a sign along Dodge Street near 44th, gripping hamburgers and beckoning the hungry into a restaurant that bears his name.
But lots of new real estate development has come to his neck of the woods — and a hotel rising next door, to the west, now blocks a full view of the gorilla sign.
Owner Nick Triantafillou says that's costing him business. He wants to move his King Kong monument sign to a different spot — away from the multistory hotel that makes the ape look more chimp than champ.
"They want to squeeze King Kong," Triantafillou said. "I don't think it's fair."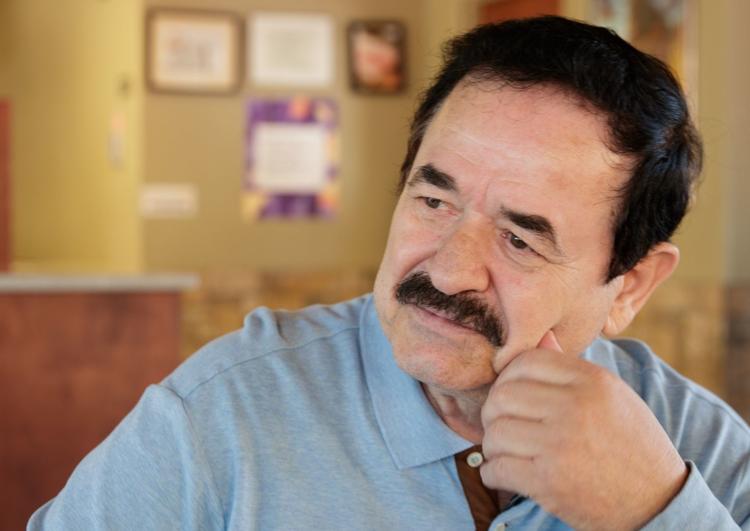 The City of Omaha appears poised to grant Triantafillou's basic request — that is, to erect a nearly 12-feet-tall gorilla monument sign to the east side of the restaurant on Dodge Street and out of the hotel's shadow.
Anna Bespoyasny, Omaha building superintendent in charge of permits and inspections, said the move "shouldn't be a problem" as long as the sign complies with the same size and setback rules.
But Triantafillou, who is no stranger to pushing the boundaries when it comes to his pack of King Kong restaurants, said he is contemplating a bigger battle. Ideally, he said, he'd like to add height to the new gorilla sign, perhaps 5 more feet. That would require special city permission to waive the rules.
It's not that Triantafillou is anti-progress; he said it's quite the opposite. He looks forward to when patrons of the new and surrounding building projects stop by for a double or triple burger, a gyro or a steak.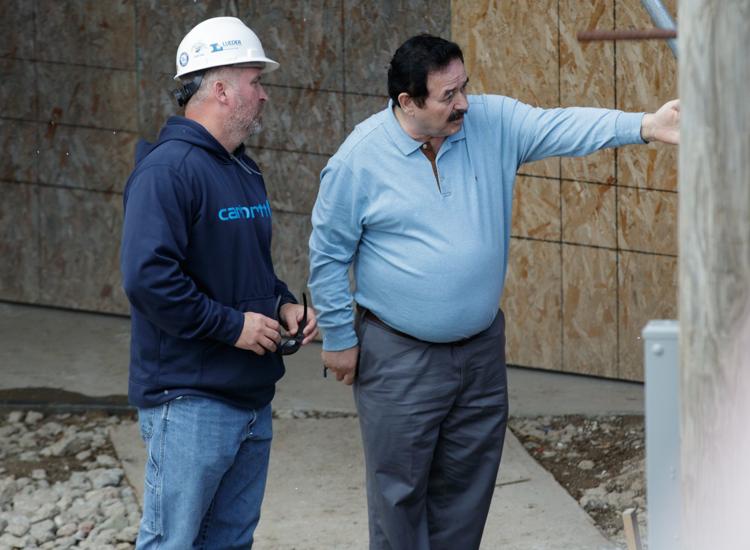 Indeed, Triantafillou has ridden the same development wave. About five years ago he tore down his old building, a former Dairy Queen, and built a restaurant that now seats twice as many, about 80 people.
Though King Kong has occupied 4409 Dodge for nearly 25 years, it's been within the last few years especially that the area has seen a burst of redevelopment fueled largely by growth of the nearby University of Nebraska Medical Center campus.
"It's paradise," Triantafillou said, as he looked out his restaurant windows that frame views of various UNMC facilities, including the $323 million Fred & Pamela Buffett Cancer Center, which opened in 2017.
"I'm not complaining — all the development will help my business," he said. "It's just the sign. No one can see me."
If a car is eastbound on Dodge and misses the right turn into the restaurant, he notes, it's a circuitous route to get back on track for a King Kong burger. Triantafillou said some customers have complained, and he estimates that business is down as much as 20% since the new hotel shot up.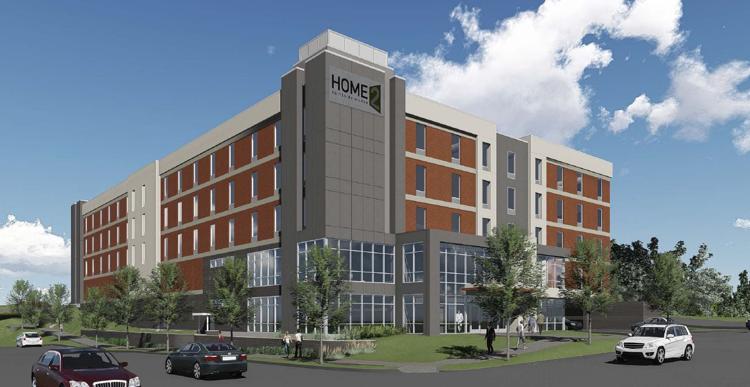 When done later this summer, the 102-room Home2 Suites by Hilton is to offer indoor swimming and indoor parking. Its design, five stories tall facing Douglas and three levels on Dodge, accommodated a tricky, steep grade change dropping south from Dodge Street, said Dan Marak of MH Hospitality.
Guests of the $15.6 million hotel will enter and exit from Douglas, not Dodge.
Directly behind King Kong along Douglas Street, construction has begun on a four-story apartment project spearheaded by GreenSlate and Clarity developers. Aimed at students, the 127-unit, $12.5 million project is being built where a handful of single residential structures once stood.
Going west along or near the Dodge corridor are hundreds of other new apartments at the Duke complex and the Dundee Flats. More nearby housing projects are in the pipeline and planning phases.
Triantafillou, who is working with Troy Panagiotis of Omaha Neon Sign Co., said he's waiting for the city's response to his existing sign relocation permit before he decides whether to seek the waiver for more height.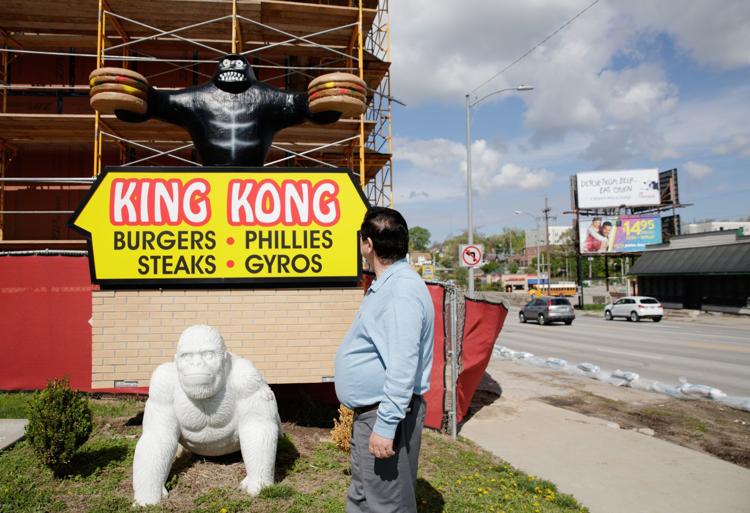 He emphasized that he is not perturbed by the hotel or other development around him. He said he just wants his gorilla to be noticed.
It wouldn't be the first showdown between King Kong and city officials. Triantafillou's earlier expansion project involved a conflict over what previously was a bigger ape sign, as well as driveways into the restaurant off of Dodge.
That dispute ended with Triantafillou agreeing to shrink the old gorilla sign (from about 25 feet to 12 feet) to meet newer and updated city standards. He also agreed to add landscaping and to use better building materials.
Ultimately, the King Kong restaurant was allowed to have two driveways off Dodge (thanks to an Administrative Board of Appeals override of an Omaha Public Works Department recommendation).
If he had his druthers now, Triantafillou said he would put a neon arrow at the site of the existing Dodge Street gorilla monument sign, directing traffic into the eatery. He wants to bring out of storage a gorilla pole sign once used at a west Omaha King Kong restaurant and erect it on the east side of the 4409 Dodge eatery. The gorilla on the current sign would become a statue in front of the restaurant.
Sign up for our Money headlines newsletter
Get the latest development, jobs and retail news, delivered straight to your inbox every day.
Marak said he'd have no problem with his neighbor having a taller sign and says he would prefer a higher limit for the Home2 Suites.
Triantafillou, a Greek immigrant who owns four restaurants in Omaha and Lincoln, said his intention is not to knock progress. Yet he didn't get where he is today without defending King Kong's rights and pushing the envelope.
Decades ago, he said, some thought it odd that he named his supersized burgers after King Kong. But the catchy name increased business and he wound up branding future restaurants in the ape's image.
He also surprised some when, around 2000, he gained the exclusive trademark to use the big-screen beast's name in food and restaurant service businesses. He once took on Burger King, firing off a legal notice when the fast food chain's ad campaign encouraged customers to feed their Kong-sized hunger.
Now, Triantafillou said, he wants to ensure that the midtown King Kong doesn't get lost in a changing environment.
"King Kong, he's not a small monkey, no," Triantafillou said. "He should be big."
Changing Omaha: More than 50 stories of local development projects in the works
An ongoing list of some our development stories from 2018-20, with the most-recent stories at the top.