Coming off another record-busting home sales year, the question becomes: Can the Omaha area continue the robust housing activity that has sales on a six-year climb?
With nearly two months of 2017 to help gauge, people in the real estate industry say home-buyer interest is great enough to yield year-end results at least as good as last year's.
Most said they'd wager on an even better outcome if the metro area weren't facing an inventory so tight that Omaha landed on a list of 10 U.S. cities with the biggest shortages of homes for sale.
CBSHome Real Estate's Bill Black put the ongoing scarcity into these terms: "You might say that means it's 100 degrees out and there's only one air conditioner for sale."
Though the availability of local for-sale housing stock has tumbled to a 20-year low, industry representatives are confident good times will keep rolling in the housing market, even if not at record speeds.
That's because they're seeing unquenched buyer demand from millennials tired of high rents. They expect the threat of rising interest rates to push hesitant buyers off the fence, and more sellers into the market.
The area's relative healthy economy also continues to drive demand, said Monica Lang, president of the Omaha Area Board of Realtors.
"Personally, in new construction, I've seen a lot of out-of-state buyers coming to Omaha for jobs," said Lang, who's worked for the past 20 years with homebuilder Celebrity Homes.
To widen the housing pipeline that can feed such demand, agents are stoking past client relationships and stretching imaginations at an intensity not seen before.
"That's going to be the biggest challenge of the year," Susan Clark of P.J. Morgan Real Estate said of rebuilding an inventory that has plummeted 63 percent since a high in 2007, from 5,400 houses to 2,010 at the close of 2016.
She said agents are knocking on doors and sending neighborhoodwide mailings to drum up sellers. They're spending more time researching and explaining how equity can work in a seller's favor.
Lisa Ritter of Re/Max Results foresees relief, and believes sellers will surface now that election anxiety is thawing.
"People are going to settle down and get back in the game and will want to make their moves."
Much of the Realtor optimism lies in momentum of the past 12 months. Consider:
» Total home sales (existing and newly built) in 2016 hit an all-time high, surpassing 14,000 for the first time. The nearly 14,500 sales represent an increase of about 4 percent from the year before, according to the Board of Realtors.
» Permits issued to build new houses in the Omaha area are at the highest point since 2009. That's due largely to Sarpy County growth. Last year's tally of 2,632 single-family home permits remains far from the metro-area high of nearly 5,500 in 2005, according to figures compiled by the Greater Omaha Chamber of Commerce.
Helping to pump up construction permits are buyers like Jen and Adam Ritter, newlyweds who started off wanting an existing home, then shifted gears after growing weary with limited choices.
The couple were ready in October to throw in apartment life for their first house. "But anything we liked was at the absolute top of our budget and seemed like it still needed new carpet, new appliances. There was always something," said Jen.
Thoughts of building from scratch, at their price range, conjured up off-putting images of a row of houses that all looked alike, she said. But that didn't turn out to be the case, the Ritters said. They love the $235,000 four-bedroom model they're about to build in Celebrity's Sagewood neighborhood near 175th and Fort Streets.
The couple will wait at least eight months — an average Celebrity wait that's grown, due to demand, from six months a couple of years ago.
Even with longer waits, Lang said, she had her best sales year in 2016.
"To be honest, we were ready to move now," Jen said, emphasizing the now. "But it's worth the wait. It seemed like that was the smart way to go."
Omaha is not alone when it comes to shrinking inventory, said Jonathan Smoke, chief economist with realtor.com, a housing data and research site. More than two-thirds of the national markets his organization monitors are seeing fewer homes on the market today compared with a year ago.
Of 150 markets examined by realtor.com for a recent housing study, Omaha ranked in the top 10 with the worst inventory crunches.
Low inventory can be a reflection of quick turnover and is not necessarily a bad indicator, Smoke said.
"It means the real estate market fundamentals are certainly in the healthy category," he said, and should result in competitive bidding wars and higher-than-normal price appreciation.
Indeed, a just-released study by the University of Nebraska at Omaha's Center for Real Estate and Asset Management reports that existing home prices in the Omaha area rose by about 6 percent from the end of 2015 to the end of 2016 — the highest annual appreciation in nearly two decades.
Author and UNO professor Steven Shultz said the metrowide valuation rose by about 23 percent over the past five-year period, with variances depending on the neighborhood.
Though many Omaha property owners can bask in knowing they've regained value since the 2008-09 steep fall in home prices around many parts of the country, the losers in a competitive sellers' market tend to be first-time buyers with limited budgets.
Andy Alloway, owner of Nebraska Realty, said bidding wars and fast-moving properties have left many newcomers with "buyers fatigue," meaning they gave up trying to nab a dream house and settled into apartment life for another year.
Had there been more inventory, Alloway said he believes that sales might have exceeded the nearly 14,500 Omaha-area sales recorded in 2016 by the Multiple Listing Service that covers the Omaha area.
He said some homeowners may not be putting their homes on the market because interest rates they secured in recent years are so low they can't see a good enough reason to move.
Others have held back for fear they would not be able to find a replacement home of their liking.
The tight market also has given way to more pocket listings, said CBSHome's Black. Such non-advertised properties have long been popular in celebrity circles to shield privacy. But in competitive times, an agent might learn of a potential seller, put the information in his or her pocket, and tap a buyer he or she knows who then would get a jump on that sale.
It's not uncommon for well-groomed homes listed for $200,000 or less to sell lickety-split. That's a hot range, agents said. Take the Re/Max Results client who last week had 40 prospects tour a house on the first day it was listed; 13 made offers. The property sold above its $150,000 asking price.
Such conditions have prompted many buyers to adjust expectations.
A couple working with Nebraska Realty's Nate Ostrand began searching a year ago, with a desire to spend no more than $175,000 for a move-in ready home in midtown. A series of disappointments led them to look for an "ugly duckling" property — a cheaper buy that, with investment and elbow grease, can become a treasure.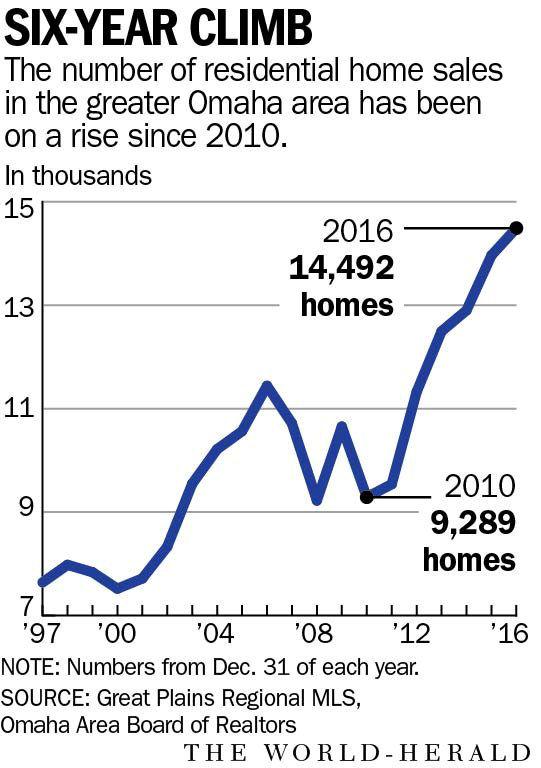 Vince Leisey of Berkshire Hathaway HomeServices Ambassador Real Estate said he's also seen a surge of sales of higher-end houses going for $750,000 and up since the presidential election. He's presuming it's a sign of confidence in the country's business climate.
Clark, who heads residential sales for the P.J. Morgan company, cited a half-million-dollar lake house she sold within two days in January. That's remarkable to sell such a property in winter, she said, when it's hard to capitalize on the water and fun lifestyle features a lake house has to offer.
She said the lake house sellers wanted to wait at first, but she convinced them the time was right. The family is searching for a new home, ideally in the million-dollar range in a newer lake community.
Leisey said that to pull off another record year, Omaha must grow its for-sale inventory.
He traces the scarcity of housing options in part to the 2012 collapse and bankruptcy of HearthStone Homes, which for years battled with Celebrity to be the most prolific producer of entry-level homes.
Across the U.S. this year the National Association of Realtors expects moderate growth, yet at a slower pace than in 2016. Smoke predicts that the Midwest will beat the national average in terms of proportion of millennial home buyers. (He pointed to five cities in particular, including Omaha.)
Omaha's tight inventory also should improve, he said, as sellers see a "window of opportunity" start to close with rising interest rates that eventually could scare away buyers.
However, new sales figures released just days ago by the Omaha Area Board of Realtors show that a turnaround has yet to begin. The number of homes that went under contract in January is down about 6 percent from the same month a year ago. The number of homes on the market dropped further, from the year-end 2,010 to 1,865.
Doing the math, Lang noted there are fewer houses for sale today than there are Omaha-area real estate agents (about 2,500) brokering the deals.
"Pretty shocking," she said. "It's just a very quirky marketplace right now."