Now preparing for takeoff: the Eppley Airfield of the future.
The Omaha Airport Authority is preparing to move forward with a full reconstruction of the Eppley Airfield terminal, in the process reshaping the way the airport looks and operates.
Within five years, the potential $500 million rebuild would modernize Eppley with more than a new feel. The concourse, airline gates, security checkpoints, ticket counters and baggage claim all stand to change in an essentially new terminal.
"It's really an exciting time for Omaha," said Dave Roth, the Airport Authority's executive director.
In 2018, airlines scheduled more than 6.1 million seats to fly through Eppley — a record . Since 2013, airlines have doubled the number of nonstop flights from Eppley to 34.
Last year, Eppley surpassed 5 million passengers — also a record and an increase of 1 million from just five years prior.
The Airport Authority has contracted with Holder Construction of Atlanta to lead the design and construction of the project. Corgan Architects of Dallas is on the project team to design the terminal. Holder Construction is recognized as a leading airport construction firm whose general body of work also includes downtown Omaha's Union Pacific Center.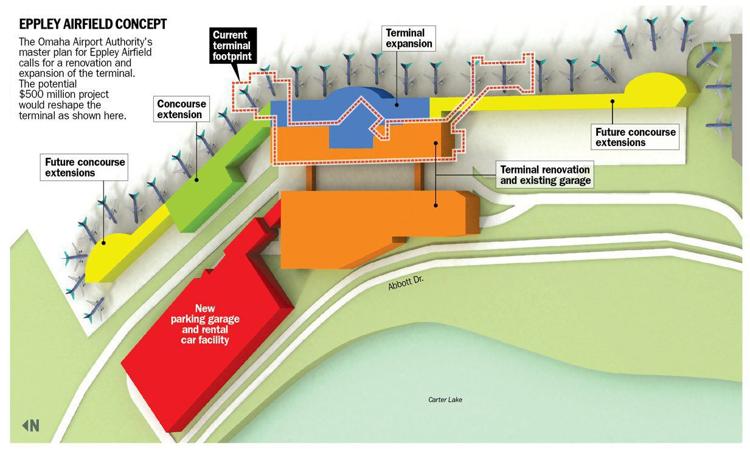 The contractors' initial task is to provide a preliminary design for the terminal, with a goal of completing that by fall.
Roth said a lot of planning will take place over the next six months before specific plans, including the terminal's future layout, are solidified by the end of the year.
But already, officials have a good idea of how they want the future Eppley to flow — and it's out with the split concourses and dual security checkpoints.
Instead, Eppley would have a single linear concourse to reach the airline gates, accessed through a consolidated security checkpoint in the terminal's center. By unifying the flow of travelers, Eppley sees an opportunity to improve its areas for food, concessions and retail.
Flyers also will experience a new check-in lobby and baggage claim.
"It will be a significant change to our facilities," Roth said.
Sign up for our Money headlines newsletter
Get the latest development, jobs and retail news, delivered straight to your inbox every day.
As a governmental entity without taxing authority, the Airport Authority expects to issue long-term revenue bonds to fund the renovation, paid back through operational revenue from the airport and a federal passenger facility charge.
But the course of the project is not set in stone. Roth said officials have allowed for "off-ramps" before construction begins if the economy or passenger activity aren't as strong as expected.
Even if the terminal reconstruction moves forward, it would happen in stages. After an initial renovation and expansion, fully extended north and south concourses are projected to happen once Eppley reaches 7 million passengers.
Officials see the new terminal fitting in with other customer service improvements already happening at Eppley — a new parking garage, the flyOMA app, shuttle tracking and the ability to check parking availability in real time.
Today, Eppley is known as a medium-sized airport with easy functionality. Through the changes, Roth said Eppley will continue to focus on convenience and efficiency for flyers.
"We want it to only get better for the customers as they travel through Eppley," he said.