Eppley Airfield's new North Garage was open to public parking as of Thursday morning.
People wanting to use the new garage will follow a different traffic pattern than normal for Eppley.
The existing garage, now known as the South Garage, remains open. The route to access that garage remains the same — take the driveway toward Eppley's terminal, then veer left into the South Garage.
But if you're coming to Eppley from downtown and want to access the new garage, you will drive past the terminal. You will stay on Abbott Drive, pass the new $70 million garage, then immediately turn onto a new driveway that leads to the North Garage entrance.
The North Garage offers hourly or daily parking at a cost of $16 per day, or $12 on the top floor. The new garage has 2,100 public parking spots on floors 3 through 6.
Eppley is promoting the new parking brand ParkOMA for the airport's official parking. On Eppley's website — flyoma.com — and the flyOMA app, people can check for available parking before arriving at the airport.
At the new garage, floors 1 and 2 are reserved for car rental companies. Rental car returns will enter directly off Abbott Drive, separate from the new public parking entrance.
Connected to the terminal is a new customer service building that contains the rental car counters. People will now be able to walk fully indoors from the garage into the terminal.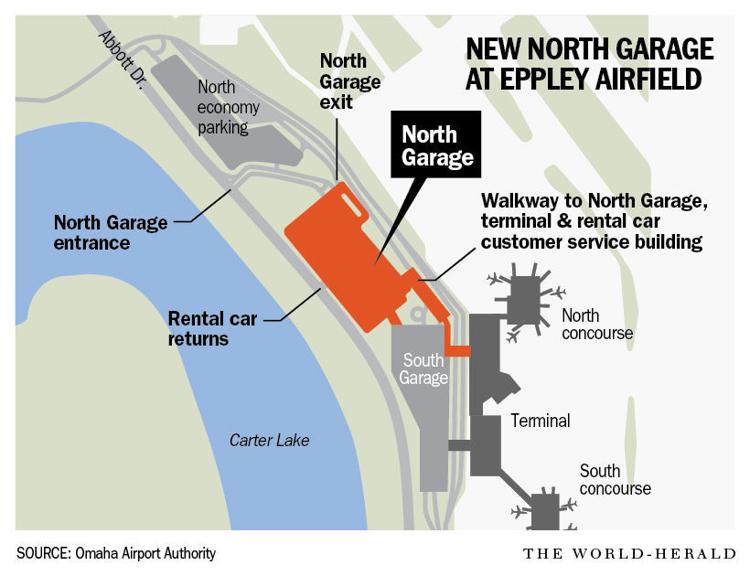 Check out nearly 100 stunning photos of Nebraska
Check out some of the most beautiful images of Nebraska.