The owner of a building that Douglas County wants to buy for a new juvenile detention center site says it is not for sale.
"It's not for sale," Perrin told The World-Herald. "We're using the building."
If Perrin won't part with his property and county officials decide they can't do without it, that could set up a legal battle. No one has mentioned eminent domain in this instance, but Perrin has recent experience with it.
The University of Nebraska Board of Regents used eminent domain authority to acquire land from Perrin south of Leavenworth Street for University of Nebraska Medical Center expansion. After a two-year legal battle, the university ended up paying Perrin $1.975 million for his land between 40th Street and the Field Club Trail and Mason and Marcy Streets.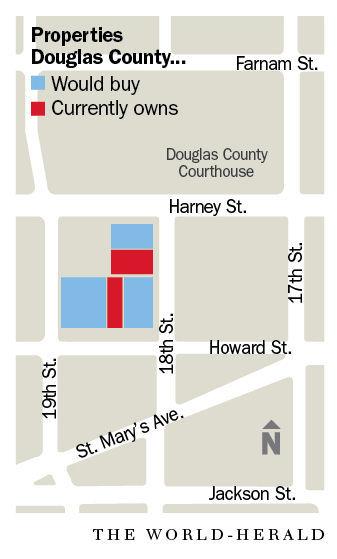 Douglas County is trying to assemble most of the city block southwest of 18th and Harney Streets for a potential juvenile justice campus. Tentative plans envision two buildings. One would be a "justice tower" with juvenile courts and related services, plus new offices for the Douglas County attorney and Douglas County public defender. The other would be a juvenile detention center. No formal proposal has been made, but a consultant estimated the cost at up to $100 million.
The county already owns one building on the site. Also, the Omaha Housing Authority has conditionally accepted Douglas County's offer to buy its headquarters at 1805 Harney St. for $2.75 million. The housing authority has a conditional contract to buy the historic original Omaha Public Library building at 1823 Harney St., and its nearby parking lot, for $2.75 million. OHA would move to the library building.
The county would demolish its building on the block, plus Perrin's and the housing authority's current offices.
Perrin said Friday that the county didn't contact him about purchasing his building until after the County Board voted April 24 to make formal offers on his and the housing authority's headquarters on the block.
Perrin bought the building, which formerly housed U.S. Army Corps of Engineers offices, for $470,000 in 2013. County officials had said it is vacant, but Perrin said he uses it for his business.
"I intend on using the building and continuing to use it, and make it a viable part of the community," Perrin said.
The County Board will have to decide what to do next, said Patrick Bloomingdale, the county's chief administrative officer.