UPDATE as of 4 p.m. Tuesday, June 4: Topgolf officially broke ground Tuesday on Nebraska's first venue in Omaha, with construction set to begin this week.
A press release from Topgolf Tuesday also gave a new projected opening date of spring 2020 for the location near 102nd and Nicholas Streets, instead of the previously announced summer opening.
"The Topgolf team is proud to officially break ground on our first Nebraska venue today," said Topgolf Chief Development Officer Chris Callaway in the release. 
Earlier story: The ground where Omaha's much-talked-about Topgolf facility will rise is clear of all buildings. Infrastructure work is happening, and developers expect golf balls to start soaring in summer 2020.
Drew Snyder of Westroads Investors LLC said construction of the actual indoor-outdoor driving range complex is on schedule to start this summer near 102nd and Nicholas Streets.
Construction also should begin this year on an adjacent 7,000- square-foot commercial building, Snyder said. He said a restaurateur (whom he declined to identify just yet) has signed a lease to occupy that structure.
In all, Westroads Investors is developing 10 acres that includes the Topgolf venue and the adjacent four acres of land marketed by Snyder and his partners for entertainment-related retailers.
Snyder said he still gets a few calls a week asking about the project first reported over a year ago.
The nationally popular Topgolf is known for video game-influenced golf, climate-controlled hitting bays (Omaha will have 72) and all-around social atmosphere.
What happened to the businesses replaced by Topgolf?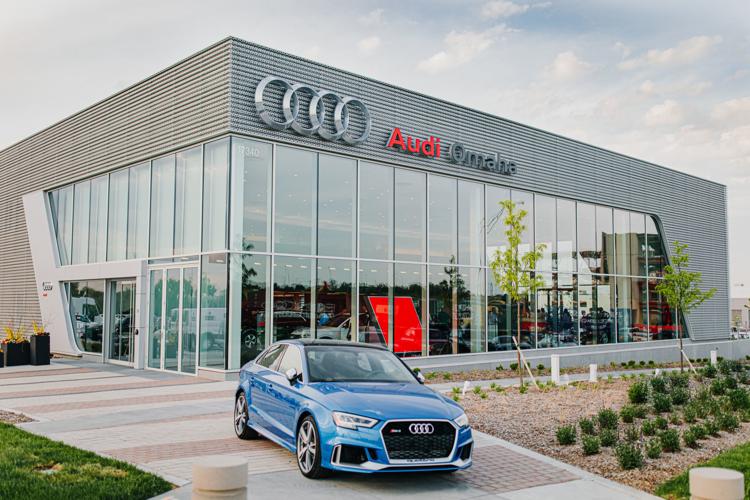 The Audi dealership that used to be at the future Topgolf site near the Westroads Mall recently held an official grand opening at its newly constructed home farther west.
An estimated 400 people and dignitaries attended the May 16 event, which featured a visit from Audi of America's executive team, including Chief Operating Officer Cian O'Brien. Audi is celebrating its 50th year in the U.S.
At about 40,000 square feet, the new Omaha Audi dealership features a barista, "a European feel" and a glass wall through which customers can watch their car being serviced while sipping coffee, said Angie Quinn of Baxter Auto Group.
Quinn said local Audi sales and revenue have increased since the move to the new spot at West Dodge Pointe redevelopment site, near 168th Street and West Dodge Road.
Two other Baxter Auto Group dealerships also built new facilities there, and will have their respective ceremonial openings in the next couple of months, Quinn said. The three dealerships (VW and Suburu included) actually opened for business late last year at the new location.
Also at that West Dodge Pointe area, Baxter Auto is nearing completion of its new headquarters. Baxter will anchor a $20 million, four-story, multi-tenant project projected to open in 2020, said developer Arun Agarwal of White Lotus Group.
Sign up for our Money headlines newsletter
Get the latest development, jobs and retail news, delivered straight to your inbox every day.