The idea of moving a fast-growing tech company into a worn warehouse in a forgotten part of town came with plenty of unknowns and risks.
But the company's leader, Dusty Davidson, was captivated by what a revamped Ashton building in north downtown Omaha could offer his Flywheel workforce. Owner Paul Smith was eager for a tenant of that caliber.
The brokerage teams representing each side were tasked with smoothing the wrinkles of a 66,000-square-foot lease so tricky it was named "Deal of the Year" by the Commercial Real Estate Summit committee, a group of local real estate and business leaders.
Much of the challenge came from outside the walls of the Ashton. City government, for instance, had to give its OK to move a street and divert semitrailer truck traffic so a pedestrian corridor could be created. Massive renovation was needed on the Ashton as well as other area structures and roads to form the broader tech village vibe that Davidson was looking for.
On top of that, Flywheel's hiring and expansion demands called for quick action, said Barry Zoob, a Colliers International broker who helped represent the company. Flywheel is expected to relocate its 200-person workforce, now spread in a few different spots downtown, to the Ashton space by summer 2020. The move is seen as a spark to ignite Smith's broader plan for a $300 million hub for jobs, arts and culture called Millworks Commons between 11th, 14th, Izard and Seward Streets.
Sign up for our Money headlines newsletter
Get the latest development, jobs and retail news, delivered straight to your inbox every day.
"This project transforms an entire blighted neighborhood and gives Omaha the square footage and environment to attract companies and talent that often eludes our city," said the summit group that chose the project.
Brokering the Flywheel-Smith deal were Zoob and Chris Mensinger of Colliers and Ryan Ellis of PJ Morgan Co.
They are among the people and projects to be recognized Friday during the annual CRE Summit, expected to draw up to 1,000 to the CHI Health Center. The all-day event, in its 30th year, was founded by Omaha attorney Jerry Slusky. The Greater Omaha Chamber of Commerce has joined as a partner. Featured this year are workshops on topics ranging from data centers to retail trends in the Omaha and Lincoln areas. A spotlight will be on the area's challenges in workforce recruitment and retention.
Organizers this year selected as Omaha's "Development of the Year" NuStyle Development's transformation of the former Creighton University Medical Center into a 10-story, $110 million apartment and retail complex. At 732 units, the Atlas is the largest single-structure apartment development in Nebraska and includes a 560-foot pedestrian bridge that spans the North Freeway to connect the apartments to Creighton University.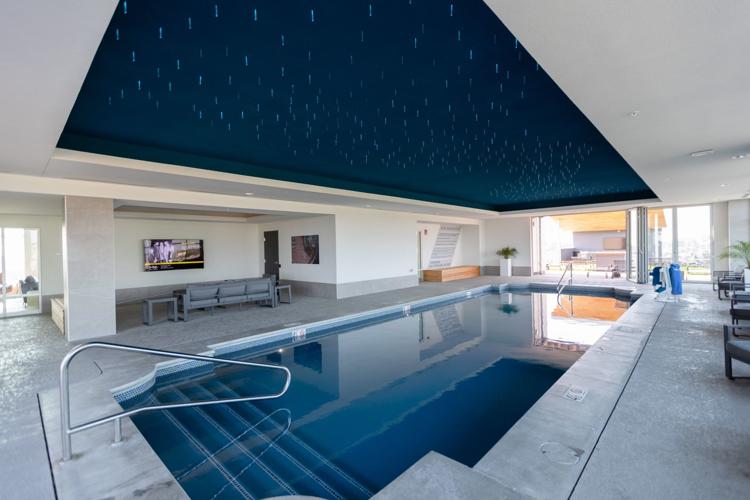 Todd Heistand, who owns NuStyle with wife Mary, said the last phase of the project is to be done by the end of May. With so many units, Heistand said, many were skeptical the old hospital would fill up. At the current pace, he said, all units should be leased by July — which surprised even Heistand.
Said Slusky: "I don't think a redevelopment project in the history of Omaha matches the scale and difficulty."
For its Lincoln project, Craig Gies and Boyd Batterman of BiC Construction are to be recognized for the $6 million redevelopment of the Schwarz Paper Building in the historic Haymarket area. The four-story structure at Eighth and O Streets was converted to condos and commercial offices, requiring all new mechanical, electrical and other systems.
Slusky cited the difficulty of the urban project. "This was extremely complex and came out beautifully."
Friday's conference also will induct five people into the local Commercial Real Estate Hall of Fame. The honorees, chosen for the marks they made on the real estate landscape, are: Hal Daub of Husch Blackwell; Pat McNeil of McNeil Co.; Roger Morrissey of Realcorp Inc.; Allan Murow of N&M Brokerage Services; and Jay Noddle of Noddle Cos.