A new redevelopment plan has emerged for a much-talked-about corner just south of downtown Omaha.
Housing remains the proposed use for the acre of land southeast of 10th and Pierce Streets that stretches to Ninth Street and is bordered on the south by an alley.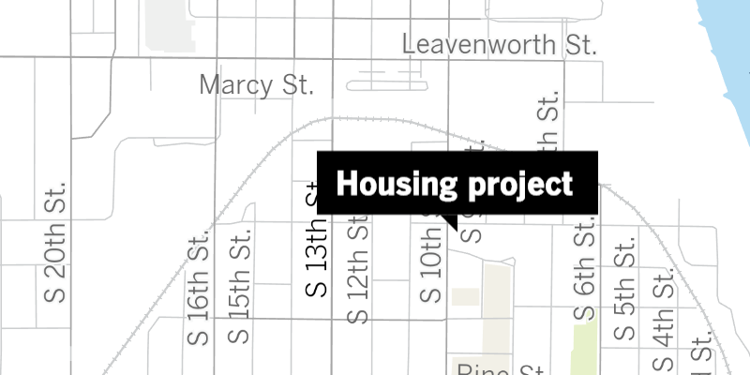 But the development team behind the project has changed — as have the number of dwellings and other details — since the chunk of the Little Italy neighborhood shifted ownership and an earlier plan died more than a year ago.
Eric Wieseler, who has led other urban infill projects, now has control of the property. He seeks to construct an 89-unit apartment building that has five levels and a detached fitness center. The price tag is estimated at $15.3 million.
Previously, PJ Morgan Real Estate had been working on a $7 million plan that envisioned fewer dwellings — 19 for-sale upscale townhouses, some with two-car garages, as well as a rooftop deck and private courtyard.
That so-called Avanti project (Avanti in Italian means onward, or forward) had gone through several city approval stages before the Morgan company pulled out, saying costs had grown too high. About half the dwellings had been reserved.
Wieseler, whose plan calls for rental units, faces his own challenges.
The Omaha Planning Board was scheduled to discuss the project Wednesday, but planners recommended a layover so Wieseler could address questions mostly related to design. The city, for example, wants to ensure that new structures sit far enough away from the street and favors materials and techniques that would help the building blend in better with the neighborhood.
"It's mostly design-related stuff that caught our eye," said Planning Director Dave Fanslau. "We feel there is some work to be done to make it a better project."
Wieseler said Tuesday that he was working with city planners on an updated design. He said the roughly 112,000-square-foot apartment building, which has no name yet, will provide luxury rental dwellings on four levels and an underground garage.
The city master plan for 10th Street encourages high-density multifamily housing south of downtown, and aims for projects that are urban in nature. Wieseler's rezoning request is consistent with city goals, a Planning Department memo says.
Just within the past couple of weeks, the 10th and Pierce Streets site was cleared of its three boarded-up houses and accessory structures.
A check with a few neighborhood leaders revealed mixed reviews about the proposed apartments.
Arnie Breslow, leader of Old Market South Neighborhood Association, said he talked to the developer and offered "minor" suggestions. He thinks the redevelopment project ultimately will be good for the area.
"They've tried to make it blend," he said.
Breslow said he likes the developer's plan for 35 two-bedroom units among the 89 dwellings (the plan also calls for 50 one-bedroom and four efficiency units). Breslow said efficiency and smaller units tend to attract people who won't stay long.
"What we're looking for are people who are going to live there 10 or 20 years," he said. "This is a neighborhood. We want people who will be maybe not forever neighbors — but longtime neighbors."
Mary Thompson of Dahlman Neighborhood Association said the she opposes the project in part because she thinks the developer was not transparent enough and waited too long to contact her group. She thinks the plan calls for too many on-street parking spaces.
Wieseler said the rezoning request layover allows his team time to set up conversations with neighborhood groups and to continue working with city planners on a design that he expects will "exceed expectations."