A company that specializes in building large solar farms in the Midwest is proposing a $230 million project on land east of Lincoln.
Ranger Power plans to apply this week for a permit from the City of Lincoln for the project. Company officials said they have entered into agreements with all the landowners on 1,000 acres of land north of Highway 34 on both sides of 134th Street.
The timing of the construction is uncertain because it wouldn't start until the company finds a buyer for up to 230 megawatts of power per year. The project could start as early as a year and a half from now, said C.J. Walsh, the company's vice president of development.
The site is near a Lincoln Electrical System substation with an Omaha Public Power District power line, officials said.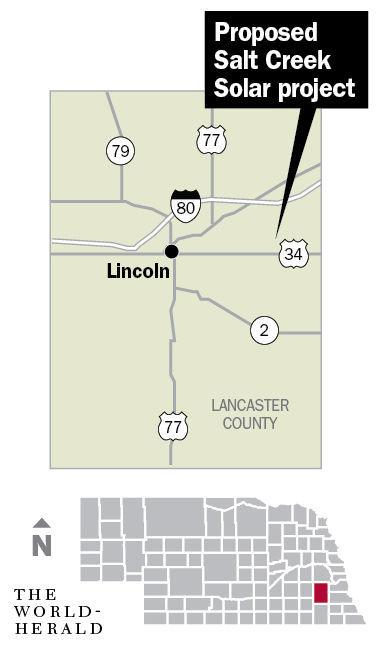 If the solar panels produce the full amount of power, company officials estimate that it would yield $800,000 in tax dollars each year.
The company held an open house Monday to discuss the project with potential neighbors.
"For the most part people have been really welcoming, really interested in solar, interested in the project and open dialogue," said project manager Colin Snow.
He said people generally ask about setbacks, vegetative covering and a decommissioning plan.
The answers: The current plan is that solar panels will be at least 100 feet from the boundary of any parcel that has a residence on it; there will be a vegetative buffer; and in the event that the solar farm is no longer in use, the company would remove everything it puts on the site.
Sign up for World-Herald news alerts
Be the first to know when news happens. Get the latest breaking headlines sent straight to your inbox.
"The design here is intended to have as little impact as possible on the land," Snow said. "It sits in the sun quietly producing power and tax base without putting much strain on the roads, schools, county services."
The project would create about 300 construction jobs and a handful of permanent maintenance jobs.
The company is not asking for local or state incentives, Snow said.
Pat Haverty, vice president of the Lincoln Partnership for Economic Development, praised the project in a statement:
"This proposed solar project will increase household earnings through the creation of hundreds of jobs during construction and millions in construction dollars being spent in Lancaster County. The project will also generate significant tax revenue that will help fund local schools, public safety and other Lincoln and Lancaster County services and infrastructure."
The site could produce up to 230 megawatts of power per year, which would make it the largest solar site in Nebraska. But another company, NextEra Energy Resources, is looking at building an even larger capacity solar farm in northeast Nebraska.
The company told the Lincoln Journal Star in February that it has leased 2,500 acres in Pierce County and aims to produce up to 423 megawatts.
Our best photos from June 2019