Linda Meigs hated to part with the grand old building.
In the four decades she and her husband John owned the West Farnam Apartments, they enjoyed a creative tenant mix that included an Oscar-winning screenwriter, a reclusive art collector, an advice columnist and an antique dealer known for throwing spectacular Halloween parties.
The owners and residents alike were drawn to a history that identifies the structure as the first luxury apartment house erected in Omaha's Gold Coast area.
It featured a south lawn where aristocrats socialized, an interior stairwell where maids shared secrets, an electric elevator that to this day still runs.
"I get wistful thinking about it," Meigs said of 3817 Dewey Ave. "I have loved that building for 40 years. I treated it sort of like a museum."
However, with age came huge updating and maintenance demands. Meigs' husband died, and the time came for her to invest in the property's future or in other personal artistic endeavors.
Developers came knocking, and Meigs let go.
Now an Omaha group led by Milestone Property has purchased the nine-unit structure for $725,000 and is embarking on a $2.9 million rehabilitation effort approved by the City Landmarks Commission.
With help from $340,000 in tax-increment financing, the investors hope to modernize the apartments, most of which span about 1,800 square feet. They'll more than double the rents, yet retain historical integrity whenever possible, said Pat Lacy, a principal in the investment group that includes Omahan John Higgins and Larry Jensen, president of Milestone Property.
If all goes as planned, West Farnam Apartments would be completed by spring of 2018 and join the growing number of new or enhanced residences in a Blackstone neighborhood area that has burgeoning alongside the nearby University of Nebraska Medical Center.
While much of the renaissance has been concentrated along the Farnam Street spine, the West Farnam Apartments project marks further renovation spillover onto surrounding streets.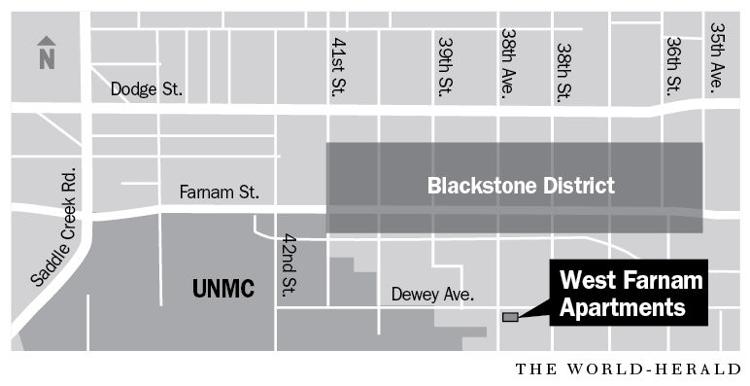 (Despite its name, the West Farnam Apartments actually sit at the corner of Dewey and 38th Avenues. The 105-year-old property was so named because in the era it was built, the neighborhood was more widely known as the West Farnam District.)
Along with West Farnam Apartments, Milestone Property is working on 3700 Dewey, a 24-unit market-rate apartment complex that will replace the burned Metz mansion at 3625 Dewey Ave. That nearly $4 million four-level building is on track to contain a ground floor of parking and three stories of apartments.
Just a stone's throw away are the razed remains of three houses — 3812, 3816 and 3820 Harney St. — on a construction site that's to become the five-story, 56-unit Blackstone Depot Apartments.
That project, by GreenSlate and Clarity development companies, carries an estimated price tag of $8.3 million and is to be buoyed by up to $860,000 in TIF to offset acquisition costs, architectural and engineering fees and public improvements.
The City Planning Department endorsed the TIF request for West Farnam Apartments, saying renovation would increase the value of the property from about $500,000 to an estimated $2.5 million, help preserve a historic building and contribute to growth of the Blackstone District.
Wednesday, the Planning Board also gave its green light to the TIF request, which now goes on to the City Council.
On a recent tour, Lacy and Alex Jensen, who is part of the development team, described the future West Farnam Apartments, saying the new owners plan to update with enlarged kitchens and new systems including electrical and heating and air-conditioning.
They'll replace windows with "historically acceptable" cottage-style lookalikes and, when it makes sense, restore crystal doorknobs, crown molding, wood floors and other original pieces, Lacy said.
"We like old stuff," Lacy said. "Anything period to the building we want to maintain."
The exterior of the nearly 15,000-square-foot building — designed by architect Frederick A. Henninger in a combined Italian Renaissance Revival and Prairie Style — is to be cleaned up.
Sun rooms will stay, but three-bedroom units will turn to two bedroom units as another bathroom and individual laundry areas are added.
The internal staircase that winds down to the basement and originally was used by servants will go, because it is a fire hazard, said Bob Torson of Robert Torson Architects.
He said a signature piece, an original Otis elevator, is to be restored so passengers can see through a glass panel on the elevator (that over the years was covered with art) to the outdoors.
"We're hoping to strip off the paint and replace that glass back to its original state," Torson said.
Photos: West Farnam Apartments to undergo renovation
West Farnam Apartments  to undergo a comprehensive $2.9 million renovation.
While tenant Diane Hayes is sad to leave the place she's lived for five years, she said she recognized that major investment was needed to take the structure into its next 100 years.
She said she won't move back after the renovation, which is to start in August, in part because of the raised rent but also because she landed a different "magical" place to live.
Still, she said, she'll miss quirks such as the "absurdly deep and scary sub-basement" and middle-of-the-night noises that, to her, bring a sense of familiarity and comfort.
"It's such a strange place, just charming," said Hayes, who is an antique dealer and artist when not working as remote operations supervisor at Proxibid.
Meigs, who sold the property a few months ago, said her fond memories center on tenants such as Hayes, whose annual Halloween parties transformed unit No. 1 into fantastical gathering grounds for creative types.
Meigs recalled other tenants such as Omaha native and screenwriter Alexander Payne and philanthropist and art collector Francis T.B. Martin.
She said she and her architect husband were intrigued by a tenant base from even farther back, before the couple bought the property in 1977. According to the landmark application, the West Farnam Apartments were born in an era historians called golden — when a frontier city came of age and residential areas shifted.
So-called desirable areas shifted westward, from South 10th Street and the area surrounding Capitol Hill at 20th and Dodge Streets to the West Farnam District, which became known as the Gold Coast because so many wealthy capitalists lived there.
When the wealthy moved out of big houses, Meigs said, the West Farnam's spacious units could accommodate their furniture.
But, she said, today's younger tenants want a second bathroom and other contemporary fixes. Updating was costly. Ultimately, Meigs opted to focus on artistic endeavors at the Historic Florence Mill.
She bought the old flour and lumber mill in 1998 and operates it as a museum, crediting her landlady experience with giving her the confidence to take on such a restoration project.
Of the West Farnam Apartments, she said, she feels good about its next phase.
"I chose to sell it to someone who would be a good steward of the building, and I could go on to do things I always wanted to do."