When Kiewit Corp.'s new headquarters takes shape in north downtown, it won't have shops or restaurants on the ground floor of its adjacent parking garage.
Developers of the construction and engineering company's offices are asking the city to waive a requirement that garages built in certain areas include first-floor retail offerings, like restaurants and shops.
The Omaha City Council on Tuesday held a public hearing on the project's redevelopment agreement, which includes waiving that requirement at Kiewit's site. There was no specific discussion about the waiver.
The idea behind requiring retail shops on the ground floor of parking garages is that they keep the areas active after normal business hours.
They also avoid creating a large, street-level blank wall, like the parking structure between Parliament Pub and Michael's Cantina at The Market downtown along Harney Street.
Sign up for World-Herald news alerts
Be the first to know when news happens. Get the latest breaking headlines sent straight to your inbox.
Why should the city waive the requirement in this case? Kevin Andersen, one of Mayor Jean Stothert's deputy chiefs of staff who works on economic development matters, said the retail market has changed, and the city has seen developers have a hard time filling retail spaces.
"We really have to weigh: Do we want to encourage retail, or do we want to see vacancies?" he said.
Still, he said, the new Builder's District, where the Kiewit office is planned for 15th and Mike Fahey Streets, won't be shut off from activity because the district will have other retail options, which could include food and entertainment. And Andersen said the city is excited about a big new investment in Omaha's core.
Developed by Noddle Development Co., the district includes Kiewit's new roughly 200,000-square-foot global headquarters and a 500- to 650-stall garage for its first phase.
Developer Jay Noddle said he anticipates that the Kiewit headquarters building and its garage will be the only parts of the district that won't have a first-floor retail component. He said it's cumbersome for a single-tenant building like Kiewit's to have third-party tenants on the ground floor.
"In this particular building, it gets complicated and there's security-related issues," he said.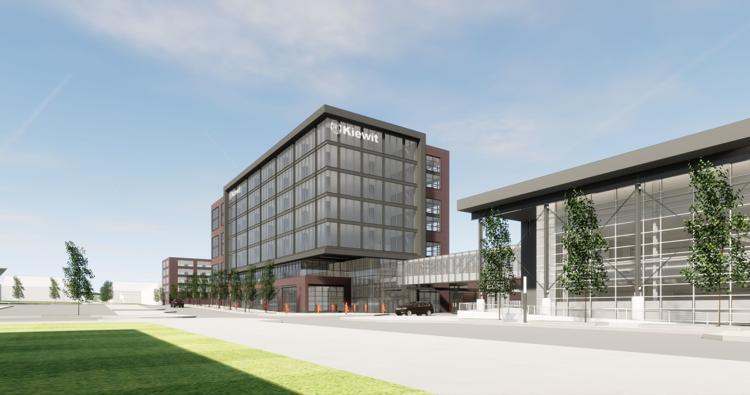 Noddle said there are plans for architectural elements along the garage to bring light to the street. And he said there are ways to activate the street level without retail, but with more "public-focused functions" that create the same vibe.
"We want to be able to be flexible," he said. "Certainly we always want to have activity on the street level in this entire development and retail wherever it makes sense."
Other projects within the district are planned, including multifamily housing, office buildings and retail and restaurants.
Kiewit spokesman Tom Janssen said the firm is doing site preparation that will continue for the next few weeks. Little activity is planned for January and February, but construction will resume in March. He referred questions on the waiver to Noddle.
Kiewit's new building is estimated to cost roughly $60 million, with the garage costing up to $16.3 million. Kiewit now is based at Kiewit Plaza at 3555 Farnam St. and has employees in several other Omaha locations. The Kiewit Plaza building is for sale.
A site plan for the north downtown project shows Kiewit's headquarters along Mike Fahey Street between 15th and 16th Streets, with a skywalk above 15th to connect to Kiewit University, the company's training center, which is already in operation. The garage is to the north but adjacent to the headquarters.
The entire Builder's District is about a dozen city blocks and could also expand the existing Union Pacific child care facility and renovate and expand Creighton's Wareham Building.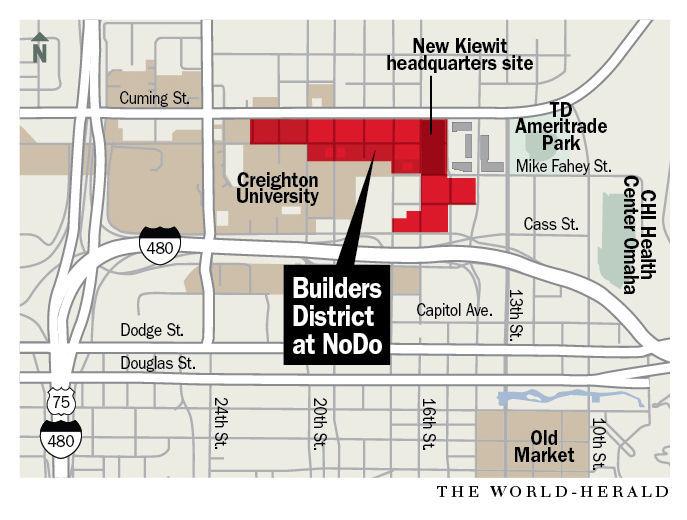 Tuesday's hearing dealt specifically with Kiewit's portion of the project. A vote is set for next week. While the council already approved a redevelopment plan for the entire district, each individual project is coming forward with a more specific redevelopment agreement.
The city plans to use up to $20 million in redevelopment bonds to help to acquire land and buildings, relocate existing businesses, demolish buildings and prepare building sites. That's mostly for the Kiewit site, but will go toward other parts of the district, too, Noddle said.
Kiewit is not asking for tax-increment financing for its headquarters.
Parking garages in Omaha have in recent years been viewed as economic development tools. They have in Lincoln, too.
The City of Lincoln doesn't require that public or private garages have an active first floor, but the city encourages it, said Wayne Mixdorf, the city's parking manager.
For example, he said, the city is designing a city-owned garage on 14th Street between N and M Streets with an active, first-floor office in mind. That design creates a safer environment and encourages people to walk, shop and see things, he said.
"We really are advocates of what has become termed in urban development the 'last mile,' " Mixdorf said. "When you bring your vehicle to downtown, we want you to become a pedestrian as soon as possible. Blank walls (on the ground floors of parking garages) don't encourage that."
Omaha architect George Haecker said he's not familiar with the specifics of the Builder's District. However, he agreed in general that street-level activity is a good thing.
Still, he said, "the flip side of that is reality. How much retail is needed in that area?" he said. "You can't just put retail everywhere without a market for it."
Changing Omaha: More than 50 stories of local development projects in the works
An ongoing list of some our development stories from 2018, with the most-recent stories at the top.