The future is up in the air at a corner of one of Omaha's most historic intersections, 24th and Lake Streets in the heart of North Omaha.
The Omaha Small Business Network Inc., a small-business incubator, recently vacated the former Safeway grocery store that the network had occupied for nearly 40 years at 2505 N. 24th St. That's on the northeast corner of 24th and Lake. The building was known as the Omaha Business and Technology Center.
The business network sold the building and land in November to 75 North Revitalization Corp., a nonprofit developer whose backers include philanthropist Susie Buffett's Sherwood Foundation. The nonprofit is redeveloping the Highlander neighborhood along North 30th Street.
The business incubator building is in an advanced state of disrepair, with a badly leaking roof among many other issues. It appears likely to be torn down.
"There's no saving that building," said Omaha City Council member Ben Gray, who represents the area.
Beyond the expected demolition, little else is publicly known about the 75 North leaders' plans for the corner. But the area around the reawakening North 24th Street is buzzing about what might happen there.
"It's sad that that (the business incubator) had to go away, but there's opportunities for other things," Gray said.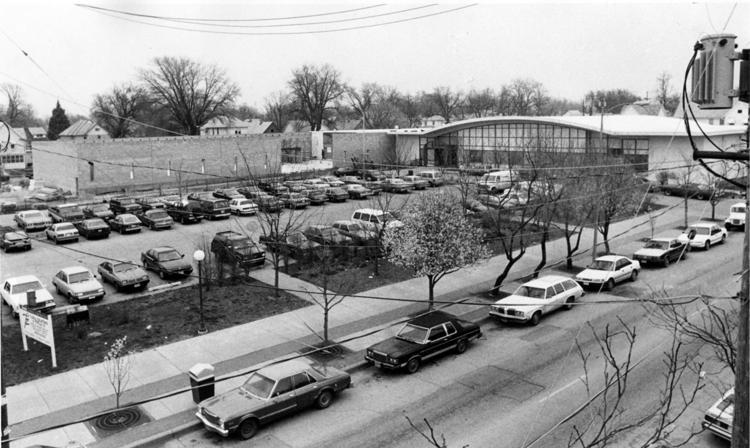 Othello Meadows, president and CEO of 75 North, could not be reached for comment, nor could two leaders on the North 24th Street Business Improvement District Board, LaVonya Goodwin and Michael Maroney.
Chris Rodgers, a Douglas County Board member who is on the Omaha Small Business Network board, said he did not know what 75 North's plans are for the property.
According to public records, 75 North paid $1.45 million for the building and property. That appears to be substantially more than it was worth. According to public records, the Douglas County Assessor's Office had set its total valuation at $524,000 two years ago, before the small-business network appealed and won partial tax exemption.
A month after buying the corner, 75 North deeded it over to the Omaha Municipal Land Bank. The land bank is holding the property in a "depository agreement" for 75 North until the developer decides what it wants to do with it, said Kenton Duncan, real estate manager for the land bank.
The sale price was enough for the cash-strapped Omaha Small Business Network to pay the City of Omaha back for $1.384 million in federal grants that the city had spent on redeveloping the grocery store for a business incubator. The City Planning Department is proposing to distribute the proceeds to several other programs. The Omaha City Planning Board voted Feb. 8 in support of that proposed reallocation. It will go to the City Council, possibly this month.
Gray said he supports a festival square for part of the former business incubator property, an idea that has been studied in recent years. He said he and the community will be involved in discussions about what will be developed there, but he said he trusts Meadows and other leaders of 75 North.
Gray said North Omaha still needs a business incubator, if not at that corner, then somewhere else.
Eric Ewing, executive director of the nearby Great Plains Black History Museum, said he had heard that the corner would be part of a development that could include a performance space, maybe an amphitheater.
"I would be happy; the Great Plains Black History Museum would like to be a part of that," Ewing said. "But it's not our decision."
He said the corner has potential for itself and the area because of its visibility and traffic as well as its historical and cultural significance.
"You have a lot of traffic through there, so whatever's put there will have great possibilities," Ewing said. "If the right thing is put there it will help the area to just boom again."
Preston Love Jr., a community activist who has offices near 24th and Lake, is old enough to remember buildings with retail downstairs and apartments upstairs on the busy corner. Maybe a new development like that would be good, he said. Some good things are happening on North 24th Street, and redeveloping the corner could give the area a boost. But the community needs to be involved, Love said.
"This is not just an economic piece here, where you buy and sell pieces like a Monopoly board," Love said. "What's the plan for the space? Tearing down is not a plan, that's an action."
Love said he views 75 North's purchase of the corner as "a safety net for the community," purchasing it so that someone who doesn't have the community's best interests in mind doesn't have it. He said he is "a defender of Susie Buffett" in her foundation's activities in North Omaha.
"But there is another piece to this corner, and that's where I'm raising my hand and saying, get beyond the kind of comfort of going to the same people you're comfortable with in the community," Love said. "There are other stakeholders here."
Tanya Cooper, president of the OIC Neighborhood Association, one of the neighborhood groups in the area, said people who live and work in the area should be involved "at ground zero" in discussions about the corner. She said she had invited Meadows to talk to the neighborhood association.
"He told me he has a vision for it, but I want him to know that the neighborhood association board and the community have a vision too, and our vision needs to be recognized and considered too," Cooper said. "My thing is that everybody works together."
She said the corner could be part of an arts district that a previous study had recommended for a nearby area, maybe with a theater.
In North 24th Street's heyday, the corner was part of a bustling retail, residential and music district. After the Safeway store opened in the early 1960s, its parking lot became a natural gathering place, then became a flashpoint for protests in the turbulent latter part of that decade.
The grocery store did not survive the 1960s. In the early 1980s, then-Omaha Mayor Mike Boyle helped lead an effort to create the Omaha Small Business Network. With help from local and federal tax revenue, they renovated the building and subsidized its operations. It offered low-cost business space with shared technology, plus training in business expertise and loans to help small businesses get started and grow. The idea was to help people own businesses and create employment in North Omaha.
It had some successes. Those include the Styles of Evolution clothing store at 2522 N. 24th St. Don and Yvonne McPherson started the shop in 2005 and still run it today. They sell clothing from casual to formal, including special orders. They specialize in, but are not limited to, styles that African Americans might have a hard time finding elsewhere in Omaha.
The couple worked other jobs to keep their labor of love going, and they survived a long sewer project that tore up the street outside the business.
"OSBN helped us become a success story; we wouldn't be here without them," Don McPherson said. "We survived it all, and we're just trying to stay in our community with the kind of service that should be extended to everybody. … This is the best part of the city right here in North Omaha."
But in recent years, the Omaha Small Business Network had more financial hard times. A major tenant, All American Meats Inc., moved out, causing a large drop in revenue. A storm worsened roof damage, which led to more inside damage, and the network couldn't afford to fix it, said Rodgers, who was asked to join the board about three years ago.
The network had to sell, Rodgers said.
"We weren't just going to give it to anybody," he said. "We had to make sure that they had the community's interests in mind."
For his part, council member Gray said he is confident that 75 North leaders have that interest.
"I don't have any questions about Othello's interests," Gray said. "I don't have any other concerns about other names that come up, be it Buffett or whoever. I know they're going to do the right thing."