After nearly 60 years in the same hands, Omaha's Kiewit Plaza has a new owner that plans to reposition the 15-story building as a place for fresh and techie businesses seeking a fit in the hip Blackstone District.
Of course, certain things at 3555 Farnam St. are golden and won't be messed with, said John Lund, managing partner of the Blackstone Plaza group, which bought the property.
For one, billionaire Warren Buffett not only will keep his Berkshire Hathaway corporate headquarters in the high-rise, but will expand onto a second floor.
New owners hope that Stan Docekal's old-school barbershop will stick around. He's the merchant who has kept Buffett's lid looking dapper for decades.
Two other small-business tenants also are welcome to stay, Lund says. And he views as star amenities the 6,500-square-foot fitness center and in-house gas and mechanics station in the 250-stall employee garage.
"You don't see a building like this — it's a classic," said Lund, who also is founder and chief executive of the Lund Co., which will serve as manager and leasing agent.
Currently home base for two of the city's four Fortune 500 companies, Kiewit Plaza's most sweeping changes aren't scheduled to happen until 2021. That's when original owner and primary occupant Kiewit Corp. is to relocate to its new corporate headquarters in north downtown.
At that time, 12 floors containing a whopping 132,000 square feet will open up for new tenants.
The new owners, who paid $16 million and plan to invest another $10 million in renovations, already are seeking the next lineup.
Currently about 600 people work at the plaza. A Kiewit spokesman said about 500 of them are Kiewit professionals who will be moving from the structure that, including the garage, spans more than 300,000 square feet.
Truth be told, Lund said, he didn't jump at the chance to buy a property that will have so much space to fill all at once. Initially, Lund's firm agreed to help market and try to sell Kiewit Plaza.
But son Jay Lund, a partner in GreenSlate Development — which has led revitalization of the Blackstone business district — coaxed him to explore the possibilities. John Lund said he was swayed after touring the "expertly maintained" property that opened in 1962. He was further persuaded by amenities including the Cloud Room's panoramic rooftop views and the attached garage.
Another 2.5 acres of adjacent surface parking, with another 250 spaces, came with the October sale. Lund said he probably will add stations for electric cars.
"At night, this is nothing short of spectacular," he said while standing on a balcony outside the Cloud Room, where Kiewit has held private gatherings and Buffett has hosted student groups. In the future, Lund said, that rooftop event space might become a private club for tenants.
Another major selling point, Lund said, was location. Kiewit Plaza is in the Blackstone District, a revitalized housing- and retail-centric corridor whose popularity has grown along with neighbors to the west and east.
To the west of the nearly 2-acre plaza site is the expanding University of Nebraska Medical Center. Just east is Mutual of Omaha and its Midtown Crossing retail, housing and entertainment campus.
While the buyer group had considered turning vacant plaza floors into luxury condominiums, it decided in favor of office space, said Lund, whose company has bought and revamped properties including the 100,000-square-foot 450 Regency Parkway building.
He has not yet secured new tenants but is optimistic, knowing the unmet demand for sizable Class A office spaces in Omaha.
Young people already are attracted to the Blackstone District's new and renovated apartments, restaurants, bars and nightlife, Lund said. New projects continue to pop up, including a remodel and expansion of the historic Blackstone Hotel.
The buyer group believes that type of bustle can be a recruiting tool for business tenants.
"That's why we think this is a home run," Lund said. "We think young talent, tech companies, millennials will want to be in this district."
The World-Herald got a tour of the building that over the decades has remained somewhat of an enigma, despite the international profiles of its main residents.
Currently among Omaha's top 20 tallest buildings, the Kiewit headquarters has a grand lobby with a public diner and stairs that lead to Stan's barbershop: "Walk-ins are honored." Nearby are the office suites for the Omaha Community Foundation and PricewaterhouseCoopers.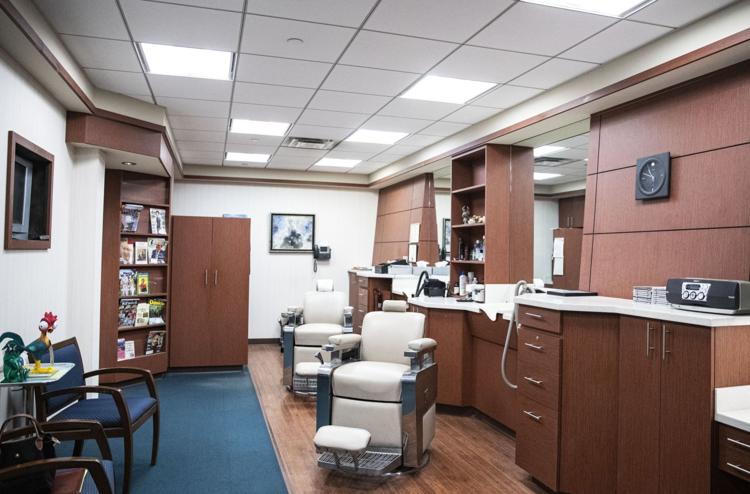 Most of the floors are filled with Kiewit employees. With the right security clearance and elevator key, one can also ride to Berkshire's upper-level corporate offices.
(Note to those counting: This building has no 13th floor, at least not labeled as such. It goes from 12th to 14th, as do a few other high-rises in this city and many more in larger cities.)
Buffett, chairman and CEO, earlier announced that he would add 20 years to Berkshire's stay, which began when the structure opened in 1962. Plus, he's taking another floor that in earlier eras served as a personal residence for Peter Kiewit and successor Walter Scott. Most recently, that floor had hotel rooms for Kiewit business guests.
Having the Oracle of Omaha in the house (and his staff of about 26) should enhance the allure and hopefully bring tenants including financial and technology companies, Lund said.
"What can I say, one of the richest men in the world is in our building," he said. "He's a legend in his own time."
Bob Kula, spokesman for Kiewit, said his construction company enjoyed "an outstanding run" in the building it made from scratch. Kiewit will continue to manage the property until the move.
"Similar to the Builder's District in north downtown, where we expect to open our new headquarters in 2021, there's great opportunity for this building as these neighborhoods evolve and grow," Kula said.
Jay Lund said he is looking forward to the new wave of office tenants taking the neighborhood mix to yet another level.
"Making this kind of office space available to more businesses significantly strengthens our vision of living, working and playing within a vibrant, walkable Omaha neighborhood," he said.
Many decisions have yet to be made about the building — including its future name. John Lund said it might be called Blackstone Plaza, unless a tenant buys naming rights.
He said individual floors will see the bulk of renovation. Granite staircases and wood-paneled hallways would remain as part of the character, Lund said.
Buyers are entertaining the possibility of retail shops and a modern food hall or restaurant in the lobby area to help create an atmosphere where workers want to spend time.
"We want to be part of the action down here," Lund said. "We see the potential."
Photos: 30 images of Warren Buffett through the years
The Oracle of Omaha has been in the news for the past 60 years. Photos of Buffett from 1956 through 2017.