Setting ambitious goals of being "bold" and "innovative," the Greater Omaha Chamber of Commerce is launching a civic effort to create a new unified transportation strategy for the Omaha metro area.
The plan, which is expected to see a draft by early next year, has potential to play a strong role in shaping the Omaha area's future.
"No region of any size and success has grown efficiently and exponentially without also growing transportation," said David Brown, the chamber's president and CEO.
The surveys at Maha highlight the growing influence of millennials in the Omaha community and the area's workforce.
Sign up for The World-Herald's afternoon updates
Receive a summary of the day's popular and trending stories from Omaha.com.
The millennial generation — generally people between ages 23 and 38 — is showing less interest in owning a car and more interest in using the broader transportation system to get where they want to go.
A survey of millennials from six major metro areas conducted by the American Public Transportation Association found strong preference for using mass transit such as a bus or streetcar or simply bicycling.
As Omaha steps up recruitment of workers into the city to stem a workforce shortage, the initiative recognizes a need to cater more to those shifting generational interests. At the same time, the chamber sees the effort as an opportunity to connect people in Omaha's higher-poverty areas to available jobs.
Salt Lake City is one model Omaha leaders are examining as they consider a "bold transportation direction." For decades, Salt Lake City has built up its mass transit system, opening the city's first light rail line in 1999 and starting streetcars in 2013.
Also that year, the city funded the creation of its first master transit plan — a coordinated effort that built on a series of earlier growth and transportation documents. The transit plan came out in 2017.
Like Salt Lake City, the Omaha metro area has a series of development, street and transportation plans in place or in the works that speak to the issues. The Metropolitan Area Planning Agency develops a 25-year transportation plan for the Omaha-Council Bluffs metro area. The Nebraska Department of Transportation and MAPA are working on a long-term highway, street and transit plan for the area. The City of Omaha has its own transportation master plan, and Mayor Jean Stothert has started a public discussion about funding a new street maintenance plan for Omaha.
The ConnectGO initiative aims to go beyond any single plan. Brown said it provides an opportunity to make coordinated transportation decisions across the metro area. That's important because transportation needs don't stop at city, county or state boundaries, he said, "so neither should planning efforts."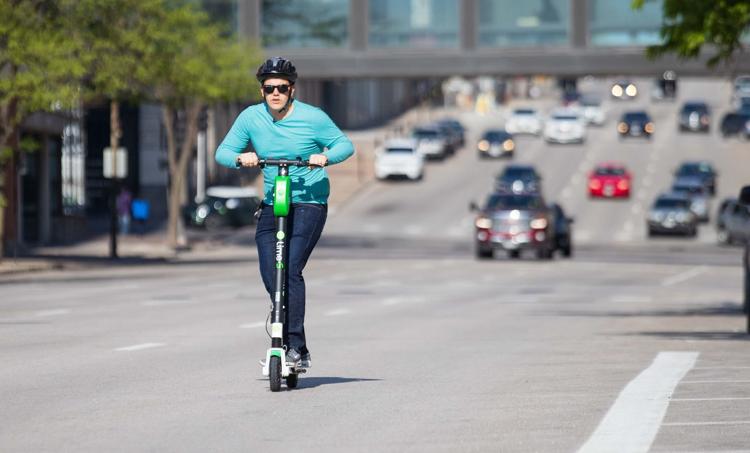 The chamber said it will convene corporate leaders, community volunteers, public and private organizations, and infrastructure and transportation experts to work on the issues.
Thursday's announcement included a statement of support from Union Pacific Chairman, President and CEO Lance Fritz, who cited Omaha's longstanding place "as a transportation leader" and a "critical crossroad to every corner of the nation."
"As we think about the future, transportation will expand that connectivity, from the movement of freight to public transit options for our residents," Fritz said. "These innovations will help us attract and retain the diverse, talented workforce Omaha needs to thrive."
Brown said, "The chamber is uniquely positioned to facilitate this conversation among regional businesses, nonprofits, public agencies and the broader public."
Asked what kinds of changes could come from the plan, Brown gave one general example of a good outcome. He said the area's transportation system should help someone from northeast Omaha who's unemployed take a job in the far southwest part of the metro area, travel to that job efficiently and, as a result, improve their quality of life.
Asked if it could jump-start Omaha's streetcar discussions, Brown said maybe. He said the chamber won't limit itself from the outset on the potential scope of changes.
"Let's just see what the needs are and figure out the best way to get it done," he said.
State Sen. Justin Wayne of Omaha said he supports the effort and hopes that he can be a part of it.
Metro transit currently serves the city of Omaha, with a select few lines running into Sarpy County. But with the jobs added by Facebook's data center and other employers, Wayne said, there's a need for public transportation in the suburbs.
"It's good that the chamber is going to bring everybody together to get a unified idea of how we're going to do this," he said.
Grace Thomas, a young professional who moved to Omaha from New York and serves on Stothert's millennial advisory committee, said the initiative is a great chance to get stakeholders at the same table and come out with a plan to show where the city is going.
Thomas, who works for sustainability consultant Verdis Group, said she shares one car with her boyfriend that they use probably two to four times a week, often for her work or to go grocery shopping. She said she supports public transportation as a way to combat climate change and supports active ways of transportation, such as bicycling, because they help connect the city.
"I just find a lot of benefits from living my life outside my car," she said. "We're going to continue to find that's the way our generation trends."
Chamber officials hope to have a draft strategy compiled by the first quarter of 2020. Ultimately, any implementation will take years, likely decades in some cases, to come to fruition.
"We're not suggesting it's easy," Brown said. "But there are people committed to making this happen."
Changing Omaha: More than 50 stories of local development projects in the works
An ongoing list of some our development stories from 2018, with the most-recent stories at the top.