First came the parking structure, then 218 apartments, then the Marriott. But perhaps the most public part — and centerpiece of the $205 million Capitol District development — opened this weekend in time for a Sweet 16 shindig.
The football field-sized outdoor plaza was prepared to serve up music, food trucks, booze, human foosball games and basketball on a big screen. It can fit 1,500 to 2,000 people, said Rachel Halbmaier, a district spokesperson.
While people partied on the plaza last weekend, that was considered the grand opening of the district's new Irish pub, Halbmaier said.
"This is the first districtwide event," she said, held in conjunction with NCAA basketball Midwest Regional games being played live at the nearby CenturyLink Center.
Only a few people trickled in and out of the Capitol District early Saturday afternoon. Staff members were out on the patio area sweeping up what the cold wind was blowing into the space.
Halbmaier, director of events for the Capitol District, said it was a completely different scene on Friday night. Lines were wrapped around the buildings, and some people sat outside to enjoy a DJ and the large television screen.
"We recognize that the weather is always going to impact us," she said. "Fortunately, we have indoor spaces to hang out, and people are starting to really find out what we have here."
With a part of the area still under construction, Halbmaier said some people don't realize what's behind the fencing. Once they see it, she said, she's been hearing a lot of comments like, "I can't wait to come back here when it's warm."
Tom Baldwin, one of the owners of Annie's Irish Pub, said Friday night was almost as busy as St. Patrick's Day.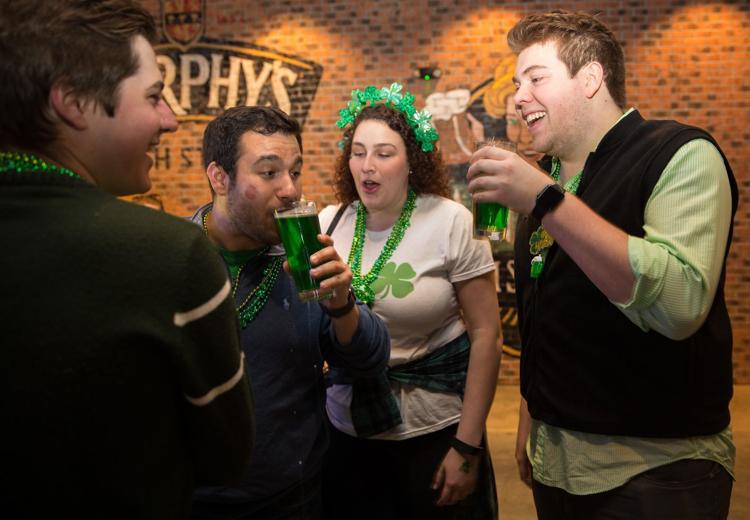 "I do think it's the new hot spot in people's minds," he said. "But the weather has not been our friend so far."
For those who cannot be courtside, basketball tourney games are being shown on the plaza's big screen.
In addition to Annie's Irish Pub, the Exchange and Beer Can Alley bars also are open around the plaza. Inside the Marriott is the Burdock + Bitters bar, restaurant Society 1854 and a Starbucks.
An entertainment district permit granted by the City Council allows patrons with proper ID to take alcohol outside of those bars and restaurants and into the plaza's common space (but not across any city street) to enjoy food trucks, DJs and other entertainment, said Mike Moylan of Shamrock Development, which developed the district project.
"We couldn't be happier with how it's physically turned out," Moylan said.
Other bars and restaurants, still to be named, are expected over the next several months to fill additional bays that wrap around the plaza, Moylan said.
The district's apartments, hotel, parking structure and plaza cover about 5.4 acres and are billed as a "destination dining and entertainment district" with places to eat, drink, live, lodge and socialize. Shamrock was picked in late 2011 over two competing bidders to develop the site just a stroll away from the CenturyLink Center.
Another major piece of the district, a structure as high as three levels along Capitol Avenue and the south side of the plaza, has yet to be built. Moylan said details of its design and use are still being figured out. That dirt area is fenced off during this weekend's festivities.
World-Herald staff writer Mara Klecker contributed to this report.