Welcome to a workplace that's colorful. Cool. Hip.
Employees wear golf shirts, T-shirts, jeans, shorts and casual, sporty shoes like Nikes and Skechers.
The work is accompanied by video games, pool tables, push scooters, a putting green, the smell of lunch wafting about and motivational words on the walls. One of those phrases: "Be positive, no drama."
The place, called Buildertrend, gives an outsider the impression that work is secondary to relaxing or having fun. Four kinds of beer are on tap, free to workers at the end of the day. The bosses want them to call Uber if they drink one too many, and the company will pay for the ride, as long as the employee heads for home.
But it's serious business, a competitive place. Employees are judged on performance and results.
Buildertrend attracts young, smart people who don't want to stay cooped up in a cubicle. And in a state that needs far more high-tech, high-value workers, here is an Omaha business that feels like Austin or Seattle.
The founders say they want a workplace that is enticing to young talent from in and out of state, and to potential "boomerang" Nebraskans who would come back if given a good opportunity.
"We are honored and humbled that people want to work here, and they deserve the best environment possible," said Dan Houghton, one of the founders.
That approach appears to be working. The dozen hires last week pushed Buildertrend to 500 full-time workers, up from about 100 at the end of 2015.
About a quarter of those are technical workers, such as software engineers and computer engineers. Many of the technical workers come from the University of Nebraska-Lincoln, the University of Nebraska at Omaha and Iowa State.
Many of the rest are in sales and customer support.
Sign up for our Money headlines newsletter
Get the latest development, jobs and retail news, delivered straight to your inbox every day.
Buildertrend produces construction management software largely for homebuilders and remodelers across the globe. The software enables people to communicate with each other, schedule workers, track a project calendar, monitor job costs, stay on top of change orders, examine the site plan, share photos of progress — basically to stay organized and on top of the work.
The company has a monthly subscription rate that starts at $299.
Buildertrend offers two days of workshops monthly for its clients to fly in and learn more about how to maximize use of the product.
"It's made our communication much more effective," said Bo Dillon, who spent Thursday at what they call Buildertrend University.
"We wanted to learn how we could expand our use of the product," said Dillon, of Dillon Homes in Little Rock, Arkansas.
He said of the Buildertrend workplace: "It's savvy, for sure. ... Their employees seem to be super-engaged because of it."
Most of Buildertrend's 14,000 customers in the homebuilding and construction businesses are in the United States, Canada, Australia and New Zealand.
Like seven of her colleagues, Emma Ramsbottom, 26, calls prospective customers in Canada. Ramsbottom, who studied international business at UNL, said the atmosphere is upbeat. This particular day, she wore a gray NU T-shirt.
Asked if it's competitive at Buildertrend, she said: "Oh, yeah."
Workers have individual goals, so they compete in a sense against one another, but they also work on small teams that share goals. "We very much support each other," she said.
The heads of the business — two brothers and their pal — went to Millard West High School and started the company out of a basement in 2006.
The friend, Houghton, has handled mainly marketing and sales; Steve Dugger, 38 years of age like Houghton, manages finance and operations; and Jeff Dugger, 40, was the original software developer and monitors the technical side. The Duggers' dad, 66-year-old Jerry, works part time at Buildertrend in accounts receivable.
They say that nine of their original 10 workers are still with them. One of those is Paul Wurth, now a company vice president. This day he wore a baseball cap with the Buildertrend logo on it. "It's been great," he said of the experience.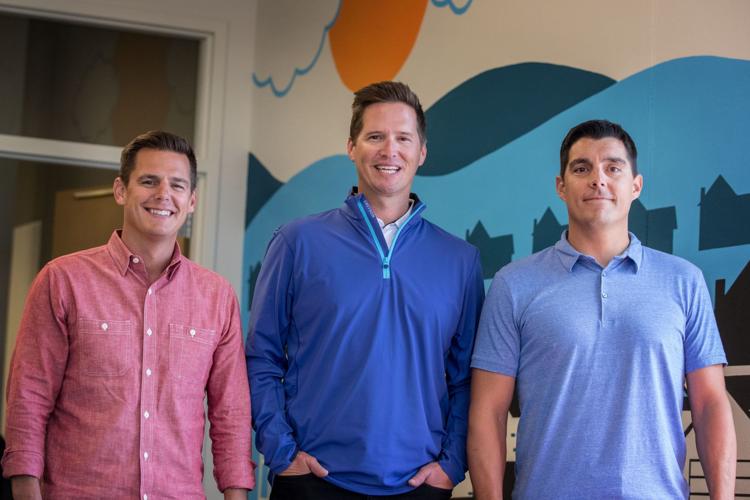 Houghton said the company doesn't like the word "workaholic" and encourages its employees to limit their labor to 40 hours a week. The previous day, he said, he coached kid soccer at 5:15 p.m.
Greater Omaha Chamber President and CEO David Brown said the company has created an environment of light, color, energy and collaboration. Employees there have the freedom, Brown said, "to work hard and play hard."
The Buildertrend games available for workers are "an active part of our culture," Jeff Dugger said. "They're not just there for show."
Courtney Mattern started her job at Buildertrend on Friday and will work with social media, blogs and podcasts. "It's very open and collaborative," she said of the workplace. "But mainly I was really surprised by the (employees') drive." She also was impressed by the in-house yoga studio and gym.
Bosses know how people are performing. They track how much an account is using the Buildertrend app. Employees contact those that aren't taking advantage of it. The company knows who is good at keeping customers on board.
A whiteboard last week showed that one employee managed to retain about 98.8% of the accounts to which he was assigned. For this, the employee temporarily held a fighter's championship belt at his desk.
This month, hundreds of employees and bosses toasted each other with sparkling wine and beer when the Buildertrend platform was used on the company's 2-millionth construction project.
The company talked for a while about opening a second building outside Omaha, and that could still happen. But Buildertrend, which two years ago moved from a Miracle Hills facility into the former Vatterott College building at 11818 I St., has hit its goal of hiring at least 20 workers a month this year.
The company also has a summer college intern program for software development and eventually hires 20% to 40% of those interns.
Buildertrend wants coders and software engineers, but it also likes communicators who can train customers, make sales and be a team worker and team player.
The company continues to grow. Steve Dugger said: "We're hiring."