Life observer Wiley Miller drew a lovely view of heaven in a recent edition of his "Non Sequitur" newspaper cartoon.
There are flying angels, of course, contented dogs and cats, a winged fellow having a doughnut and coffee and a guy reading Mad magazine while lounging on a cloud.
And then there's a hovering angel munching a piece of chocolate from a box of See's Candies. (A newly arrived systems analyst is about to disrupt the peaceful scene, however.)
Yes, the angel is sampling treats made by that California company acquired 45 years ago by Berkshire Hathaway and touted ever since by CEO Warren Buffett.
Why See's candy in heaven?
"Well, that's easy," Miller said in an email. "It's simply our favorite candy, especially my wife's. It's simply the best candy made and she won't even consider eating any other.
"We don't eat sweets in general, so See's is saved for special occasions, like the holidays. I had no idea Warren Buffett owned it!"
QUARTERLY REPORT
This Friday afternoon will see Berkshire's third-quarter financial report, and analysts are expecting below-average profits from its 80-plus operating companies.
Analysts surveyed by FactSet expect operating earnings, which exclude investment results, of $1.59 per Class B share, compared with $1.97 in 2016's third quarter. Over the past four quarters, operating earnings have averaged $1.72, so there's some pessimism built into the predictions.
Analyst Jay Gelb of Barclays PLC, which does business with Berkshire, wrote in a recent report that he lowered his third-quarter estimate to $1.28 per share, from $1.95, because he expects claims from the recent U.S. hurricanes, plus possible foreign exchange losses.
Unlike most other insurers, Gelb wrote, Berkshire has other businesses that will cushion the insurance losses. He estimated the claims at $2.3 billion, which may be "overly conservative."
Buffett has said the biggest hurricane-related claim for Berkshire would be Geico's coverage of flooded motor vehicles in the Houston area, but inadequate premiums prompted the company to withdraw from the "super-cat" business, covering big catastrophes.
Berkshire usually posts its results on the company website on Friday afternoons, with a two-page press release giving a summary and a formal filing with all the numbers. That gives investors the weekend to read the report and think before stock markets open on Monday.
Berkshire's quarterly reports are routine, not like the fourth quarter, full-year report, which is due out about Feb. 23, 2018.
That's the one with Buffett's letter to shareholders, which features humor and clear analysis along with numbers.
In the report Friday, you'll find phrases like this one, from a past report: "For a number of reasons, our results for interim periods are not normally indicative of results to be expected for the year."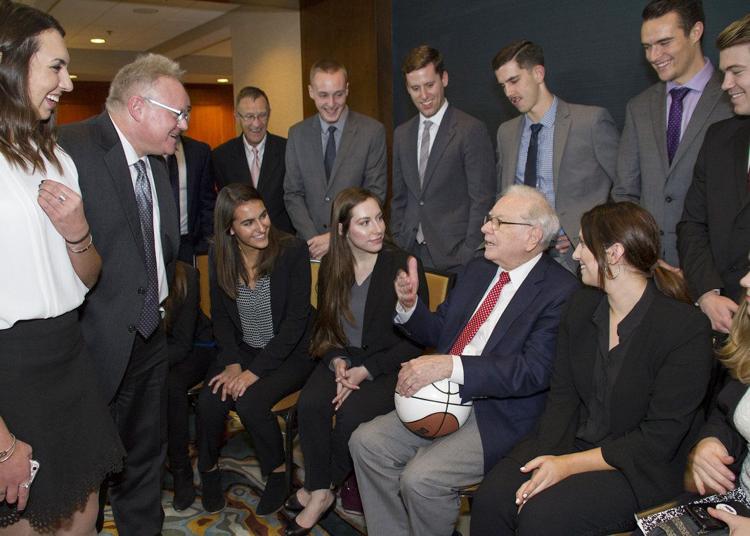 SELLING STOCKS
Why does Warren Buffett sell stocks?
Two basic reasons, he told the latest group of about 200 students who came to Omaha this month. The visits are a regular event on Buffett's calendar so he can talk with tomorrow's business leaders before their careers get underway.
The students were from the Universities of Mississippi, Arizona, Tennessee, Nebraska at Omaha and Lincoln, Peru (South America) and Minnesota, plus Gonzaga, Northwestern and Penn State.
"I used to sell something because I found something I liked better and needed the cash," Buffett told them. "We used to have more ideas than money. Now we have more money than ideas," so he isn't selling to raise money these days.
"Sometimes I sold because what I had originally wanted to happen has not happened," he said. That's why he has sold some of Berkshire's IBM stock. "My original premise was wrong about the business."
Other observations, according to notes from Gonzaga student Kelly Shea and comments in the Vicksburg Post by Ole Miss student Parker Rutherford:
» Have a better life by finding three people you admire and doing three things they do; and find three people you don't like and avoid three things that they do.
» Wind turbines spin up to 160 mph.
» Cryptocurrencies such as bitcoins are a fad that will turn into a bubble and then pop.
» Up to 99 percent of investment managers underperform the broad market.
» Some people will be using driverless cars by 2030, but he doesn't foresee driverless trucks. (Hence his recent investment in Pilot Flying J truck stops.)
» You get more people to love you by being more lovable.
» His most important contribution is the Giving Pledge, signed by 140 billionaires who say they will give at least half their wealth to society.
» It would be tough to build a company like Berkshire these days, but Buffett thinks he could do it because he has an edge: He's so interested in the subject.
» Competitive advantages are good, but it's the permanence of an advantage that's most important.
» Invest in what you understand, but you also can learn about other things so you understand enough to invest in them, too.
» He's surprised that more women don't become money managers, because you can't argue with financial results.
» Wall Street is still somewhat unfriendly to women, but not as bad as it used to be.
Lunch at the Hilton Omaha was good, Gonzaga professor Todd Finkle reported, with salad, chicken, steak, cheesecake, tomato soup and — what else? — See's candies.
The Omaha World-Herald is owned by Berkshire Hathaway Inc.