Berkshire Hathaway shareholders Saturday morning began streaming into downtown Omaha's CenturyLink Center for their annual pilgrimage to the Woodstock of Capitalism.
Some actually got a head start: The first people in line at the convention center said they arrived around 10:30 p.m. Friday night.
More than 40,000 people were expected to descend on Omaha over the weekend to hear Berkshire Chairman and Chief Executive Warren Buffett and Vice Chairman Charlie Munger pontificate on the conglomerate, the economy and whatever else comes to their minds as they field questions in an hours-long Q&A.
Stay with Omaha.com/buffett, where The World-Herald's business team is stationed to bring you the latest news, analysis, photos, videos and action from the floor of the convention center.
After busy Friday for vendors, Saturday 'a slow and steady build'
Berkshire vendors soldiered through a crowded Friday afternoon, when the exhibit hall at the CenturyLink Center opened for shopping, but avoided the traditional Saturday morning chaos.
"Friday was busier at the onset. Today it's been a slow and steady build," said Borsheims spokeswoman Adrienne Fay of Saturday's crowds.
The jewelry and home gifts seller had already sold out of several items, including its Montblanc pen sporting Buffett's signature. A few hundred pearl leather wrap bracelets were gone within the first hour Friday, Fay said.
Candymaker See's also saw a big crowd Friday. "Friday definitely had a bigger crowd," said Courtney Cohen, director of sales for See's Candies. "It seemed slammed yesterday."
The See's booth was still fully stocked mid-morning Saturday. See's brought more selling staff and a second truckload of candy this year.
Oriental Trading expected to sell out of its commemorative Warren Buffett and Charlie Munger rubber ducks, spokeswoman Jodi Hoatson said.
Still, it was unclear whether the two-day shopping extravaganza garnered more sales.
"It's hard to say if Friday is splitting it, or if traffic is up overall," Fay said.
Over the past three years, vendors have evolved their offerings to accommodate the two-day shopping event that once was a mad dash on Saturday. — Paige Yowell
'A religious experience' that keeps them coming back
Taylor Finch of Austin, Texas, attended his first Berkshire meeting 10 years ago at age 19. Now, he's a certified financial analyst covering the company for investors.
"This is how I became interested in value investing," said Finch, who has attended every year since with his dad, Laroy Finch.
"That first meeting really did direct his career path," Laroy Finch said.
What keeps them coming back, even when the meeting is streamed online?
"It's a religious experience," Taylor Finch said.
Plus, the prospect of having a question answered by the Oracle of Omaha. The pair even got into the scrum and got a photo of Warren Buffett as he toured the exhibit hall.
Would they continue the trek to Omaha, even after Buffett is no longer at the helm?
"As long as they keep coming, we'll keep coming. That's the deal," Taylor Finch said of Charlie Munger and Buffett. — Paige Yowell
One family celebrates Mother's Day early; shareholder says his commitment to meeting would only grow post-Buffett
With the convention hall filled, the ranks of shoppers wandering through the Berkshire Hathaway vendor hall at Omaha's CenturyLink Center thinned considerably by Saturday morning.
Unlike Friday — the official "Shopping Day" — the booths were easy to navigate and the checkout lines, short.
Karen Gilmore-Doerr, of Hastings, Nebraska, and her sister Anne Gilmore-Jordan of Durham, North Carolina, took advantage of the Saturday morning lull to do some quick last-minute shopping.
"We missed the movie," Gilmore-Doerr said of the company movie, which began at 8:30 a.m. and featured clips from a recent HBO documentary on Buffett. "But we're going to attend the Q&A session," which began at 9:30 a.m.
Chairman and CEO Warren Buffett and Vice Chairman Charlie Munger are scheduled to take questions from journalists, investors and shareholders until 3:30 p.m., with a one-hour break for lunch.
The sisters, who were both raised in Omaha, said this year's annual meeting was not only a chance to mingle and hear Buffett, but to visit their 87-year-old mother.
Gilmore-Jordan flew in from Durham on Wednesday and plans to leave Tuesday. "We're celebrating Mother's Day a week early," she said.
"Our mom is the real story." Gilmore-Jordan said. "She lives here in Omaha and went to elementary school with Warren at Rosehill (School)."
Pete Ludowese, of Kearney, Nebraska, was yet another shareholder taking a more leisurely approach to Saturday morning.
His wife, Beth, and their 24-year-old daughter, Deitra Ludowese, planned to shop and then head to the Q&A.
Ludowese said he's been coming to the meetings for more than a decade. Though his daughter accompanied her father to the meeting once before — when she was 21 — her status has changed since then. Now, she's a shareholder.
"I bought both of my kids (Berkshire) shares at Christmas, and a few other stocks," her father said.
He said he has no plans to stop his yearly trek, no matter what the future holds with the executives at the helm of the company.
In fact, Ludowese said he would make it a point to attend the annual shareholders meeting should Buffett, 86, relinquish the reins.
"I'm going to want to know who is his successor and what they're planning," he said. —Janice Podsada
Buffett discusses 'circle of competence' in annual movie
Before the meeting's daylong Q&A starts, there's a movie shown to shareholders, oftentimes featuring celebrity cameos. Doors opened at 7 a.m. Saturday and the film began playing at 8:30.
The audience laughed and cheered as a clip from the HBO film showed Buffett ordering breakfast at an Omaha McDonald's drive-thru — basing the size of his order on the day's Berkshire share price.
Another clip from the shareholder movie had Buffett sharing career and investing advice. He doesn't have to know everything about every company, he said.
"I do know what I call my circle of competence," he said. "I stay within that circle and I don't go outside that circle."
He screened ads for company affiliates Berkshire Hathaway Home Services, Jell-O, Dairy Queen, Shaw Floors and Fruit of the Loom.
He recycled some old cameos from Arnold Schwarzenegger, Jamie Lee Curtis, and the casts of "Breaking Bad" and "The Office." He replayed a Berkshire-themed "My Way" duet with songwriter Paul Anka.
And, 30 minutes in, came a second Coca-Cola ad. —Barbara Soderlin
Photos: Berkshire shareholders meeting, Saturday, May 6
Shopping continues as Q&A gets rolling
As tens of thousands were riveted to Warren Buffett and Charlie Munger in the CenturyLink auditorium, Deb Denavs strolled through the metal detectors and headed for the shopping hall.
She was a couple of hours behind the rush, looking for relatives who had arrived earlier.
Was it any less hectic at that hour?
"When you have someone drop you off, yes," she said.
Her husband was later yet; he would have to park blocks away.
Six in all – from North Platte, Nebraska, Kansas and Omaha – Denavs' group included her sister Deanna Grasmick and mom, Bonnie Hanna, who had just hit the Pampered Chef booth.
"We're a mixed group," said Denavs, referring to some who watch the annual question-and-answer session and others who prefer to shop. (Denavs sometimes sits in on the business portion of the convention, but issues with her dogs slowed her arrival Saturday.) Earlier, Hanna had taken a spill on her way in before the doors officially opened, bruising her forehead. She said she felt fine and the incident didn't stop her from buying the tomato knives she wanted.
But the fall did prompt others in line to part and let her in to get checked my medical personnel.
"I told mom this was no way to get ahead of these people," Grasmick joked. –Cindy Gonzalez
'It's as much about spending time with like-minded people as it is to hear Buffett and Munger'
As more than 40,000 people descend on Omaha for Berkshire Hathaway's annual meeting, a question arises: If Warren Buffett were no longer chairman of the company, would shareholders continue to attend the annual meeting?
Among shareholders, the answers varied.
Andy Hariton, a hedge fund manager from Jacksonville, Florida, said he'd return to the meeting whether or not Buffett, 86, was at the helm.
"It's as much about spending time with like-minded people as it is to hear Buffett and Munger," Hariton said of the Berkshire CEO and his vice chairman, who is 93. "We all invest and trade in the same way."
Ragunath Jayabalakrishnan, a software engineer, and a group of friends who'd driven from Austin, Texas, for their first meeting were intent upon "getting as close to the Oracle of Omaha as possible," on Saturday.
Jayabalakrishnan said he would continue to attend annual meetings should Buffett step down as CEO of Berkshire Hathaway.
What would motivate him to return?
The camaraderie among investors who share Buffett's financial philosophy is strong, he said. "We also network and connect with people here."
Ed George, of Raleigh, North Carolina, a bio-pharmaceutical consultant,and another first-timer wasn't sure he'd return should Buffett no longer be around.
"I'll see how it goes today," he said.
Others wondered if the annual meeting might vacate Omaha for a New York or California location should Buffett no longer occupy the top position. Berkshire executives have said the company would continue to be based in Omaha even if Buffett were to no longer lead it.
There's no indication either Buffett or Munger want to step down, and a longtime Berkshire board member said earlier this week that both are still sharp as a tack, intellectually. —Janice Podsada
'We all play Rugby so we're fearless'
Three Australians have fine-tuned their strategy over the past five years when it comes to getting a good seat at the Berkshire Hathaway annual convention in Omaha.
They arrive at 3 a.m. to be first at one of the CenturyLink Center doors that opened at 7 a.m. Saturday to let in the rush of shareholders seeking prime seats for the annual Warren-and-Charlie show.
Their group wears yellow "Wallabies" caps so they can spot one another if separated. One, Luke Rathborne, becomes the "mule" who carries all valuables so the others can swiftly pass through metal detectors and save seats.
"We run like hell," said Tom Millner. A push on the door, a dash through hallways, up and down stairs.
"Our target is front row," Rathborne said. "We all play Rugby (hence the caps) so we're fearless."
Will Culbert said he stayed home last year and watched the spectacle live-streamed over the Web. But, he said, it wasn't near as exciting by himself and at Australia time in the wee hours of the morning.
"I still did it," he recalled. "It was more difficult."
The three, who were to be joined by about 30 others from their country, said they prefer the real-life experience and like soaking in information from various Berkshire Hathaway company leaders in the exhibition hall.
Last night, their group spent three hours with Ron Blumkin hearing retail and other trends related to Nebraska Furniture Mart. Blumkin is NFM's president and chief operating officer.
"You learn something different every time, all very relevant," said Millner.
Added Culbert: "We do have a lot of fun here as well." —Cindy Gonzalez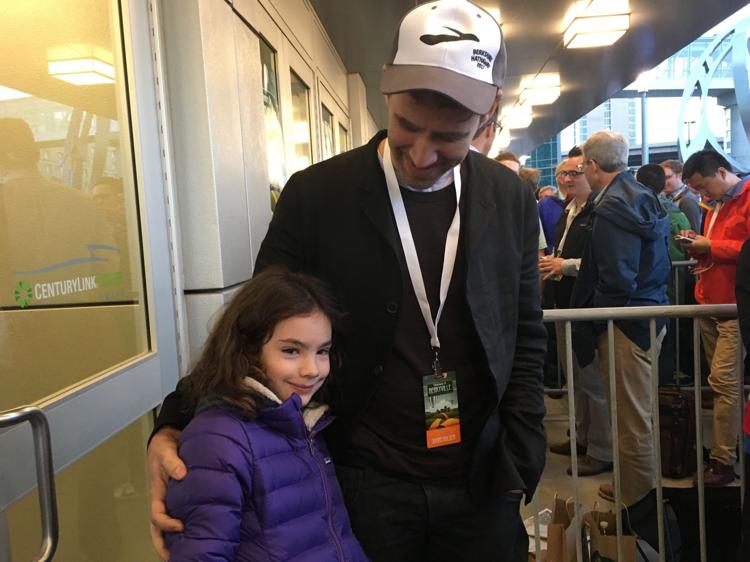 7-year-old can check one item off her bucket list
Daphne Kalir-Starr was 5 years old and on a trip to Israel when she asked her dad to read aloud the book he was immersed in: The Snowball, a Warren Buffett biography.
The young New Yorker became hooked on the investment wizard, even sold out a lemonade stand she recently set up on a hot day in Central Park.
So there the 7-year-old was today — at 3 a.m., one of the first in long, long lines to see in the flesh the Oracle of Omaha give his annual spiel to Berkshire Hathaway shareholders.
It was the earliest Daphne had ever gotten up, said dad Erez Kalir, who is granting his daughter's wish to go to Omaha for a shareholder meeting.
"I was kind of nervous and a little excited," Daphne said of waking at 2:30 to get a prime perch in the auditorium.
If she can't actually meet her investment idol, she'll still have knocked an item off her bucket list and also take home a commemorative teddy bear, See's candies and more books about Buffett.
She has two shares of Berkshire and one in Apple so Daphne plans to follow the market (also in her dad's footsteps) and learn more from the Berkshire chief.
If she gets a chance to talk to Buffett: "I kinda want to thank him for inspiring me." —Cindy Gonzalez
Was the trip from Uzbekistan worth it?
It was Arofat Rakhmahkulova's first time to Omaha. She showed up outside the CenturyLink Center around 4 a.m, and was first in one of many lines.
The 21-year-old finance student came early to get a good seat at the meeting, to make her trip from Uzbekistan worth it.
"I probably won't come again. Why spend so much money to be so uncomfortable? I can just watch it online," Rakhmahkulova said. — Paige Yowell
Sense of urgency prompts many first-time attendees to show up
It was the first year that Robert Leonard of Boston and Matthew Lambert of New Hampshire attended the shareholders' meeting. Their plane had landed at 2 a.m. Saturday, and four hours later they were waiting outside the CenturyLink Center in downtown Omaha, along with hundreds of others, for the doors to open at 7 a.m.
They had wanted, they said, to come to the annual meeting for years.
"We figured they (Warren Buffett and Charlie Munger) are starting to get a little old," Leonard said.
A sense urgency prompted many first-time attendees who'd skipped prior meetings to show up at this year's event.
"It's significant to be here because Charle Munger is in his 90s and Warren Buffett is in his 80s," said Nancy Davis, an airline pilot from Peachtree, Georgia, adding, "If not now, possibly never." —Janice Podsada