Turns out, tiny houses aren't so simple after all.
Just ask Jim Greer, who officially launches Clayton Homes' entry into the tiny house market today with a model home trucked from Alabama to Omaha and displayed for Berkshire Hathaway shareholders at the CenturyLink Center through Saturday.
"We're really trying to do it the right way and alleviate the concerns some people may have about safety and planning commissions and zoning codes that are out there," Greer said. He is brand manager for the "Designer Series Tiny Home" by Clayton, a division of Berkshire.
On cable TV shows, young people build their own little houses, hook them up to trucks and plant them in scenic surroundings to start lives of minimal impact and arm's-reach convenience.
In contrast, Clayton has been working more than two years to design prototypes, create manufacturing processes and build examples that will satisfy ordinances, neighborhood covenants and other requirements while appealing to the emerging market of tiny house owners.
The result is the "Low Country" model displayed at the shareholders' meeting, ready to be attached to a foundation, connected to utilities, occupied and, yes, taxed as a permanent residence.
The "tiny" price: $109,000 for Berkshire shareholders, including installation.
"That's been a learning experience," Greer said. "It is still early for us. We are currently in the process of getting state and local approval to build these homes.
"Some of that is really out of our control. We put in an application, and we're kind of at the mercy of states, to a certain degree, waiting for those approvals to come back. It's kind of a waiting game."
Sales so far: zero, although Clayton said it has approvals to start selling the houses this month in Nebraska, Alabama, Louisiana, Kansas, Mississippi and Tennessee. More states, mostly in the South, will follow this summer.
Jay Davis, Omaha's city superintendent of permits and inspections, said he is looking into the rules that would govern tiny houses, even though nobody has submitted plans for installing one in the city.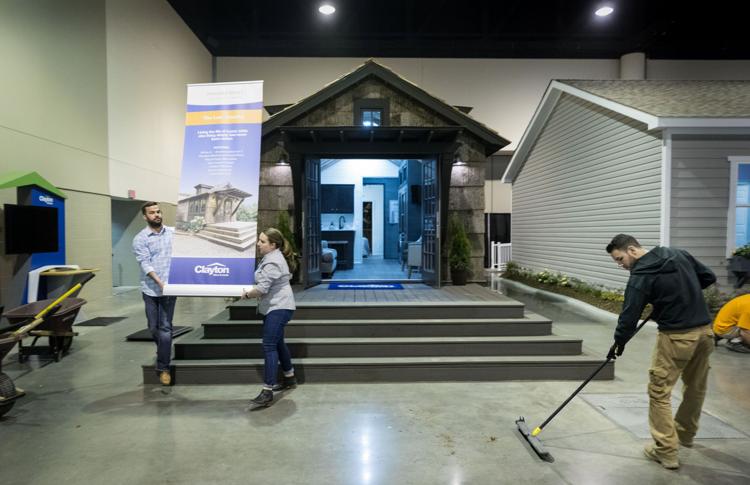 Housing units that are manufactured off-site are subject to State of Nebraska rules that govern, among other things, recreational vehicles, Davis said, because some of them come with frames and wheels. Tiny houses manufactured off-site apparently fall under those rules.
Houses of any size have to meet standards for plumbing, electrical and heating systems and for construction and design, which are aimed at safety and quality, he said.
"The problem is, the code right now isn't very clear on this," Davis said.
Clayton's 464-square-foot Low Country house — about one-third the size of the average three-bedroom house — was designed by Alabama architect Jeffrey Dungan to echo a Southern "shotgun" cottage, so-named because its rooms line up in a straight shot, from front to back.
Clayton's other tiny house design is the 450-square-foot Saltbox, patterned after colonial-period homes.
Built at a specially designed facility in Addison, Alabama, the Low Country features quartz countertops, subway tiling in the bathroom, cedar shake roofing, shiplap siding, hardwood floors and argon-insulated windows.
"It's high-end, as far as those things go," Greer said.
Clayton's tiny houses are aimed at people seeking a minimalist lifestyle and freedom from debt, he said, as well as those interested in guest residences, second homes or downsized housing for older people.
Tiny house sales will be a small part of Clayton's business even if sales spread nationwide. Clayton, based in Maryville, Tennessee, built more than 41,000 homes last year.
Greer said the tiny houses fit within Clayton's vision of selling affordable homes. A second, regular-sized house displayed at the Berkshire meeting, called New Class, has a garage and a front porch and is priced at $129,000.
(In his annual newspaper-tossing ritual before Saturday's meeting, Berkshire Chairman and CEO Warren Buffett will aim at the bigger house's 8x18-foot front porch, not at the tiny house's 8x12-foot porch.)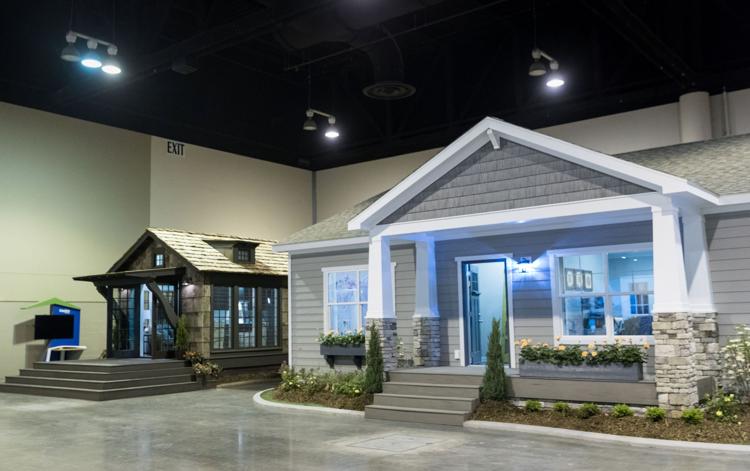 Greer said plopping a tiny house into a traditional neighborhood may not work, but some communities are developing neighborhoods of tiny houses that follow local housing rules.
"Folks are looking at living a different lifestyle, a smaller footprint," he said.
The Omaha World-Herald is owned by Berkshire Hathaway Inc.
In town for Berkshire and looking for steakhouses or hot new restaurants? We have you covered
With Warren Buffett's favorite remaining Omaha restaurant — Gorat's Steakhouse — booked for the weekend and his other favorite, Piccolo Pete's, closed, Berkshire Hathaway shareholders are going to have to head elsewhere for dinner this weekend.
As The World-Herald's food critic and an Omaha native, I've been to all the city's old- and new-school steakhouses. I have my favorites, which I'll share here.
And though Omaha is a steak town, it's also a city that's really into dining out. That means that new restaurants have become hot since last May. Read on for those, too. – Sarah Baker Hansen