When Stu Greer asked his wife, Barbara, where she would like to go for their 30th wedding anniversary, her answer threw him for a loop.
"I thought Paris, Scotland," he said, rattling off the romantics. "But Omaha?"
Truth be told, the couple from Dedham, Massachusetts, for years had been itching to come to the annual Berkshire Hathaway meeting. They've owned Berkshire shares for years. But something always came up.
This year, too, a family wedding stood in the way. But, said Barbara, they "got the OK."
"We don't know if Warren is going to be alive next year," she said of the 87-year-old Berkshire head. Not to mention his wingman, 94-year-old Charlie Munger.
The Greers happened to shuttle Friday from the airport to a downtown hotel with Kathy Fairbanks and companion George. For that Dayton, Ohio, couple, this marked a second round of Berkshire action.
Fairbanks was abuzz about the fun she had the previous year, and how she was determined to have a repeat.
She told the Greers to be sure to arrive at the CenturyLink Center in time for the early-morning, celebrity-filled movie featuring comical Buffett and Munger bits.
And she said to definitely pay attention to the Charlie and Warren question-and-answer show.
"It's so understated," she said. "You don't want to miss a word."
No room at Hotel Deco; its restaurant is almost booked, too
A famous model, an actress and a few bands of musicians are part of a full house this weekend at Omaha's Hotel Deco.
General Manager Zak Cook-Isaacson said he couldn't be more specific with identities, though. The people who visit during Berkshire Hathaway's annual meeting want their privacy, after all.
What Cook-Isaacson can tell us is that all guest rooms were booked way in advance. He said that most of the boutique hotel's 89 suites were reserved by the start of the year and that the hotel was completely full for this weekend three months ago.
Like at many other area hotels, guests were required to stay for a minimum of three days, at between $400 and $600 a night.
This is the first Berkshire crowd to see the hotel's new Monarch Prime & Bar restaurant, which also is mostly booked up. It will be serving a $150 16-ounce, top-rate prime rib. Also on the menu are lobster, mussels and vintage wines not usually served by the glass.
Despite the anticipation of thousands converging in Omaha, the hotel staff Friday afternoon was calm.
"It's been a buildup for months," said Cook-Isaacson. "You plan far enough in advance, the last couple of days is dotting your I's and crossing your T's."
Guests this year will be treated to tasty chocolate truffles. They're not the See's Candies you'll see all over the Berkshire event — but they're made by the hotel's own pastry chef.
Hotel manager plays chauffeur for Berkshire guests
Tim Darby did something Friday he hadn't done before in the six years he's managed the Magnolia Hotel during the annual Berkshire Hathaway bombardment.
After coming in to work early for a task unrelated to the event, he volunteered to pick up a hotel guest from the airport.
That led to another run, then another, and another. Within a couple of hours, he'd met guests in the hotel van from a half dozen countries and numerous other people from across the United States.
He decided to prolong his new chauffeur gig, and even obliged a reporter who asked to ride along.
"I love this," Darby said, showing off a list of places he'd jotted down where newfound friends live.
Gabriel Prado, 20, of Brazil, who was visiting his investment hero's hometown for the first time. He said he was amazed at all the "hype" around this high-profile pilgrimage, but was himself pulled in.
"First of all, just to see the man — actually just to see and hear him talk," said Prado, whose family has owned Berkshire shares for a decade. "Warren Buffet, he's like this mythological figure," he said of the Berkshire chairman and chief executive. 
Chris and Sonya Gomel, in from Mobile, Alabama, also were newbies to the extravaganza, despite many years of owning shares.
The couple were worried that if they waited any longer, they'd miss the best era.
"I know Warren's getting older," Sonya said of the 87-year-old Oracle of Omaha. "And we wanted to experience it while he's still in his prime."
The Gomels plan to stay in town through the Berkshire 5K run on Sunday and soak in all the typical Berkshire sights and the city's zoo.
Darby, pointing out tourist lures, told his riders it'd likely not be their last Omaha trip.
"Enjoy the day," he said. "We've not had a day like this all year."
Chinese entrepreneur in Omaha on the hunt for investors
James Wong, a Chinese-American food scientist-turned-entrepreneur, was at Berkshire weekend on the hunt for investors in Omaha, pitching his idea to develop what he called ultra-safe student dormitories.
He said he wants to cater to Chinese parents who send their children to U.S. prep schools, but who worry about gun violence and guns in host families' homes. His Florida Academy Boarding dorms promise "uncompromising security," he said.
Wong, 46, of Washington, D.C., attended Yahoo Finance's U.S.-China Investor Forum on Friday in Omaha.
Despite different political systems, he said Chinese investors want what Americans have.
"They look up to developed countries. They want that big house, that car, that better future for their kids," he said. "Deep inside we're a lot more similar than what is on the surface."
[Complete coverage: All weekend, the home team at The World-Herald will be covering Berkshire Hathaway weekend like no one else can. Omaha.com/berkshire]
Parisian in Omaha: I'm here to seek 'the essence' of Buffett; take in the city, too
Comments Warren Buffett made in 1999 about the fundamentals of the stock market influenced Gregoire Sentilhes' investment strategy.
Almost 20 years later, Sentilhes, the president of NextStage, a venture capital firm based in Paris, arrived in Omaha for his first Berkshire Hathaway annual meeting.
He said he was here to do more than just listen to Buffett's words.
Rather, he's seeking, "What is the essence of Buffett himself?"
He'll find a little of the essence of Omaha, too. Sentilhes said he'll try to see the city while he's here.
"It would be nuts not to take advantage of it."
Woman and her daughter trek to Omaha; 'I'm not getting any younger,' she says
Ann Freeman of Boulder, Colorado, was certain she didn't need anything when she entered the Berkshire Hathaway exhibit hall Friday.
But the hall, packed with souvenirs and Berkshire-themed items, was too tempting, and she managed to find a few things she had to have: cooking utensils from Berkshire-owned Pampered Chef and Justin cowboy boots for her two granddaughters.
It was Freeman's first time at the meeting. Her daughter, who lives in Denver, planned to meet her in Omaha on Friday night. She decided to make the trek because it could be her last opportunity.
"I said to my daughter, I'm not getting any younger, and neither is Mr. Buffett," said Freeman, who is 74, of Buffett, 87.
Berkshire's Oriental Trading stocks up for shareholders; Warren and Charlie rubber ducks on hand
Oriental Trading spokeswoman Michelle Johnson said the company's booth this year brought double the amount of product it did last year.
Nebraska was the theme this year for the company — maker of the commemorative Warren and Charlie rubber ducks.
Ducks this year are sporting all things Nebraska, including a corn head hat, a "Good Life" sweater vest and an "I heart College World Series" pin.
There's also the gold dollar sign fidget spinner, stack of money stress ball, and lapel pins of Warren's and Charlie's faces.
"We brought more variety this year," Johnson said.
Star of the See's Candy booth: peanut brittle, just like Warren and Charlie eat on stage
Many shareholders stopped to check out the See's Candies booth, where an employee was hand dipping Scotch Kisses — marshmallows covered in vanilla caramel and wrapped in wax paper.
But peanut brittle was the star of the show. It sat front and center at the booth, and is the product See's brought the most of, said marketing director Jensen DeWees.
It's also what Warren and Charlie traditionally eat on stage all day Saturday while they answer questions from shareholders and the press.
"The second the meeting lets out people rush over and want what he was eating," DeWees said. "He makes it look so good."
Shareholder: I 'mainly like shopping,' but Saturday's Q&A is good, too
After an hour or two of perusing the exhibit hall, Mary Jane Higgins and her husband, Curtis, of Owasso, Oklahoma, had to take a Dilly Bar break.
What'd she find so far at the exhibit hall? "Bargains," she said.
She's already snagged a few Pampered Chef goodies, including a hamburger press and cookie sheet.
"I mainly like the shopping. But I like hearing the questions and answers at the meeting, too," she said.
Shareholder shopping is a draw
For some Berkies, especially those in Omaha, forget the meeting. It's all about the shopping.
Karen Novak of Omaha waited in line before exhibit hall doors opened Friday morning, excited to check out what specials Pampered Chef and Fruit of the Loom would have for sale.
"I always find something good no matter where I'm shopping," Novak said.
She preferred the shopping on Friday over Saturday.
"Last year I came on Saturday and it was a zoo," she said.
Berkshire vendors stock up for shareholder shopping; Borsheims sells out of one special in 31 minutes
Vendors at this year's Berkshire Hathaway shareholder shopping day were bulking up on staff and product to meet the needs of the insatiable Berkie shoppers.
Despite that, it took only 31 minutes for Berkshire-owned Borsheims jewelry store to sell out of one of its specials — a sterling silver necklace for $35.
"It felt more intense at the beginning," Borsheims marketing director Adrienne Fay said of the Friday shopping crowd. The exhibition hall at the CenturyLink Center in Omaha was set to be open from noon to 5 p.m. for shareholders.
The Borsheims booth also sold out of its small Nebraska-themed travel pouches within hours.
By 1:30 p.m., it was hard to move throughout the exhibit hall. There was nowhere to sit, and things were getting pretty sweaty.
Fay said the booth added more staff and more product this year. Also up for grabs were "Warren's Lump of Gold" Beekman's soap bars and several BRK-emblazoned items, including a golf journal; diamond medallion necklaces and bracelets; drink tumblers; cuff links and pearl earrings.
Buffett's a celebrity in China; some of his followers came to Omaha
Yahoo has streamed the meeting since 2016, spreading the Oracle's message from Omaha to the world. But the stream was spotty in China, Yahoo Finance Editor Andy Serwer told The World-Herald.
He estimates about 3.9 million people in China watched the 2017 meeting stream.
This year, Yahoo is partnering with Chinese video hosting service Youku, a subsidiary of e-commerce giant Alibaba, for more widespread distribution.
Yahoo Finance also took advantage of growing Chinese interest in Berkshire by hosting a new event, the U.S.-China Investor Forum, on Friday in downtown Omaha. The focus was on business and investment opportunities between the U.S. and China.
With conflict ongoing over trade and tariffs, "It's more important than ever that people sit down and talk and figure out ways to do business together," Serwer told the event audience, with many people listening on headphones to a Mandarin translation.
The event included a taped interview from March, where Buffett told Serwer that China's growth in the last half-century is an "economic miracle."
"They have unleashed the power of their citizenry," Buffett said in the interview.
Warren is 87, Charlie is 94. Shareholder savors Omaha meeting because 'will this be the last time?'
The official Berkshire Hathaway annual meeting, and Warren Buffett and Charlie Munger's marathon Q&A session, isn't until Saturday.
But Berkshire Hathaway shareholders flooded Omaha's CenturyLink Center convention hall Friday for a shopping day and company exhibition.
With meeting credentials, shareholders could peruse the wares from noon to 5 p.m.
The allure of shopping apparently was strong.
"Marketing brilliance," is how shareholder Marylinn Munson of San Diego summed up the exhibit hall spectacle.
Munson and her sister Maylee Oddo and Oddo's husband, Brock Dumont, of Ashland, Oregon, were in Omaha first and foremost to hear Buffett and Munger speak at the meeting. It was Oddo and Dumont's first time.
"There is the question of, will this be the last time they do this event?" Oddo said of the two men, Buffett, 87 and Munger, 94.
Munson has been to the meeting in the past. She said she was excited to check out the various vendors, and enjoyed that they are staffed with higher-level company officials.
"You get the opportunity to talk to key corporate individuals at the companies," Munson said.
Says the Omaha airport to arriving Berkshire shareholders: 'Welcome to the Good Life!' 
"Welcome to The Good Life," an Eppley Airfield employee on a loudspeaker said to passengers arriving in Omaha from Newark, New Jersey, late Friday morning on a United Airlines flight.
The new arrivals from the New York-area flight included David and Jessica Leiter, in Omaha for his third and her second Berkshire Hathaway weekend.
David, a real estate executive, likes to hear Berkshire Chairman and Chief Executive Warren Buffett and Vice Chairman Charlie Munger talk.
Jessica, a coach and consultant, likes to shop.
A sizable Borsheims diamond engagement ring sparkled on her finger, a good-life memento of David's first trip to Omaha. (Borsheims' is a Berkshire-owned jewelry store in Omaha.)
"It's an experience," he said.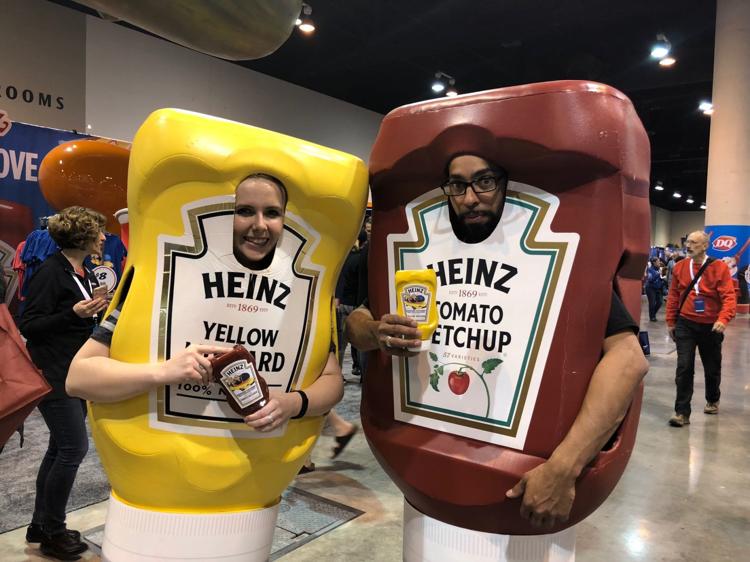 Life-size Kraft Heinz ketchup and mustard tell all
So, how do you get paid to be Kraft Heinz ketchup and mustard for the day?
Heinz Ketchup — aka Erik Patton at his day job detailing cars — found the gig on Craigslist. Mustard — Madison Malone — works for Berkshire-owned National Indemnity insurance company in Omaha. Bosses there asked who'd be willing to help out at the annual Berkshire Hathaway meeting. Malone volunteered.
Both are getting paid by the hour and will be back Saturday to take photos with Berkies — Berkshire shareholders — and provide entertainment.
Patton said he's worked other jobs playing mascots, and being ketchup is "real easy."
He even came up with his own tag line: "Ketchup with us!" He also encourages shareholders to "squeeze!" for pictures.
Kraft Heinz had commemorative bottles of ketchup and mustard for purchase, with Berkshire Chairman Warren Buffett's and Vice Chairman Charlie Munger's faces on the labels.
Mr. Peanut and the Kool-Aid Man also were on hand for pictures, "but they don't talk," one booth organizer said.
A sisters' weekend at Berkshire in Omaha
Michele Wehbi of Omaha picked Julie Yanney up at the airport for a sisters' weekend of all things Berkshire Hathaway.
The women, nieces of Omaha investor Mike Yanney, planned to shop at Borsheims on Friday night, listen to Warren Buffett talk investments Saturday and run in Sunday's Invest in Yourself 5K, sponsored by Berkshire-owned Brooks running shoes.
Julie Yanney, a banker from Brighton, Colorado, said she's been attending the meeting since the 1990s.
It's been a good investment, she said, but, "We're just 'B' owners," she said of Berkshire class-B shares, which are priced recently at about $200 each, compared to class-A's, which are around $300,000. "We're not the big shots."
Block 16 serves burger with actual gold
Gold is on the menu — literally — at Block 16 this Berkshire weekend.
The downtown restaurant is selling the BRK burger all weekend: It's got a Wagyu Jon's Naturals burger patty, taleggio cheese, a fried local egg, summer truffle, oracle sauce, The Boiler Room Restaurant bacon jam and edible 24-karat gold leaf on a Le Quartier Baking Company brioche bun.
The burger will be available all weekend for $18, and if Warren Buffett comes to the restaurant and eats one, shareholders with a lanyard will get the burger upgraded to a combo for free.
Shareholders, shoppers arrive; Warren is in the building
Berkshire Hathaway shareholders continued to arrive to Omaha on Friday as the company's annual meeting — dubbed by some as Woodstock for Capitalists — kicked off in the company's hometown.
Berkshire Chairman and Chief Executive Warren Buffett was on hand for the doors of the CenturyLink Center to open for shareholder shopping day.
Companies from the various Berkshire operating companies, including See's Candies and BNSF Railway, have booths set up throughout the hall; many sell mementos and trinkets emblazoned with company logos.
The World-Herald's business staff is stationed across town to bring you the latest. Stay with Omaha.com/berkshire throughout the weekend.
W-H reporter was out for a morning run in Dundee when …
You just never know who you'll run into in Omaha — literally — during Berkshire Hathaway's annual meeting.
There I was, out for my morning run through Elmwood Park, when I spotted another runner. Usually there's no one else around at this particular time and place. So when he caught up to me, I asked whether he lived around here.
We chatted as we ran. Some runners hate that, so I asked if it was OK — gotta maintain proper running etiquette, you know.
He said he was in for Berkshire with a group from the private equity management firm they operate in Sao Paulo. He'd already attended the "Genius of Warren Buffett" course by author and Buffett scholar Robert P. Miles and was looking forward to the annual meeting.
We ran a loop through the park. When I mentioned that I'm a newspaper reporter, he figured out immediately that I worked for the Omaha World-Herald, part of Berkshire's BH Media Group.
We talked about work, running, even kids. Then we parted ways — me for home, him for another loop. But it was fun to chat for a while with someone from another country, another continent, as if he were one of my central Omaha neighbors out for a jog.
I just hope I didn't slow him down.
Berkshire Hathaway is trending
By midday Friday, 1,933 news stories from 55 different countries have mentioned the Berkshire Hathaway shareholders meeting in the past week, according to Universal Information Service of Omaha.
The number of stories should double by Monday, said Todd Murphy, CEO.
The United States had the most, with 1,084, followed by Germany with 254, India with 94, the United Kingdom with 70, Spain with 46, Switzerland with 35 and Canada with 30.
The others: Vietnam, 29; Austria, 26; France, 24; Bulgaria, 21; Italy, 20; Nigeria, Singapore and South Africa, 17 each; the Netherlands, 14; Australia and China, 12 each; Malaysia, 10; Taiwan and the United Arab Emirates, 9 each; New Zealand, 8; Denmark, 6; Indonesia and Portugal, 5 each; Belgium, Hong Kong, Mexico, Pakistan, South Korea and Sweden, 4 each; Brazil, 3; Brunei, Ghana, Iceland, Japan, Liechtenstein, Lithuania, Namibia, Qatar, Tunisia and Turkey, 2 each; and one each in Argentina, Armenia, Colombia, Honduras, Hungary, Ireland, Jordan, Kenya, the Philippines, Romania, Saudi Arabia and Thailand.
SHAREHOLDER EVENTS
Informal meet and greet with World-Herald reporter Steve Jordon
Lobby of the Omaha World-Herald, 1314 Douglas St.
Whitney Tilson, head of Kase Learning, hosts annual cocktail party
St. Nicholas Room, Hilton Omaha
CNBC documentary, "Warren Buffett: Investor, Teacher, Icon"
CNBC documentary, "Warren Buffett: Investor, Teacher, Icon"
Annual meeting at CenturyLink Center
Q&A session with Warren Buffett and Charlie Munger
Brooks 5K packet pickup at Peak Performance
Meeting adjourns (approximate)
Whitney Tilson get-together
St. Nicholas Room, Hilton Omaha
Nebraska Furniture Mart picnic
advance registration required
Whitney Tilson and Kase Learning breakfast and presentation, followed with additional cast studies from 10 a.m. to 3 p.m.
St. Nicholas Room, Hilton Omaha
Borsheims shopping; 9 a.m. brunch
Gorat's Steakhouse, private shareholder dinner, pre-reserved
CNBC's Squawk Box, interview with Warren Buffett, Charlie Munger and Bill Gates
Fox Business Network, interview with Warren Buffett and Charlie Munger
Shopping discount periods*
Borsheims: Through May 12
Nebraska Furniture Mart: Through Monday