Shareholders will be expecting even more from TD Ameritrade — employer of 2,000 people in Omaha — now that the largest online brokerage has widened its lead in the derby for trading volume.
The brokerage behemoth is a long way from its roots as a two-man operation started when founder Joe Ricketts was among the pioneers smashing the business models of old-line brokerage houses.
That was then — the 1970s. But just last week TD Ameritrade completed what Chief Executive Tim Hockey called the biggest event in its history: the $2.7 billion acquisition of St. Louis-based rival Scottrade Financial Services, considered the crown jewel among the handful of privately held online brokerages big enough to matter.
The deal vaults TD Ameritrade to more than a half-million trades a day, with the Omaha company adding 140,000 per day from Scottrade to go with the 460,000 it generated on a daily basis in fiscal 2016. That adds up to about 600,000 per day at $11.38 a pop.
San Francisco-based rival Charles Schwab, by comparison, is much larger by revenue and market value but generated about 270,000 revenue trades per day in its third quarter ended in September, at a commission of $11.17 each.
Now shareholders will be anticipating lush returns from all that expensively purchased size and scope at TD Ameritrade: Shares of the company have fallen about 2 percent for the year, lagging the 4 percent gain in the Standard & Poor's 500.
And many of the key metrics at the company soured in the fiscal fourth quarter ended in September — worrying trends just as the company has made its largest acquisition, paying for Scottrade with $1.3 billion cash and $1.4 billion in company shares:
» Revenue from commissions and transactions — money collected when a customer buys or sells stock — fell 7 percent to $336 million.
» Average daily trades fell 7 percent to 444,281.
» Revenue per trade fell 7 cents to $11.82.
That leads some analysts to say the business has peaked, had its day when the Internet was new and cool and is basically going the way of wide-leg pants, lava lamps and shag carpets that were très chic back when the industry got its start in 1975.
"Given volatile trading volume and falling revenue per trade," TD Ameritrade is emphasizing managed accounts for which it collects a fee through its Amerivest unit, Bloomberg Intelligence wrote in a report last week. The field is "crowded," Bloomberg said, and low-cost automated alternatives have cut into the company's attraction of new customers and their money.
"TD Ameritrade's net new asset growth of 10 percent or better each year in fiscal 2009-2015 might not be sustainable."
Still, the company isn't too worried. CEO Hockey calls bearish sentiment on the industry pure nonsense.
"Keep in mind that we are just two quarters removed from our all-time record quarter for trading," Hockey said in an interview. "It's a cyclical business, and history will show you that investors are much more passive in up markets than they are in down markets." In other words, they tend to sit on the sidelines when stocks are broadly rising, but trade more when they're falling.
Hockey also said analysts might concentrate too much on the number of trades. Assets under management also matter, and under former CEO Fred Tomczyk, who retired this year, TD Ameritrade achieved the enviable record Bloomberg said is coming to an end, attracting at least 10 percent new customer assets each year from 2009 through 2015, falling just short in fiscal 2016.
But Hockey said the company's research, investor education tools and personal wealth management services offered through registered investment advisers nationwide are as important as the industry-leading trading platform.
"Nobody else is doing that," Hockey said of the rate of new asset generation. "Investors of all types are coming to us because they find value in the richness of an offering that includes trading, but is not only trading."
And there is another man connected to the whole story who has a thing or two to say about the industry's obituary writers. TD Ameritrade founder Ricketts was there when it happened, when he and a handful of other stockbrokers basically kicked in the door on the Wall Street firms that dominated stock trading back then — a chubby and clubby clique of big investment banks and brokerages who not-so-politely agreed on a standard commission structure the public would be charged for trading stocks — a conveniently high one.
"I don't remember exactly, but it was hundreds," Ricketts said in an interview last week with The World-Herald. "Hundreds of dollars."
That was the pre-1975 cost, Ricketts recalled, of the commissions charged a brokerage customer to buy 1,000 shares or so of a blue-chip company such as Coca-Cola or Boeing. Everyone pretty much charged the same commissions, said Ricketts, himself a stock salesman for Dean Witter at the time, a system he now calls "pure collusion" that was supported by the stock exchanges.
"The money they were making was huge," Ricketts said of established stock brokers with well-known firms who were charging the going rate. "It was a very upscale industry, very hard to break into, the kind of thing that was handed down from father to son."
It was all based on a very patrician viewpoint: that the research boffins at the major brokerages were the only ones capable of analyzing a company's past and prospects, management acumen and competitive landscape, and in turn, recommending clients buy or sell. Upon those recommendations, salesmen such as Ricketts hit the streets and the phones.
Of course, not everyone is cut out to make his own stock picks. Most people have full-time jobs already and few are dedicated or skilled enough. But for those who are able or at least willing, there have always been independent research tools. New York-based Value Line has been publishing in-depth financial analysis of publicly traded companies for decades, and annual reports with detailed information have always been available for the asking. Others, perhaps, aren't into research at all, just interested in taking a flier on whim.
In any case there were hundreds of thousands of them out there in the 1970s, waiting for something like discount brokerages to come along. But a few things had to happen first.
The initial challenges to the fixed commission system happened in the early 1960s, with institutional investors such as pension funds, who are big buyers of stock, beginning to complain about high, non-negotiable rates. By late in the decade, the U.S. Department of Justice was taking notice of what Ricketts said would now clearly be seen as anti-competitive behavior. There were congressional hearings. It came slowly in a couple of interim steps, but finally, on May 1, 1975, it was open season: Every commission for every brokerage transaction was negotiable.
There had been some early comers. The Chicago firm of Rose & Co. had been taking advantage of the interim steps since 1972, when it became possible to offer negotiated commissions on trades of certain sizes. By 1975 when the floodgates opened, Chicago-based Rose & Co. was humming.
And that's when Ricketts had his vision of his future. Now 75 years old, Ricketts said that in 1975 he traveled to Chicago to investigate the Chicago Board of Trade, with an eye to becoming an options trader.
"I had three kids and just wasn't making the kind of money I wanted," Ricketts says now, a bitter dividend for beating the streets day after day, flogging stocks and trying to drum up more business. From Nebraska City, he had no father who deeded him a book of business and introductions all around at the country club.
But a chance encounter in Chicago with an acquaintance led to a visit in the Rose & Co. offices, a modest space with just a few desks.
"They were answering telephones as fast as they could," Ricketts said, his voice still full of marvel at what he was about to discover. "And it was all unsolicited business."
Meaning, the customers were calling the brokerage — not the other way around. No more beating the bushes.
"I realized these were people doing their own thing," Ricketts said. "They were doing their own analysis."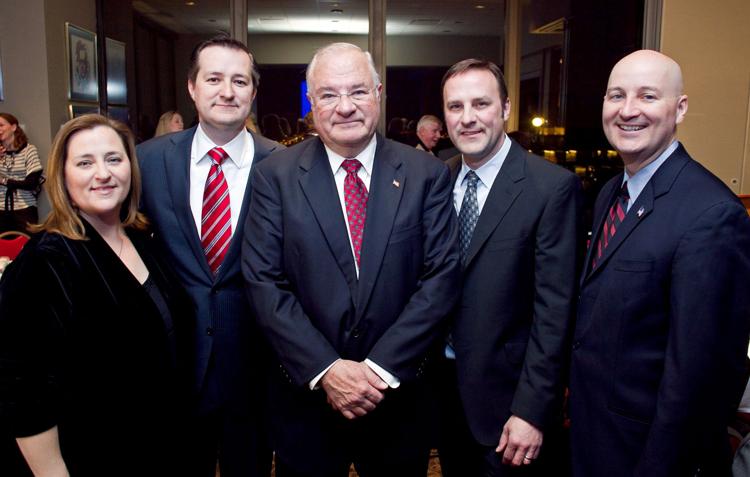 Soon after, First Omaha Securities was in business, led by Ricketts, essentially copying the Rose & Co. method. Many steps were to follow, telephone trading and then the big one, Internet trading. But it all started when Ricketts perceived something only a few others did at the time, and connected it to a method of making money by the mile.
"I realized that our country was full of young people, better educated than ever, with good jobs," Ricketts said, himself just a few years older than his counterparts of the baby boom generation. "They were capable of doing their own analysis. Wall Street just didn't see that coming."
While it is tempting to concentrate on TD Ameritrade's technology or trading platform or price per-trade, Ricketts said none of that is what really matters. Ricketts, TD Ameritrade and other industry pioneers such as Charles Schwab and John Rose have more in common with other post-World War II American business success stories such as Ray Kroc and McDonald's or the early leaders of cable television — goods and services that eliminated a middleman, a barrier to choice or that added convenience and did away with fuss.
"America is based on freedom," Ricketts said. "All we did was provide the opportunity for people who enjoy making their own decisions about buying and selling stocks."
Now, industry watchers say more and more of those decisions are being farmed out to robo advisers, or automated systems whose software analyzes a customer's assets, risk tolerance and objectives and recommends an investment strategy, typically passive investments such as index funds or similar. They are widely seen as a threat to companies such as TD Ameritrade. But not everyone sees it that way.
"This is off-base," said Rich Repetto, a brokerage industry analyst with New York-based Sandler O'Neill & Partners who was named "analyst of the year" in 2010 by Financial Times/Starmine, the profession's biggest kudo. "All of the e-brokers have or are building the same thing," he said of the automated investment-picking systems.
Repetto said more consolidation is probable in the business, which means New York E-Trade Financial probably getting swallowed by either TD Ameritrade or Schwab. E-Trade appears particularly vulnerable, having last month replaced its CEO after about three years at the helm.
"E-Trade has laid out an 18-month to 24-month strategic growth plan for its new management team," Repetto said. "But whether they are successful or not successful, they could be on the block after this time period and TD Ameritrade could be the buyer."
TD Ameritrade CEO Hockey said: "We remain open to opportunities to grow our company both organically and through mergers and acquisitions." Messages left with E-Trade's media relations department weren't answered.
Founder Ricketts, not an active part of the company since 2011, when he retired as a director, has a lot at stake in it all. He is the largest individual shareholder, with about 60 million shares, a stake worth about $2 billion late last week.
He also has a lot of memories at stake, such as what happened in 1994, after the privately owned company had already debuted the industry's first quote-and-order system using touch-tone telephones.
One day that year, an assistant brought him a piece of paper at the company's Omaha offices and said it was a printout of something called an email. On it were instructions from a customer — whose name is lost to history but who is surely one of the pivotal people of the digital era — to buy or sell some shares in some company or other.
"The clerk said to me 'Shall we place that order?' " Ricketts recalled. "We did. I had no idea what the Internet was, but I know what I had just seen would be a big hit."
So began the great Internet build-out at TD Ameritrade. Ricketts said he figured they would need $100 million for the costs and $60 million for advertising to persuade people to trade stocks through the ether.
"Turned out that was way low," Ricketts says now. "That's why we went public."
Veteran brokers on upstart's challenge
In every city of any size there are successful stockbrokers whose skill, honesty and appetite for work have meant long careers by any standard of business longevity. Some of Omaha's most respected brokers were around when the young Joe Ricketts was trying to take away their living. None seems to bear a grudge.

Dick Kelley, a managing director for RBC Wealth Management's Omaha office, was a stockbroker in the 1970s when the industry was deregulated and companies such as TD Ameritrade were born. Now 78, he earlier worked for brokerage Dain Bosworth:
People would call up and buy 300 shares at $22.50, and we'd look at the chart to see what the fee would be. That went by the wayside a long time ago. There are people that don't need our advice or counsel. There's a place for both discount brokers and there's a place for full-service brokers. The old fixed-rate thing has gone by the wayside. Even full-service brokers will discount as well.
If they want advice from a full-service broker, which is what we are, we've got to be paid for our time also.
I never felt that I had to match their rates. We offered pretty damn good counsel for people and financial planning. I never felt threatened by the discount brokers. I think there's a place for those people and there's a place for me.
I loved to go walk into offices and talk to people. Fees were never brought up in the conversation. Now we hear "What's the fee going to be to buy 200 shares or this or that?"
James Kineen, 79, worked for the Chiles Heider brokerage in Omaha, retiring from the industry in 2009:
Joe was kind of considered an outsider. People were unhappy that he was charging less than they were. It put pressure on everybody else. He was definitely considered an outsider by people in the industry. It was kind of a gravy train. It really hurt the small firms that were charging 50 cents a share. All of a sudden it was 5 or 10 cents.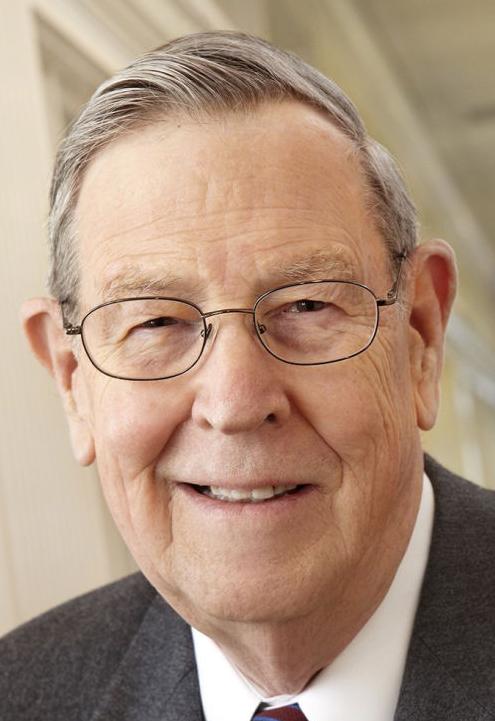 Edson Bridges, 84, started at Bridges Investment Management in Omaha in 1959; his father had started the company and moved it to Omaha in 1946. He is still working at the firm now headed by his son, Ted Bridges, and said the advent of computerized stock-trading and clearing has brought down costs for everyone, including professional money managers such as himself; TD Ameritrade counts many registered investment advisers as customers:
You have to remember it was a different era. About 2.5 million or 3 million shares a day was typical on the New York Stock Exchange. Couple of minutes takes care of that now! Online, well that has improved the cost efficiency tremendously. It also contributes to a day-trading mentality and shorter and shorter holding periods. I'm not certain that is altogether a good trend.