Pick up Saturday's World-Herald for our complete Berkshire Hathaway special section, and stay with Omaha.com throughout the weekend for full coverage from the meeting.
Welcome to Berkshire Hathaway weekend in Omaha. Ever wonder why all these people are here?
Bottom line: It's the most unusual corporate event in the world, and we're going to explain why. Saturday morning, perhaps more than 40,000 people will gather at the CenturyLink Center in Omaha for Berkshire's annual shareholders meeting, the 54th since Warren Buffett gained control of the former New England textile company.
The agenda is dominated by a six-hour question-and-answer session with Buffett and Berkshire Vice Chairman Charlie Munger. Sidelights include convention hall booths by 40 companies, plus shareholder events at the Nebraska Furniture Mart, Borsheims and private gatherings around town.
He's been playing the same game for 62 years, since he returned to Omaha from New York City in 1956 and put together an investment fund using the ideas he learned from Benjamin Graham.
Sure, Buffett's one-man show has morphed into a conglomerate of scores of businesses, $200 billion-plus of investments and a payroll approaching 400,000 people. It's worth $480 billion on the New York Stock Exchange.
But it's all based on the same ideas he brought to Omaha and sold to seven family members and friends who became his first partners, plus some new variations over the years. It's a record of longevity and consistency that may be unequaled in the annals of capitalism.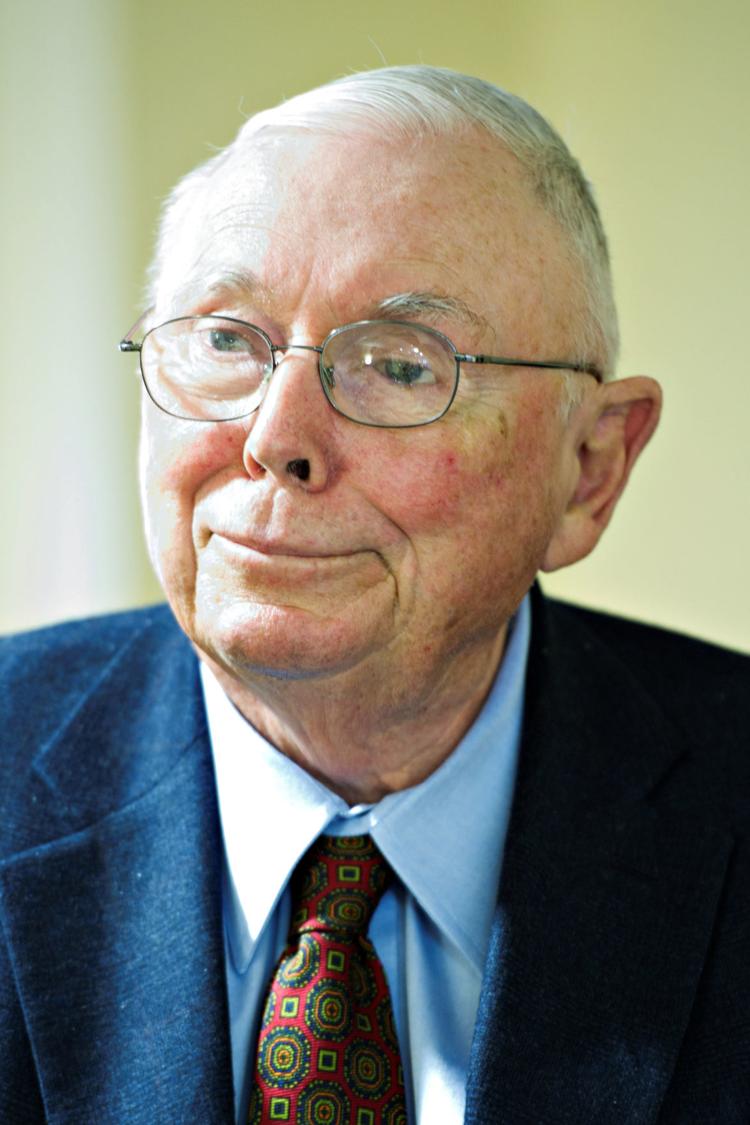 As Buffett's longtime partner, Munger has his own following of people who appreciate an acerbic wit. He's a widely read fan of Benjamin Franklin and an attorney-investor-architect-philosopher with a knack for spotting bad deals in advance.
Munger and Buffett have their differences — Munger is a conservative and Buffett a liberal on most political matters — but haven't had an argument in their 49-plus years of friendship and working together, they say. Maybe it's because they both worked in the grocery store run by Buffett's grandfather and uncle and vowed never to work that hard again.
"We are all learning, modifying or destroying ideas all the time. Rapid destruction of your ideas when the time is right is one of the most valuable qualities you can acquire. You must force yourself to consider arguments on the other side."
Invert, Munger says: Instead of making the United States self-sufficient in oil production, the country should import as much oil from other countries as possible, keeping its own as other nations' supplies dry up.
3. You, the investor, and you, the Buffett-watcher
Where else can you find investors who don't want to collect dividends?
Or people who come by the tens of thousands, and travel hundreds and thousands of miles, and spend hundreds and thousands of dollars, to see a chief executive officer and his sidekick spend six hours talking in a basketball arena?
And who find pleasure in Buffett's $100,000-a-year salary, his Cherry-Coke-and-McDonald's diet and his risqué jokes. The latest: "If Wall Street analysts or board members urge (a 'can-do' type) CEO to consider possible acquisitions, it's a bit like telling your ripening teenager to be sure to have a normal sex life."
4. Berkshire's basic, boring business
Namely, insurance — the art of profiting by holding onto other people's money in case they fall, get struck by lightning, see their house go up in flames, watch it get washed away by a hurricane or otherwise have a loss they can claim and collect from you later.
The trick, of course, is to use the other people's money wisely, to collect enough from them and others so you can pay those claims and to build up enough money that even the worst hurricane doesn't threaten to bankrupt you.
Basically, Berkshire's experts have figured out how to do that.
5. Berkshire's "nameless" brand name 
You can't eat a Berkshire, ride in a Berkshire, switch on a Berkshire or hire a Berkshire to solve your problems. Aside from the late-comer Berkshire real estate franchises, the products and services Berkshire supplies are as hidden as the men's suit linings produced by that long-defunct textile company.
Being a bit under the radar served Buffett well for decades, but that time is past: People half a world away, in China, Australia and elsewhere, have Berkshire on their minds, and you'll see them here this weekend, cellphone cameras in action.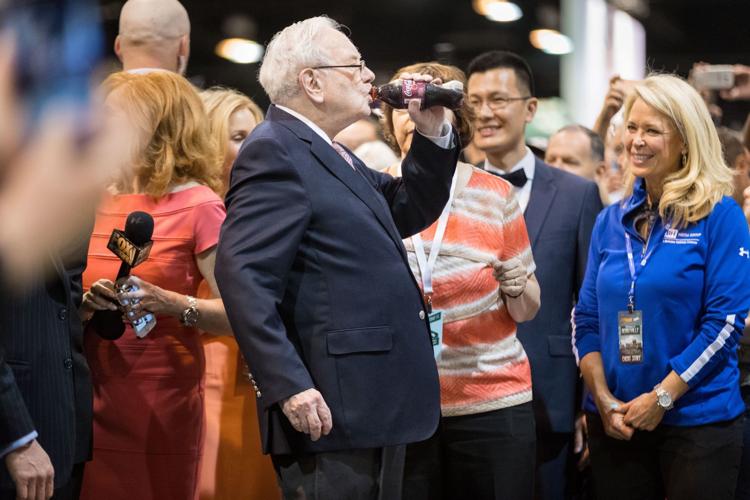 6. The wacky meeting itself
Where else can you see a billionaire eating Dilly Bars and playing the ukulele with the Quebe Sisters as they sing "The Red River Valley"?
The Fruit of the Loom guys may show up. There's a factory-built house for sale. Ginsu knives, encyclopedias, mattresses, silicone spoon molds? We got 'em.
The goofiest company movie on the planet features Buffett's famous "I will be ruthless" speech, cartoons of himself, surprise celebrities and comedy vignettes with the worst acting between Hollywood and Broadway.
Come back in July sometime, and you'd be amazed at how few people are on downtown streets at 2 p.m. Why? They're at work.
It's a smallish city to host the headquarters of a corporation that's No. 2 on Fortune Magazine's ranking of the largest U.S. companies by annual sales. No matter: Who needs more than one opera, skyscraper, riverfront, zoo or Old Market, anyway?
The Elite Eight, the world's equine champions, the College World Series and the Olympic Swim Trials all come through Omaha, and the city is unchanged.
Somehow, even with Omaha's minuscule unemployment rate and snow and ice in April, Buffett attracts the 26 headquarters staff he wants to keep Berkshire perking along.
Say "hi" to an Omahan. They'll appreciate it.
8. Berkshire's focus on the United States — 90 percent of its investments are domestic — with an eye to the outside world
There's BYD Inc., the Chinese auto and battery company; International Metalworking Cos. of Israel; German motorcycle accessories retailer Detlev Louis Motorrad-Vertriebs GmbH; an international property insurance company; and open arms for the big foreign company that needs a friendly corporate home.
Buffett has given away more money than the State of Nebraska spends in five years, and he still has enough left to fund state government for another decade. How'd he do that?
Berkshire's financial strength may be unique in the insurance world, Buffett says, able to withstand huge disaster claims that would put other insurance companies out of business.
Shareholders have, of course, shared in the wealth. A $10,000 investment in 1965 would be worth close to $80 million today. Even latecomers have tripled their money in the past decade.
So you see people smiling: Either they came in to Berkshire early, or they want you to believe they came in early.
Nowhere else will you hear two of history's great financial minds speaking off-the-cuff about their ideas. You might even get to ask your own question.
Buffett: "If you're tied to coal, you've got problems."
Munger: "There's too much chemotherapy on people that are all but dead. On this issue, both parties hate each other so much that neither one of them can think rationally."
Buffett: "Sugar in Coca-Cola is not any different than the sugar I put on my Grape-Nuts in the morning. I think Coca-Cola has been a very positive factor in America for a long, long time."
Buffett, on making an offer to buy a company: "It does not work very well if you go to your wife or girlfriend on Valentine's Day — I hope they're the same person — and say, 'Here's a box of candy, honey, I took a low bid.' "
There you have 10 reasons, and you may find another 10 this weekend, if you look. And here's another: Opportunities abound in Omaha this week — that's Berkshire for you.