A private parking lot for area businesses is proposed to replace a freshly demolished building east of the revived Dundee Theater.
Construction workers this week were tearing down the building at 4950 Dodge St. that used to house tenants including Dugger's Cafe.
RH Land Management Co., the property's owner, requested the demolition-related permits. The management company is affiliated with Susie Buffett's Sherwood Foundation, which bought the Dundee Theater in 2016 and turned it over to nonprofit Film Streams.
Phone calls to Buffett's office were not returned.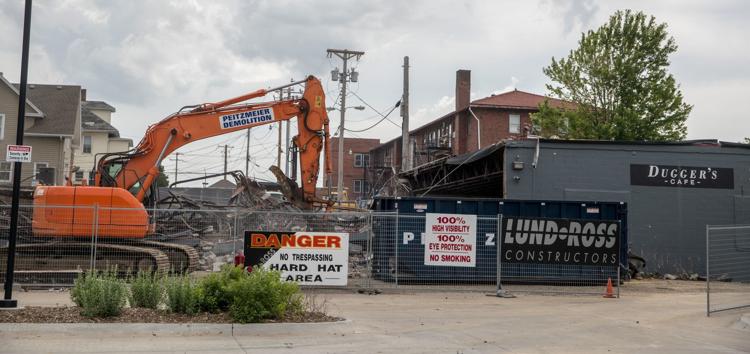 Casey Logan of Film Streams said the theater is one of several area businesses that would share the finished parking lot. The others are in nearby buildings owned by RH Land Management.
Peter Manhart of the Dundee Memorial Neighborhood Association said that while board members typically might cringe at seeing a building torn down, they also recognize that Dundee is growing and is a place many want to live and do business in. He was supportive of Buffett's work and improvements in the neighborhood.
"We have to understand there is some creative destruction that's going to go on to make the neighborhood a better place," said Manhart, the outgoing president of the neighborhood association.
Anna Bespoyasny of the City Planning Department said the request by RH Land Management to create the commercial parking lot at the demolition site has not yet been officially approved. It must go through a process that includes a review of design and landscaping, she said.
The Dundee Theater had been closed since 2013 before Buffett's Sherwood Foundation bought it and gave it to Film Streams, which then raised more than $7 million to restore the theater. The theater reopened in 2017.
Sign up for our Money headlines newsletter
Get the latest development, jobs and retail news, delivered straight to your inbox every day.
Omaha's tallest buildings
Omaha's landscape is marked by buildings new and old reaching toward the sky. Here are Omaha's tallest buildings. Note: Building height, construction data and other information from Emporis.com. All listed heights are architectural.