The Mulhall brothers remember when the ground their parents bought northwest of 180th and Blondo Streets was still a cornfield on the outskirts of town.
Over the next three decades, they witnessed the family nursery business raise thousands of maple, oak and other young trees at that site before sending the saplings off to their forever homes across the city.
But, especially in the last few years, the neighborhood around the 80-acre tree farm has changed.
That Mulhall field is now flanked by fresh development. Big new houses. More under construction. New streets. A planned bridge that will connect the area with busy corridors to the south. All are signs of Omaha's westward stretch.
Sign up for our Money headlines newsletter
Get the latest development, jobs and retail news, delivered straight to your inbox every day.
Likewise, say the Mulhall siblings, the time has come for something different to take root on the green island that for decades served as the primary tree nurturing field for the family nursery and landscaping operation whose home base and office is about 5 miles away.
"We're surrounded," Dan Mulhall said, pointing to fledgling subdivisions around the tree farm, which stretches a half-mile along 180th and a quarter mile along Blondo. "It's time for other things to happen."
What is slated next for that ground is Bluestem Meadows, a mix of housing and commercial enterprises led by Dan Mulhall and his brother, Sean. When fully built, the property's value is projected to be $73 million.
In July, grading is expected to start on the first phase. Roads and infrastructure would follow, and, if all goes as planned, residences — about 110 for-sale houses and villas — could start rising in two years.
The second phase, closest to the 180th and Blondo intersection, would include apartments, small businesses and retailers catering to needs of area residents. That likely will wait, the developers said, until after the future bridge and other road improvements open the way for traffic to flow along 180th Street between Blondo and West Dodge Road.
The new bridge system — construction is expected to start in early 2020 and finish within three years — would span the Old Lincoln Highway, railroad tracks and creek that currently block the flow of vehicles on that stretch of what would be 180th Street.
"It really will open up the entire traffic flow of the area," Dan Mulhall said of the work that also includes widening 180th north to West Maple.
Indeed, real estate officials spearheading other area projects also anticipate better connection, more commerce and further development with the road improvements.
Among blossoming projects is the Quantum Real Estate-led Antler View site, a mix of housing and businesses developing on 180 acres between 180th and 192nd Street along West Maple Road. The Elkhorn school district also is expanding in the area.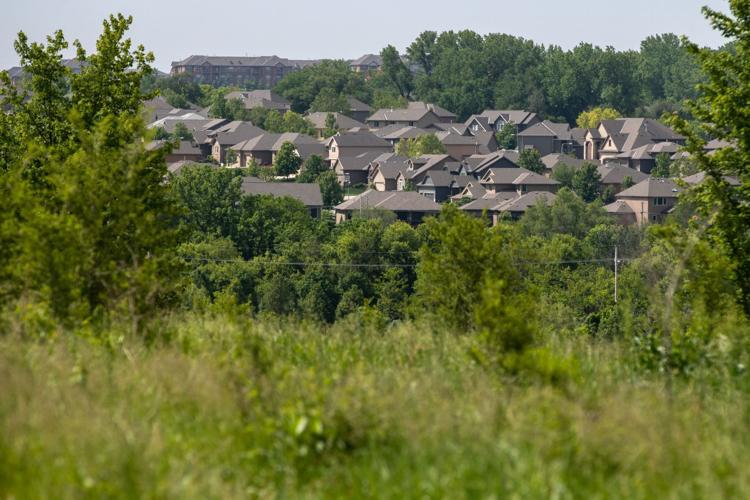 Housing, of course, helped lead the charge. Just north of Bluestem Meadows, developer Tom Falcone is grading land for the 147-lot Spruce Abbey subdivision.
West of Bluestem Meadows is Spruce Ridge, which opened about five years ago and continues to add houses. Andresen Meadows to the east began a couple of years before that. Falcone said that area's wave of housing was sparked by builders asking after the economic slowdown if he was ready to rev up again.
"I'd say in the last seven years it's just blown up out there, magnified, matured," Falcone said.
For the Mulhalls, it's not the first stab at developing old nursery grounds.
They built Roanoke business park 12 years ago on 30 acres between 118th and 120th south of Fort Street. In its new commercial life, that former tree farm features a pond and fountains.
At Bluestem Meadows, many of the trees were recently harvested or replanted elsewhere. Some will be returned once the new project takes shape.
The family goal, said Dan Mulhall, is to create an attractive, functional community spruced up with plenty of trees, plants and natural grasses.
"We're driven mostly by trying to have an aesthetic we will be proud of," he said.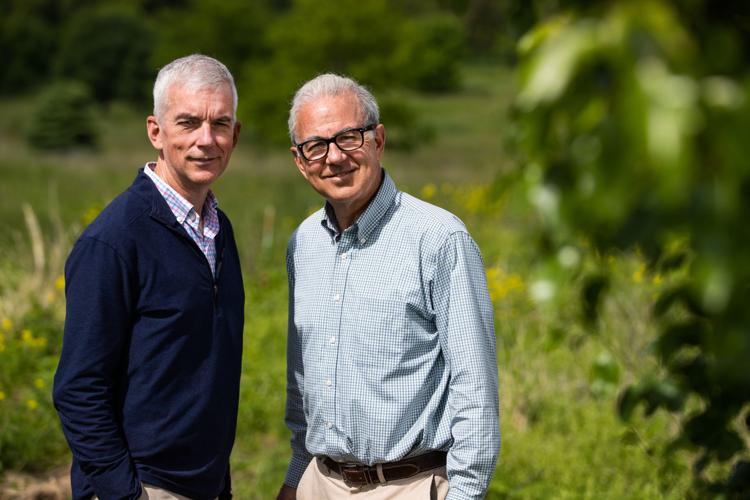 While the brothers view the land shift as an opportunity, they say they're still principally devoted to the nursery and landscaping business their folks, John and Maureen, started in Omaha more than 60 years ago after the couple emigrated from Ireland.
Dan, 56, and Sean, 61, are second-generation owners and managers of the business whose base, Mulhall's garden center, has been at 120th Street and West Maple Road since 1972. It moved there after a new overpass near 69th and Blondo shrunk a previous footprint, Dan recalled.
Sean said the siblings saw development coming the way of their 180th and Blondo farm and stopped planting new trees there a few years back. They also have tree farms in the Bellevue and Gretna areas.
The brothers look forward to Bluestem Meadows leaving an attractive mark on the city's landscape. But, says Sean, he can't help but feel a bit melancholy about the transition.
"It certainly is sentimental," Sean said. "We were both young men when we bought that. Our lives have been tied up in it."
Changing Omaha: More than 50 stories of local development projects in the works
An ongoing list of some our development stories from 2018, with the most-recent stories at the top.