REXFORD, KANSAS — All the milk from all 8,200 cows on the McCarty Family Farms in western Nebraska and Kansas ends up in one place: a Dannon yogurt plant in Fort Worth, Texas.
When the McCartys shop for Dannon yogurt products at Walmart back home, they take pride in knowing where the main ingredient came from and how it was produced.
It's a big change from how they, and Dannon, used to do business.
Like most dairy farmers, the McCartys — Tom and Judy; their sons, Mike, Clay, David and Ken; and their wives and children — used to sell their milk to a dairy co-op, where milk from many farmers is comingled, processed and sold to multiple customers.
They didn't know where it ended up. And the price they received depended on the ups and downs of the market.
Today, the McCartys say, things are different. Thanks to a contractual relationship with the single buyer, they say they've been able to double their herd size, better weather market fluctuations, turn a consistent profit and invest for the future with more confidence.
"It allows us to focus on things that we're truly passionate about," Ken McCarty said. That's farming, raising cattle and producing milk — not sweating commodity markets.
Most livestock, dairy and crop producers in Nebraska still look to an open marketplace to sell a commodity product: standard varieties of corn or beef, all headed for a grain bin, plant or feedlot. While they have strategies to weather ups and downs, they can suffer when prices tumble, as they did this year, when many grain farmers are selling their product for less than it cost to grow.
So the use of marketing contracts in farming is a practice that stands to continue to grow, said Jay Rempe, economist for the Nebraska Farm Bureau. Those contracts are arrangements in which a farmer works directly with an end buyer to produce a specific product at a set price or margin.
The contract between the McCartys and Dannon works on a "cost-plus" model. Dannon pays a price that fluctuates based on the McCartys' costs of production, but always covers the costs, while adding in a steady profit, Ken McCarty said.
The McCartys might miss out on a big windfall in the occasional market rally, but they also don't have to worry about how to cover their debt and bills, or invest for the future, when prices plunge.
McCarty declined to disclose how much he is paid, but said his profit margin is equivalent to what an average dairy farmer might earn over time, taking into account good years and bad. The benefit is that the margin is consistent.
Dannon said about 40 percent of its milk today is purchased directly from farmers like the McCartys; it expects this to climb to about 80 percent.
Rempe said these types of deals are likely to be more popular.
Producers look to negotiate deals that will ensure they can cover the costs of raising higher value specialty crops or livestock.
Big food manufacturers, out to slash costs, want to cut down volatility in price, assuring themselves of a steady supply at a known price.
And consumers, selective about what they put in their grocery carts, are driving manufacturers to lock in a supply of specialty ingredients. That way, food companies can use labels that highlight specialty attributes such as non-GMO, organic, gluten-free, humanely raised, cage-free, and so on.
Those companies are trying to keep their "brand value" high in part so they can better compete with the growing number of private-label products, and sell their products in more types of stores, like Whole Foods, said Michael Boland, agricultural economics professor and director of the Food Industry Center at the University of Minnesota.
They go straight to the farm source to get more control over ingredients.
"There's a broad trend going on: We're setting up a segregated supply chain," he said.
All of those pressures are at work in Dannon's deal with the McCartys.
It started about seven years ago, when Dannon wanted to control volatile milk costs by developing relationships directly with farmers, said Axel Lundstrom, director of farm relations for Dannon in Minster, Ohio.
At the same time, the company was looking to lighten its environmental impact, and to respond to growing consumer interest in natural ingredients.
"What we found was that once you know your farm pretty well, you know everything about your supply," Lundstrom said. That meant the company could get involved in more than the price of milk; it could have input into safety and environmental sustainability matters, too.
Typically, food manufacturers have little say over the on-farm practices used by ingredient growers. And many farmers wouldn't have it any other way.
But the McCartys saw advantages that made them willing to let Dannon get involved. Under the arrangement with Dannon, they've expanded the variety of audits their farms get from an outside firm, Urbandale, Iowa-based Validus, whose slogan is, "Helping the world feel good about farming."
Validus checks on animal welfare, environmental practices, on-farm security, and worker care at McCarty Farms, said Matt Jones, vice president of operations at Validus.
The fact that a farm is willing to open itself to outside scrutiny, Jones said, "It's trying to maintain that trust with the end consumer."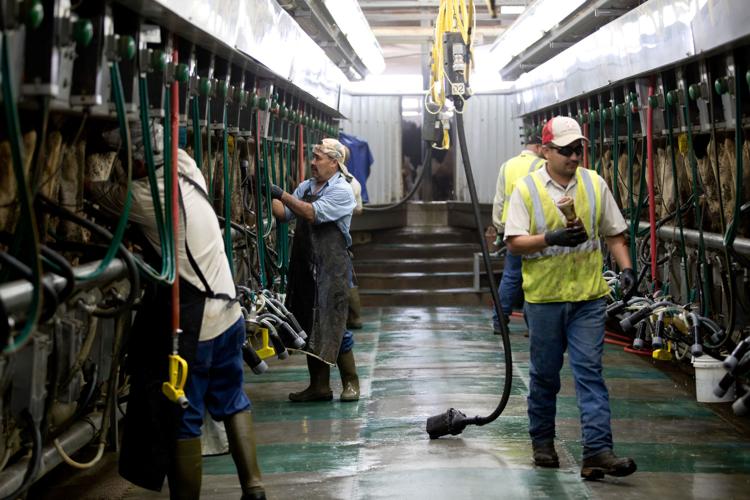 The McCartys also source and grow non-GMO feed, so products made with their milk can carry the Non-GMO Project Verified label. Non-GMO products are those that don't contain "genetically modified organisms," or aren't altered through genetic engineering. Most corn grown for livestock feed in the U.S. is genetically engineered.
Dannon announced in September that several of its products now carry that label. That was a key tenet of its "Dannon Pledge," made in 2016, that it would put in place more sustainable and transparent production practices.
Ken McCarty said many of those practices align with how the McCartys wanted to run their farm anyway.
And it's been worth it, he said: Because they get a known profit margin for a known volume of product, the deal has allowed them to invest for the long term in ways that they say otherwise wouldn't have been possible.
They built a plant at one of their Kansas farms that condenses milk to about a third of its original volume, saving money on trucking costs.
The plant reclaims about 50,000 gallons of water a day from the milk, reducing pressure on the local water source: the Ogallala Aquifer.
They've also invested in equipment to make their cattle's lives more comfortable, such as sunshades and backscratching brushes. And as they've grown their business and their families, the McCartys and the people they employ are contributing more to the communities where they have farms: Beaver City, Nebraska; and Bird City, Rexford and Scott City, Kansas. The McCartys are also involved in a partnership that plans to build a dairy in Ohio, also to supply Dannon.
Farmers do have to be cautious when entering contracts, Rempe said, and should consult an attorney.
But there are advantages, too, he said, in reducing the risk for a farmer who wants to try something new.
"It not only provides that stability and certainty from year to year, but it also can help them obtain the financing they need," he said. "They can go back to their banker: 'Look, I've got this contract.' "
As consumers expect more transparency from food manufacturers, farmers will want to consider these niche markets as a way to generate more value from their farm operations, said Brad Lubben, agricultural economics professor at the University of Nebraska-Lincoln.
"It might be chasing that direct market, or it might be producing livestock according to somebody's supply chain and stewardship protocols," he said.
Other Nebraska farmers said they've experimented with contracts for specialty products, with varying degrees of success.
Scribner cattle feeder Allan Ortmeier produces cattle that eat strictly non-GMO feed. He sells them under contract to Kansas specialty processor Creekstone Farms, which sells the beef online at a big premium. Ground beef goes for about $12.50 a pound, about three times higher than supermarket prices for ground beef that isn't non-GMO-verified.
But that doesn't mean triple profits for Ortmeier.
His extra costs add up: trucking feeder cattle from California, trucking slaughter-ready cattle to Kansas and fees for auditors to vouch that his program is non-GMO.
"It's not what we hoped for," he said. "When everybody was losing money last year on cattle, we were, too."
Still, he's sticking with his program, in his belief that non-GMO products are more healthful and in hopes that consumer demand for non-GMO products will continue to grow.
Many farmers chafe at the growth of non-GMO products or those with other specialty-label claims. The National Milk Producers Federation called out Dannon's non-GMO labels in a campaign launched in August against what it calls deceptive food labeling. The group says the labels play on consumers' food safety fears and misconceptions.
The U.S. Food and Drug Administration says food products made with genetically modified crops are not materially different from those made with conventional crops, and that there is no evidence of a safety risk.
Dannon said using the non-GMO label on its yogurt is about choice.
"To offer a Non-GMO Project Verified option is a reflection of our commitment to provide as much choice as shoppers are interested in," spokesman Michael Neuwirth said.
Another Nebraska farmer, Tom Schwarz, said producers are right to leave behind what he called a "commodity mentality."
"If the customer says 'I want purple cows delivered on the 14th of February,' it's not my place as a producer to say 'That's the stupidest thing I've ever heard of,' " he said.
Schwarz transitioned his farm, south of Lexington, to organic production in the late '90s. With just 700 acres to work with — compared with some farmers' several thousand acres — he said producing a specialty product was a way to stay in business.
He contracts with companies including Frito-Lay and Preferred Popcorn to sell varieties of food-grade organic corn, wheat and popcorn. Frito-Lay in September launched a line of organic snacks — including organic Doritos. Preferred Popcorn, based in Chapman, northeast of Grand Island, this summer broke ground on a new plant in part because it needed to accommodate segregated organic production.
Without that kind of business model, Schwarz said, "I don't know that we would have survived."