After Shopkos shuttered around Nebraska, a few communities are seeing movement to replace the stores with another retail outlet.
But one Omaha real estate executive says people shouldn't expect retail stores to resurface in every former Shopko building.
"Probably not, especially if they're one user," said Trenton Magid, executive vice president of NAI NP Dodge.
As stores everywhere face continuing turmoil from a shifting retail market, Nebraskans have felt the biggest loss from the closure of every Shopko across the state.
But Shopko's loss was the most widespread, affecting at least two dozen communities big and small, from Omaha to Ord to Ogallala, Kimball to Valentine, Wayne to Falls City. The stores anchored suburban strip malls and provided goods at small-town Shopko Hometown stores. They once employed more than 1,400 people around the state, according to the State of Nebraska.
Yet the turnover is starting.
In West Point, Hy-Vee plans to open a Hy-Vee Dollar Fresh in late 2019, said Christina Gayman, the Iowa-based grocer's director of public relations. It's a smaller Hy-Vee store, Gayman said, that sells dairy products, bakery items, meats, wine and spirits. They also have a pharmacy and a "wall of value," or private-label and sale items, she said.
In Lincoln, home décor retailer At Home is planning to turn a former Shopko into its first Lincoln outlet at 27th Street and Pine Lake Road.
In North Platte, farm and ranch retailer Bomgaars Supply plans a new store post-Shopko.
In Norfolk, car dealership Courtesy Ford plans to renovate a former Shopko into a showroom for about 80 vehicles and a 20-bay service center.
Owner Al Rajaee and his wife bought the dealership this year. He said his interest in the building started after hearing a rumor he purchased the Shopko, but it got him thinking.
Sign up for The World-Herald's afternoon updates
Receive a summary of the day's popular and trending stories from Omaha.com.
Rajaee said he realized his business could "create a great environment for the customers" in the former Shopko.
Magid is a listing agent on two Omaha-area Shopko buildings, one along 84th Street south of West Center Road and the other in Bellevue along Galvin Road South.
"I'm pleased with the level of activity we've had," Magid said. "We could always use more."
A former Kmart near 132nd Street and West Maple Road that closed in 2014 now houses four retailers: TJ Maxx, Home goods, Sierra Trading Post and Burlington. A former Best Buy near 120th and L Streets became a Ross Dress for Less.
At this time of year, temporary Spirit Halloween stores pop up in some open store spaces.
The Shopko buildings around the state are functional and adaptable and could work as government offices or a post office, Magid said.
But he said their size might not work well for dividing up the buildings for smaller retailers. The cost could be prohibitive, and it might not work as thinner, longer retail spaces, he said.
That helps explain why a few non-retail businesses are buying former Shopkos.
In Albion, tech company Applied Connective Technologies will relocate its headquarters to the former Shopko Hometown it is renovating. In a Facebook post, the company said: "We're excited to continue bringing our friends and neighbors the same exceptional customer service and cutting-edge technologies we always have — just with a little extra elbow room now."
Owner Ed Knott said his business looked at building a new location, but saved money by renovating.
"This just worked out for us," he said.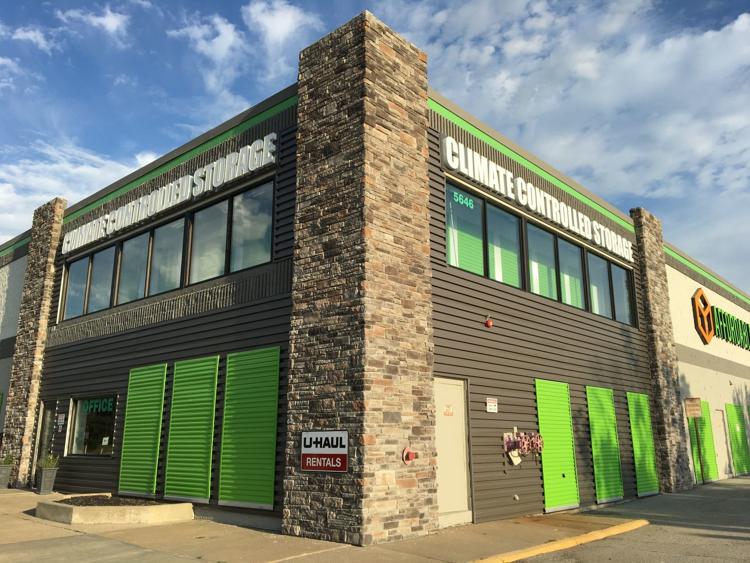 Keeler & Associates, a local company that helps businesses with benefits enrollment, bought Plattsmouth's Shopko Hometown building, the Plattsmouth Journal reported. Keeler & Associates will use less than half of the building for its headquarters and lease the rest, the newspaper said.
Self-storage — kind of the opposite of a retail store — is another replacement use.
In Lincoln, Menards bought the North 27th Street Shopko building next door years before Shopko closed. In May, Menards filed plans with the Lincoln/Lancaster County Planning Department to turn the front of the building into self-storage, with the back serving as a Menards warehouse.
In Omaha, the 90th Street and West Maple Road Shopko closed in 2016. The new owner, too, now offers self-storage at the site.
This report includes material from the World-Herald News Service.
Photos: Goodbye to these Nebraska businesses
A photo gallery of businesses that have effectively closed their Nebraska locations since the beginning of this year.