My 4-year-old was singing one of her many original songs at the top of her lungs. The chorus was a repetitive, surprisingly upbeat refrain of, "The germs will never go away."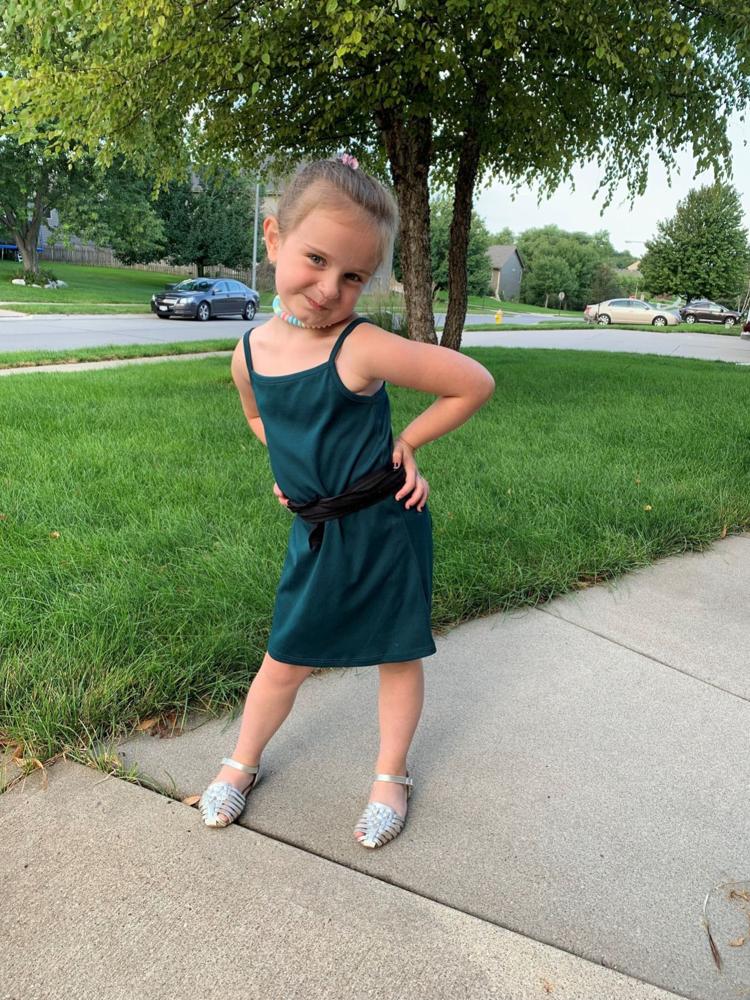 But the truth is that the coronavirus threat will eventually recede and life will return to semi-normal. We'll all go back to work and the kids will go back to school. I know we're ready for that, but are we ready ready?
To be honest, there are some things that my kiddo has gotten used to during lockdown that are really going to mess her up for kindergarten in the fall.
Take her fashion freedom, for example. My kid loves — LOVES — styling herself. After selecting the perfect ensemble, she sometimes puts on little fashion shows for me. She pairs her favorite tops with wild bottoms, accessories with beloved shoes — and it is freaking adorable.
But I never have to tell her no because we don't leave the house. Currently, when she mixes red velvet Christmas leggings with a hot pink tank top, a belt made of a string she found in the garage, my sunglasses, a Husker stocking cap and her fancy patent leather shoes, she gets a roaring round of applause for her expressive use of color. Her own personal Tim Gunn (me) is always pleased, even when she rocks the clunky unicorn snow boots with the layered effect of two sundresses, one worn on top of the other.
But obviously, I can't send her off to school like that.
So what are the odds she's going to take fashion restriction in stride when we return? I imagine it will be a formidable battle. And even though I'm the adult in this scenario, I have serious concerns about my odds of winning.
Technically, I'll be in the same boat, but on an opposite scale. I've grown quite comfortable rotating my two work-from-home uniforms (black stretchy pants and black shirt, and gray stretchy pants and gray shirt) and cannot fathom wearing different outfits every single day of the week. I mean, did I really do that before? It just seems like so much, doesn't it? And am I going to have to do my hair every day? That's going to be tough when I don't remember what my brush even looks like.
I've also allowed my daughter to develop some terrible eating habits. Like all of us stuck at home, she's become a grazer. She eats nutritious foods, but tiny amounts of them with great frequency. All snacking, all the time. A few bites of breakfast and she's full, so an hour later she has a granola bar. She only finishes half of it, so 45 minutes later she's eating an apple. Next comes yogurt, lunch, pretzels, grapes, etc. Rinse and repeat for the whole of the day, and this is how my kid eats in the new world.
What's it going to be like when she has to go a few hours without sustenance? What's it going to be like when we all have to do that? I can't imagine not jamming food into my mouth the entire time I work at my computer each day. I mean, I can't be the only one with greasy fingerprints on my mouse pad, can I?
And if we're keeping track, my clan has also misplaced our indoor voices, our ability to play nice and our willingness to share.
So buckle up, world. We're getting out soon, and it isn't going to be pretty.
Lynn Kirkle is an author and lives in Omaha with her husband and five kids. She writes twice a month for momaha.com, and can be found at www.lynnpainter.com or on Twitter @LAPainter.