When Angela Frey watches her 7-year-old daughter playing backstage with friends before an upcoming production of "Annie" at the Omaha Community Playhouse, it takes her back to 1984.
That year, an 8-year-old Angela played an orphan in "Annie" during its six-month run at the Upstairs Dinner Theater on 19th and Harney Streets. She vividly remembers playing backstage with other orphans, who left notes and friendship bracelets for each other to find backstage.
Because the show ran so long and so often — seven shows a week between two casts — cast members became more like family.
"It became a second home and they became a second family. We'd have slumber parties, pool parties and dinners out with each other," Frey said. "It was definitely an experience that shaped my young theater career and clinched the deal that this is pretty cool; this is what I want to do for the rest of my life."
One of Angela's cast members in 1984 was Lauren Roeder who, at 6, was the youngest orphan. Being so close in age, the two bonded.
"For me, that experience was pure heart and joy," Roeder said. "I met so many wonderful people, many of whom I have stayed in contact with for over 30 years."
Today, their daughters — Anina Frey, 7, and Brinlee Roeder, 8, and Pieper Roeder, 10 — are following in their mothers' footsteps by also playing orphans in "Annie," which finishes its run Sunday.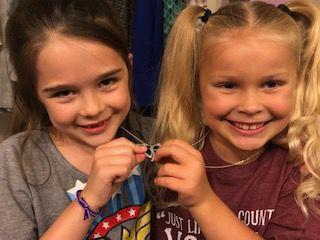 While their moms' experience in theater might have influenced their interest, all three loved singing, dancing and performing from a young age.
Angela Frey is an elementary school music teacher in Elkhorn and continues to act. After she became a mom, she said she had to be more selective in picking and choosing shows to do that are on her bucket list or are particularly meaningful. "Annie" was one such show. She's currently playing Grace Farrell, the secretary of Oliver Warbucks.
"I'm getting to see what I experienced as an orphan through my daughter's eyes," Frey said. "I'm remembering all the friendships I made and the fun we had backstage. It's so fun to pass it on down to her."
While Lauren, who works as a speech-language pathologist, hasn't performed during her children's lifetimes, she continues to go to shows and be active in her children's theater experience. Her kids have also heard many stories about "Annie" from her family. She was in two different productions, and Lauren's sister was the orphan Molly and then eventually Annie in two productions.
"Seeing my kids perform and love it as much as I did has certainly made me consider auditioning again," she said.
Both moms enjoy watching their children develop a close bond with their fellow orphan cast members. Anina and Brinlee have become especially close. They even share a heart-shaped best-friends-forever necklace.
"Having had similar experiences, I don't take the relationships made during a show as short-lived, since many of my friendships cultivated through theater have lasted for my lifetime," Roeder said. "I also love that their friendship was built during a show that Angela and I have such a wonderful connection to, which makes it all the more heart-warming for me."
Sign up for the Go newsletter
This complete guide of local music, movies, dining and entertainment will have you weekend ready.
Theater reviews from Betsie Freeman in 2019
A collection of 2019 theater reviews from The World-Herald's Betsie Freeman.