Mandarin Chinese is the fastest-growing language in the world. Given the growing demand, Marian added Mandarin to the world language curriculum in fall 2017; Mandarin II is available this year, and higher-level study will continue to be added each year.
Marian's instructor, Rachael Li, is from Changchun, China. She came to Nebraska through the Confucius Institute at the University of Nebraska-Lincoln, which promotes Chinese language and culture throughout the state. The institute was established in 2007 as the 20th Confucius Institute in the United States, and it is one of 350 institutes worldwide.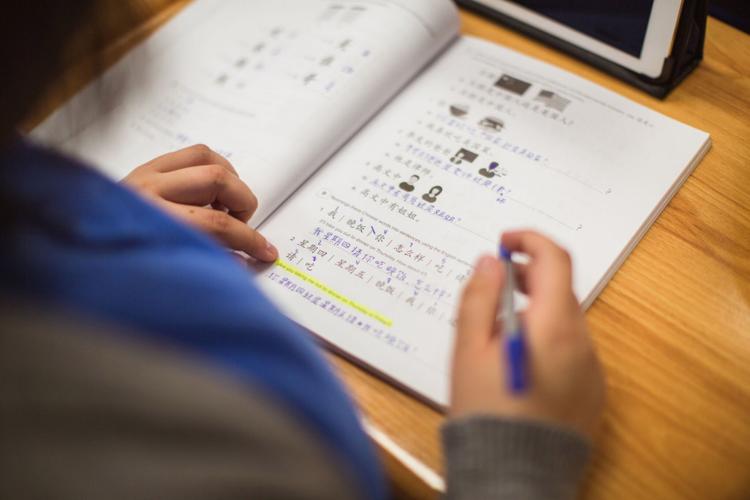 Twelve students are enrolled in the Mandarin I and II courses taught by Li. Given the small class sizes, students receive plenty of individual attention.
"As a teacher, I try to engage students' interest initially by making it fun to learn, and we focus on day-to-day conversation with many class activities and games," Li said.
Li enjoys working with students who are passionate about learning Chinese, which can be difficult for native English speakers. Mandarin tones and pronunciation are very different from English. Additionally, Chinese characters are considered the biggest challenge. There are no letters; students must learn to write and identify all new characters.
"Actually, it is not as hard as people imagine," Li said. "The grammar is much easier than English, and 5,000 years of Chinese culture is worth learning."
Principal Susie Sullivan says it was a no-brainer to add Mandarin to the curriculum. "Language is important in a global society," she said. "Mandarin is the No. 1 language spoken in the world. Not many schools offer it, and we wanted to be a part of it."
Along with Mandarin, students at Marian have the opportunity to take Spanish, French and Latin. Although two years of language is the minimum requirement for graduation, many students take four years or study several languages.
Senior Mia Mixan is one such student. Now in her second year of Mandarin, she also studies Spanish. Next year she plans to major in Mandarin and minor in Spanish.
"Mandarin is a cool language to learn … and lots of opportunities come with it," Mixan said. "When I graduate from Marian, I will be semi-fluent in Mandarin and Spanish. Along with English, these are the top three languages spoken in the world. There are so many opportunities in college with language programs."
Knowing Mandarin can translate into more opportunities, both academically and professionally, for students who are willing to take on the challenge. Study abroad and immersion programs abound in college, and as the relationship between the U.S. and China improves, career opportunities will also grow.
About Marian Founded by the Servants of Mary in 1955, Marian is a Catholic, all-girls college preparatory school twice recognized by the U.S. Department of Education as a Blue Ribbon School of Excellence. As Nebraska's only Class A girls high school, Marian provides the opportunities of a large high school in a smaller setting. Marian welcomes students of all cultural, economic and spiritual backgrounds. For more information on Mandarin or other academic offerings at Marian, please visit www.marianhighschool.net or contact Principal Susie Sullivan at ssullivan@omahamarian.org.