Randy and Sarah Jensen thought their family of six was complete.
But a pregnancy test earlier this year revealed a fun surprise for the Hampton, Nebraska, farming family — a fifth baby was on the way.
The couple shared the news with their four kids — Logan, 17; Kirsten, 15; Ian, 12; and Aislynn, 9 — by handing them a photo of six pairs of cowboy boots with a seventh tiny pair standing alone out front.
After Kirsten told three of her friends the news, they decided to throw the family a surprise gender reveal party that incorporated their farming roots.
"I thought it would be fun to let them," Sarah Jensen said. "We never did a gender reveal before, since they weren't a thing when we had our other kids."
Sign up for The World-Herald's afternoon updates
Receive a summary of the day's popular and trending stories from Omaha.com.
The party planners included daughter Kirsten's friends Kasey Schuster, Eva Fahrnbruch and Kylie Svoboda, as well as their moms, Dara Schuster, Deb Fahrnbruch and Bridgett Svoboda.
Sarah Jensen drove the sealed envelope with the ultrasound inside to Dara Schuster, who, along with the other two moms, kept the gender a secret from everyone — including the girls, who had a hand only in how the gender would be revealed.
"It was awful to keep the secret," Dara Schuster said. "It was two weeks that we had to not say what it was, which was hard."
Schuster's daughter, Kasey, came up with an idea to incorporate the combine. Together, the planners brainstormed what would come out of the auger and decided that, ultimately, paper would be better to dump on people than corn. Schuster said 1,000 pieces of paper were shredded to fill the auger. A test run was done first with white, pink and blue paper to make sure it would work.
On Sept. 14 — a half-hour before the Nebraska-Northern Illinois game — a green combine came ambling down the roadway where the family and about 65 family members and friends had gathered at Sarah Jensen's parents' farm in Aurora, Nebraska.
Schuster said everyone was shocked.
"Everyone in the crowd was like, 'Are you kidding me?' " she said.
When the combine was in place, the crowd counted down. Pink paper streamed from the auger, and everyone burst into cheers.
The family couldn't be more excited about welcoming another little girl — a third daughter — this January.
"The kids are excited, but I would say our youngest is ecstatic to be a big sister — especially since it's another girl," Jensen said.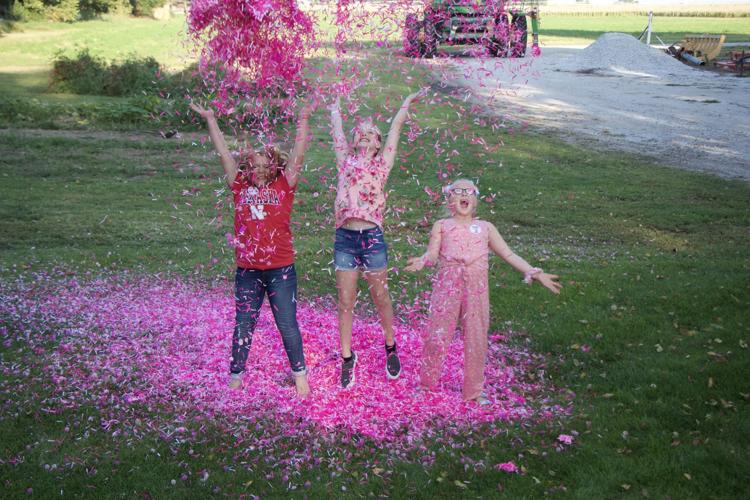 Schuster said she was just happy the reveal went off without a hitch.
"It was fun. I can't believe how big these reveals are, but they're kind of cool," she said. "When you are all of the sudden going to have a fifth one, you have to enjoy it."
Jensen said it's a moment her family will remember forever, and she was so happy to share it with their friends and family.
"We feel so blessed to have the family and friends that we do," she said. "It truly meant the world to us to have them do this for us, especially since it's baby No. 5."
20+ local pumpkin patches, orchards to check out for family-friendly fun this fall
There's nothing like fall for a little family fun.
As the weather cools, it's time for picking apples, pumpkins and other fall fruits, going on hayrack rides, cooking marshmallows over a bonfire, getting lost in a corn maze or participating in fall festivals. You can find all this and more.