Ah, winter. People either love it or hate it.
I'm more in the "hate it" camp, but this year I'm really trying to revamp my attitude toward this freezing time of year.
I think my biggest thing is that I get bored. (Also I'm not a big fan of being cold. I'd rather deal with 100-degree temperatures than have my face hurt because of the air I'm breathing.) I'm sick of sitting on the couch watching movies because most of the time we just end up on our phones only half-listening to the movie before we head up to bed.
I'm even OK with being cooped up inside for a while. I say to myself, "Think of all the things I'll get done! Cleaning! Organizing! Crafting! Baking!" And I do. For a while. But then I'm ready to actually do something different.
I know we've talked a lot on Momaha.com about things to do with kids during the winter months. But what about adults? What about parents who need time away from the kids movies, kids music, kids crafts and kids activities? So I've come up with a list of date night options — both at home and out.
Receive weekly parenting tips, advice and information on family-friendly events from Momaha.com.
Stay-at-home date night options
1. Play a game. My husband and I love playing old-school games such as "Clue," "Scrabble," "Battleship" and "Life." But we also enjoy trying out new games. My husband is a big Dungeons & Dragons fan and, while I am not, I still give some role-playing games a try. A few we've tried and liked: "Gloomhaven," "Descent" and "Ghostbusters: The Board Game." I'm also a big fan of party games like "Apples to Apples," "Star Wars: Trivial Pursuit" and "Cards Against Humanity." These games are better with a handful of people, though, so invite a few friends over and have a blast. You could also get super creative and make up your own mini golf course through your house! Or have one of you create a scavenger hunt for the other. There's so much fun to be had that doesn't involve sitting in front of the TV.
2. Play a video game. We love video games in my house. And, sure, some of the best ones are single-player (like "The Legend of Zelda: Ocarina of Time"), but there are plenty out there that are best with multiple people. A few of our favorites: "Mario Kart," "Super Mario Bros.," "Ultimate Chicken Horse," "Smash Bros." and "Call of Duty." You can just play for fun or set up a challenge. Whoever wins five rounds of Mario Kart doesn't have to clean the bathroom for a week!
3. Do a craft together. Maybe you aren't really into crafts, but that's OK. One of the funnest things to do is learn something new together. Terrible at painting? That's OK. Get your supplies, turn on a YouTube video of Bob Ross and follow his instructions. Then you can either laugh at or be awed by your end result. You might surprise yourself! You also can take turns showing each other your favorite craft. Maybe you're good at cross-stitching, but your husband isn't. Take a little time to teach him. Do a small project together. Maybe you're awful at painting Dungeons & Dragons miniatures and your husband is a real nerdy pro. That's OK. Sit and paint one anyway and have fun talking to each other without interruptions while you do.
4. Order takeout. If you're stuck at home, there's no reason you can't still eat out. See if your favorite restaurant delivers (or use something like GrubHub) and enjoy your favorite meal at home by candlelight. If you want to save on delivery, one of you can run out to get food, too.
5. Bake a dessert together. My husband and I have so much fun in the kitchen together. Sure, it's pretty small, but we don't care. I'll never forget the Christmas we baked four different kinds of treats at home. We turned on music and had so much fun just talking to each other while we baked delicious food.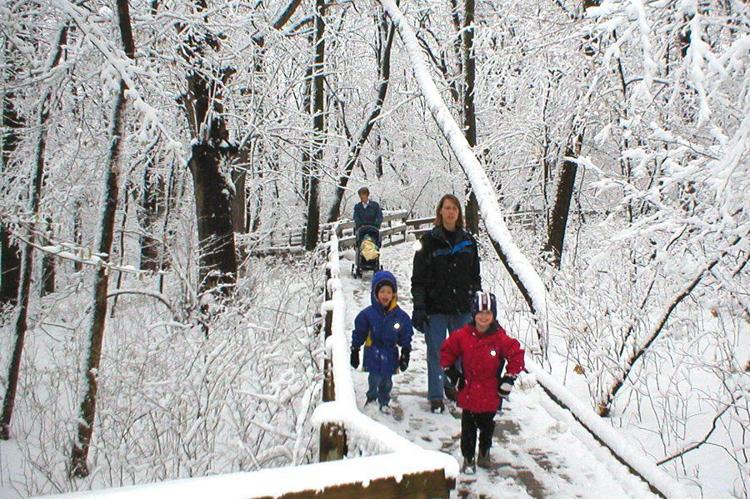 Night-on-the-town date night options
1. Go to a movie. There's just something about getting out of the house and seeing a movie without kids. No interruptions. Delicious, buttery popcorn, snacks and free refills of soda. I highly recommend it. If you have lots of time, make it a double feature.
2. Do some restaurant hopping. Pick a few restaurants you want to try. Visit one for an appetizer and drinks. Shoot, you could do a second place for even more appetizers. Pick a third for your main course. Finally, find a good dessert place. This is a fun way to try a few different places in one night if you're not able to get out often.
3. Check out an escape room. I haven't tried this yet, but I've heard good things from many friends who have. Basically, the idea is you're locked in a room for 60 minutes. You have to find clues, solve some puzzles and actually escape the room before the time is up. And because most are only an hour, you still have plenty of time to grab dinner and drinks somewhere afterward to celebrate your escape!
4. Do a painting class. I mentioned doing your own paint class at home, but this is one you actually attend (there are lots of places in Omaha that offer them) with other adults. And most of the classes include one complimentary drink with your ticket. It's a great way to try out painting without having to buy supplies or do a lot of cleanup.
5. Go outside. I know it's winter and it's cold and sort of miserable. But it's also really pretty. If you can, bundle up and head out on a hike through the Loess Hills or Fontenelle Forest. You'd be surprised at the beauty you can find in the dead of winter. You can also go ice skating and take a romantic carriage ride through downtown Omaha.
Hopefully these ideas will help make this winter season a little brighter and a lot more fun.