October 12, 2017, was one of the best — and worst — days of Erin Konecky's life.
It was the day she met her newborn son, Spencer Keith Konecky. It was also the day she said goodbye.
For 96 minutes, Konecky basked in the light of being a family of four with her husband, Tim, and 6-year-old son, Gram.
After a 20-week ultrasound that July, Spencer had been diagnosed with Trisomy 18, a rare and often fatal abnormality in which a baby is born with an extra chromosome 18. Doctors also determined that he would have a cleft palate and heart and brain defects.
"Tim, Gram and I held him until the nurses called it," Konecky said. "We were crying and devastated. That was probably my biggest fear — I knew my baby was going to die in my arms. It was hard for me to know what that would look like, but it was really peaceful."
The 36-year-old Konecky was recently named the 2019 Nebraska Mother of the Year by the American Mothers in Nebraska. After she mistakenly received a card from the state welcoming her newborn months after he died, the Lincoln woman helped start a program that sends condolence cards to parents who have experienced infant loss.
Konecky said she remembers asking her doctor how they would tell their son that his baby brother wasn't going to live. Gram was so excited to become a big brother, telling everyone he knew and even helping to plan the baby shower.
After gently breaking the news to their son, Konecky said his first question was, "So we can't have a baby shower?"
"So we ended up having a baby shower and donated all the gifts we got," Konecky said. "It was really important to him to have one."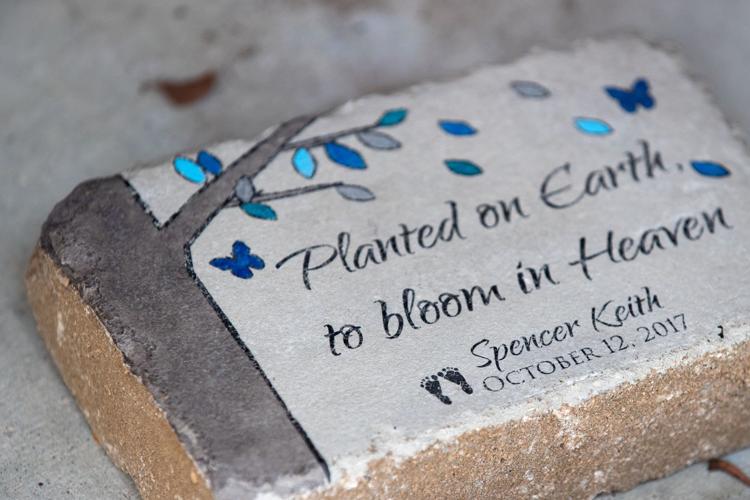 Konecky said the day Spencer was born went exactly how she hoped it would go. Members of the Koneckys' extended family were there to meet Spencer.
"As soon as we decided to have him and celebrate him, all I prayed for was an hour (with him)," Konecky said.
When the nurse, a friend of Konecky's, said Spencer's heartbeat grew faint, he was returned to his mother for a final time.
Konecky vividly remembers how she felt after receiving the card from the Governor's Office welcoming Spencer to the world and reminding his parents to make sure he received his immunizations, a note all parents receive in the mail after the birth of a child.
"I saw what it was, and it hurt. I was mad and I posted about it on social media," Konecky said. "Someone commented on that post and said, 'This would be a great opportunity for you to share Spencer's story.' "
So she turned her anger into action and wrote a letter to Gov. Pete Ricketts to tell him about her son's short life.
"I didn't want to be rude or vengeful, but it was hurtful, and I was confused as to how something like this could happen."
Konecky said she later learned the letter was the result of an error that occurred when her son's death certificate was filed.
She spoke on the phone with the governor and suggested that condolence cards be sent to families who experienced infant loss. After all, that's what she initially thought the card she received would be. She offered to initiate the project herself and, a few weeks later, met with two of the governor's staff members to discuss it.
Her first batch of cards went out the day before Thanksgiving last year. The front of each card contains a tightly cropped photo of a tiny newborn foot and the words "Each new life, no matter how brief, forever changes the world." Inside each is a message of condolence from the governor.
Konecky isn't able to reach all grieving parents, but she does her best through the nonprofit No Footprint Too Small, where she is a volunteer coordinator. She also relies on word of mouth via social media. Parents or loved ones of parents who would like a card sent can email Konecky at koneckyerin@gmail.com.
She receives a great sense of purpose every time she gets to write the name of a baby who has died.
"I love to write my own baby's name, and I love when other people write it," she said. "... It's also nice to be able to connect in a very indirect way to other parents. I imagine when they open it, they take a minute to think about their baby. That's why I do it."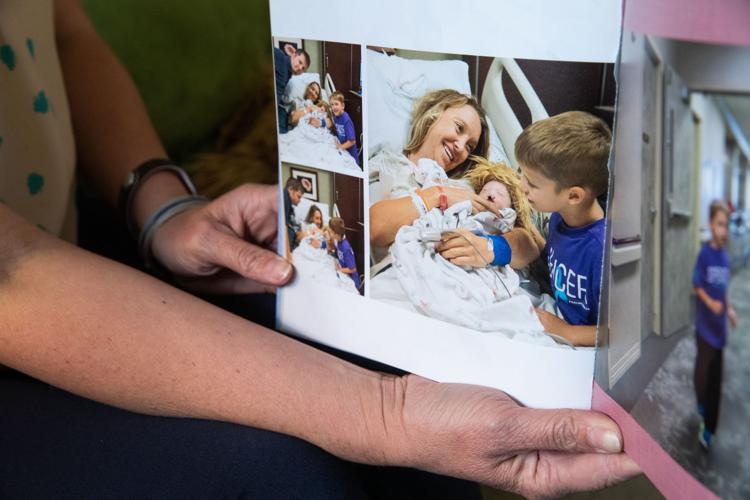 The governor nominated her for the Mother of the Year honor, which, he said, recognizes Erin's courage, empathy and community spirit.
"Erin's determination to make something good out of her own experience of loss is truly remarkable," Ricketts said during a March 28 award ceremony honoring Konecky. "Her resilience as a mother, along with her resolve to console and give hope to other grieving parents, provides a noble example that makes her the perfect recipient of the 2019 Nebraska Mother of the Year award."
The award, established in 1935 by American Mothers, honors "a mother's unconditional love, inner strength and courage," according to the organization's website.
"It's an honor. To be nominated by the governor means a lot," Konecky said. "It's a very important award, and I feel well deserving of it."
Konecky continues to move forward. She and her husband have become foster parents, so young Gram now serves as a big brother of sorts to a 2-year-old and a 3-year-old. She also teaches at Waverly High School and volunteers with No Footprint Too Small.
And she still thinks of Spencer every day, and every time she writes a condolence card to a fellow grieving parent.
Photos: Our best shots of 2019 (so far)
Take a spin through the best of our staff photos from 2019. The gallery will be updated throughout our journey through the next year.