More than 75 percent of people who suffer from springtime allergies also suffer from the effects of fall allergens. Early fall is often a tough season for allergy sufferers, particularly with mold and ragweed.
Commonly referred to as hay fever or allergic rhinitis, late summer and early fall allergies usually have nothing to do with hay. Ragweed is a common culprit of hay fever, beginning to plague allergy sufferers in mid-August and continuing until the first hard frost. Lingering warm weather can also affect allergy sufferers, as symptoms tend to last longer in long heat seasons.
Mold is another common fall allergy culprit. Mold spores can be released during periods of high humidity and can be found in moist, warm places including bathrooms, basements, log piles and leaf piles. Unlike ragweed, mold doesn't die with a hard frost but instead falls dormant during cold months and then comes back to life when temperatures rise in the spring.
Another fall irritant is the dust mite, which grows well in warm humid places such as heating vents. Before turning on your furnace, thoroughly clean your vents so the dust mites don't get blown throughout your house.
How can you avoid allergen irritants this fall?
Check daily pollen and mold counts on www.pollen.com. Warm, windy, dry days can be bad news for allergy sufferers. Cooler, damp days with some light drizzle are often best for avoiding irritants.
Keep your windows closed and run the air conditioner instead. Make sure the filter is changed once a month. Keep car windows up when driving.
Complete outdoor workouts in the morning, as the wind will not have stirred up pollen yet. When doing yard work, consider wearing a mask or delegating the task to a family member. Raking leaves and mowing the lawn can stir up pollen and mold, which can aggravate symptoms.
After spending time outside, shower and change your clothes as soon as you can. This will get allergens off your skin and prevent your furniture from harboring irritants.
Over-the-counter antihistamines do a good job of keeping symptoms under control, as do allergy shots or immunotherapy. Speak to your doctor about which option is best for you.
Is it a cold or is it allergies?
Many times, allergies can be mistaken for a cold — and vice versa. So how do you know which is which? Check out this handy chart to see if it's a cold or an allergy that's plaguing you this fall.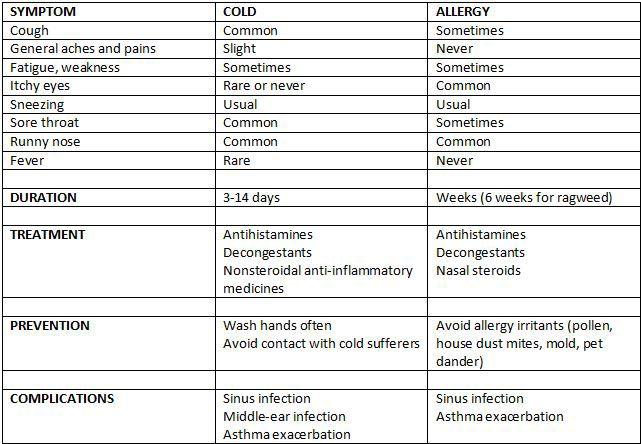 Dr. Nicki Nair is board certified in allergy/immunology and internal medicine at Boys Town National Research Hospital. Read more about Dr. Nair here.