Volunteer Debbie Beck had an important job for the young wizards visiting Fontenelle Forest. She was helping them make their own wands.
"I know that the blackthorn wood is for warriors," she said. "It's a very strong and very faithful wand."
Combined with the wood's magical essence, "the antler of stag," this particular wand would be beautiful and strong.
The wand making was part of A Holiday at Hogwarts, an event for all ages at Fontenelle Forest on Saturday afternoon. The event brought about 350 people to the forest, according to education director Sally Otis.
Costumed actors from The Great Hall Players, an acting troupe, posed for pictures and spoke to kids, playing characters from the "Harry Potter" books like Professors Albus Dumbledore and Severus Snape.
Sybill Trelawney, Harry Potter's Divination professor in the series, wove tall tales of Hogwarts mischief. There were warnings about staying out past curfew and premonitions of marriage to Dobby the house-elf. Always, she reminded the children to be early to their next class.
Arizona Brooks wandered the boardwalk dressed as Minerva McGonagall, the head of Gryffindor House. It was her first year acting at the Hogwarts event.
She said she enjoyed the magic it brought to young children.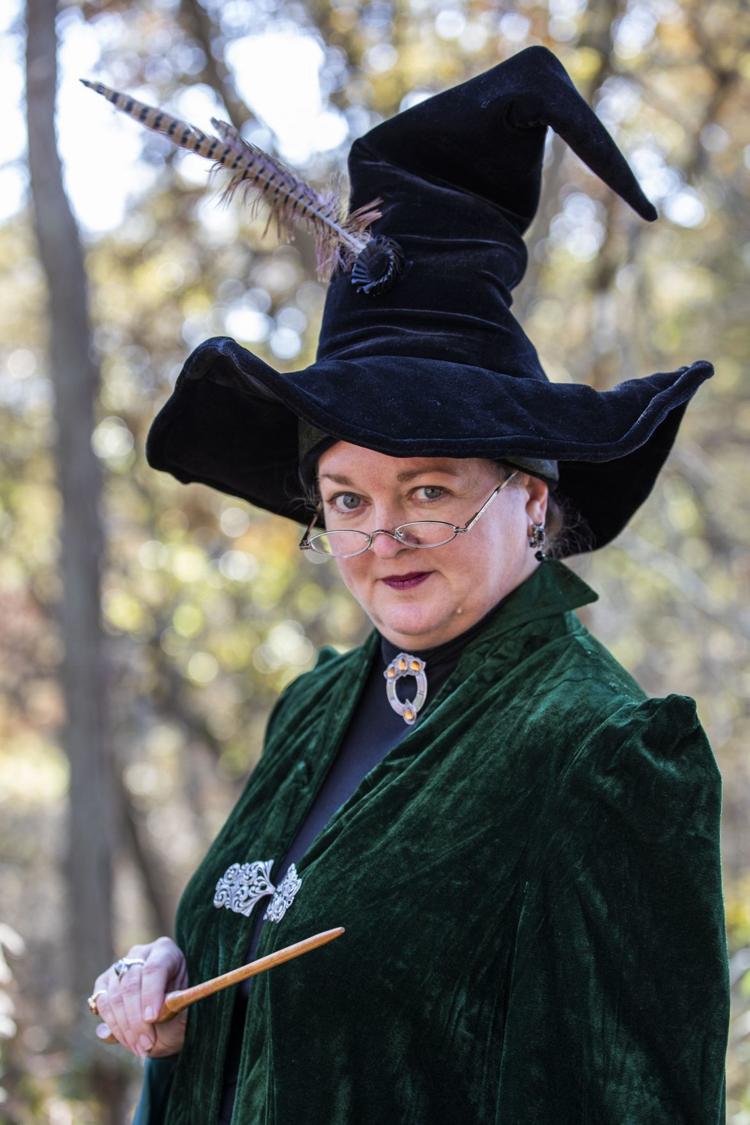 "They are so thrilled to see something they've imagined in their minds from their books or seen on screen right there in front of them," she said. "That happens so rarely that something steps out of the book and talks to you."
For Emily and Abigail Armendariz, the event's magic was all too real. The girls' mother, Kristin Armendariz, said she had recently started reading the "Harry Potter" books to them. This Halloween, both girls wanted to be Hermione Granger.
The Sorting Hat was lowered on a string by a volunteer as the "wizard" chose a slip of paper out of a cauldron to determine their house. Emily, 8, said she wanted to get Gryffindor because both Harry and Hermione were in that house.
"Abbi did it three times because she got two Ravenclaws and then a Gryffindor," Emily said. "I did a Hufflepuff and then a Gryffindor."
Abigail, 6, said she wanted to be a witch like Hermione because she has wands and gets to go to the Hogwarts castle.
Olivia Wedel's house was a given: Hufflepuff. Olivia, 11, said she started reading the books a month ago and is "kind of obsessed."
Her mother, Kerry Wedel, said she's thrilled that her daughter is interested in reading and wants to encourage anything that supports her imagination.
Sign up for The World-Herald's afternoon updates
Receive a summary of the day's popular and trending stories from Omaha.com.
Olivia said she most enjoyed getting to see the "Harry Potter" world with her own eyes instead of just imagining it.
This year marks the third annual Hogwarts event Fontenelle has held, Otis said. A previous staff member had suggested the idea, and others latched onto it, noticing the overlap between the natural world and the "Harry Potter" world.
Like Care of Magical Creatures, a class at Hogwarts, Otis said, "We certainly have creatures that we care for here as well. And the Forbidden Forest concept and putting together a scavenger hunt and other ways of experiencing the forest."
Organizers wanted families to enjoy a fun experience at the forest that's on the creative side, Otis said.
Volunteers from Fontenelle's Raptor Recovery program took the event as a chance to educate kids on birds while enjoying the Hogwarts theme. Karen Smith, a retired teacher of 30 years and first-year Fontenelle volunteer, said she has always loved teaching her students about birds.
"Who knows? We might have a kid who's going to grow up someday and be an ornithologist or take over and rescue raptors like we do," she said.
For wand-making volunteer Beck, the event also allows children to get involved in the magic they still believe in.
"I think that they have their own personal powers, that they can be what they want to be," she said. "They just have to put their mind to it and practice and dedicate themselves just like Harry Potter practices his potions and practices his spells."
Omaha's most popular parks
What better way to enjoy the outdoors than spending time at a park? Pack up your family or friends and head to one of these 20 local spots, among the most popular in the city, according to the Omaha Parks Department.