Halfway around the world, on the developing island of Madagascar, scientists from the Henry Doorly Zoo & Aquarium are establishing one of the largest and most successful reforestation programs of any zoo in the world.
The Madagascar Biodiversity Partnership aims to restore lost habitat — primarily in the form of native trees — for endangered lemurs. After five years, the program planted its 1 millionth tree in December.
"It's amazing that this has happened," said Dr. Edward Louis Jr., founder and director of the partnership. "We have hilltops that were completely barren — they had mostly ferns before — and now they have trees and lemurs in it."
The partnership was born out of research on the island by Louis, the zoo's director of conservation genetics. He and his team of employees here at the zoo have been studying lemurs on Madagascar for almost 20 years. As several of the native primates continue to fight the threat of extinction, Louis' research has helped identify the ways to best protect those species, including reforestation.
During his time in Madagascar, Louis has described more than 20 species of lemur, elevating several others from subspecies level to species. Along the way, his team learned that seeds for some of the island's trees have a terrible germination rate, except when they pass through the guts of certain species of lemur.
So Louis organized the partnership, a nongovernmental organization owned and operated mostly by local residents. They plant corridors of young trees using seeds found in lemur poop and prioritize trees that meet the needs of the local people by providing lumber and fruit.
Louis and his team are rebuilding lemur habitat lost to agriculture, mining and other causes, and they're doing it overwhelmingly with the help of the local people.
The partnership currently employs more than 40 people dedicated to reforestation, and the program works with more than 2,000 local people who planted more than 400,000 trees in 2016.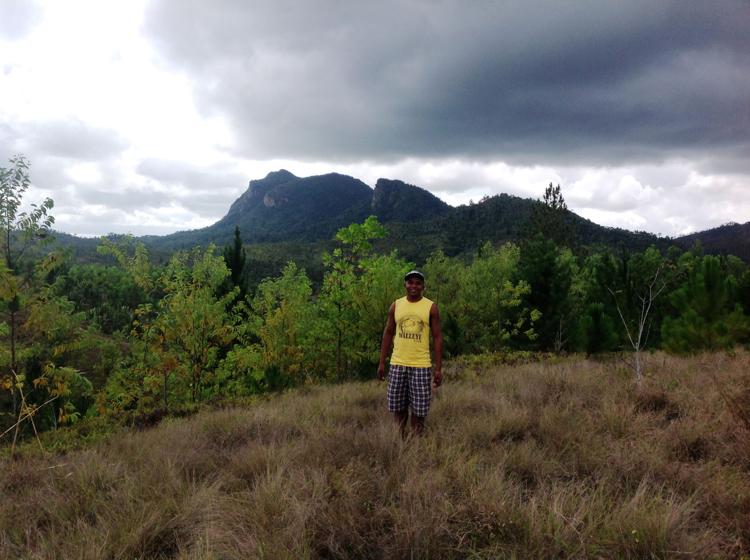 Malagasy people are embracing the program not only for employment but also because of what it means for Madagascar's habitat and the pride they attach to it, said Fredo Tera, the program's reforestation community liaison and manager of the Kianjavato Ahmanson Field Station.
"We call our country the green country," Tera said. "I want to keep Madagascar green. That is important to me."
The partnership has four reforestation sites: Montagne des Français, Kianjavato, Andasibe and Lavavolo.
In Kianjivato, a community of about 12,000 people in intimate villages among wild coffee, cinnamon and mangos, single mothers came together to form the Vehivavy Vonona association, which works with the MBP to maintain the nurseries and the plants. Men often tote supplies, aid with construction and dig the holes.
There, Louis and the partnership established or upgraded 18 nurseries and started a conservation credit program. Workers earn a competitive daily wage and, in addition, gain credit for a percentage of the trees planted on a given day, which they can then exchange for rocket stoves, backpacks, solar panels and other supplies.
"They say 'I would not be alive if it wasn't for the MBP, I can send my five kids to school now, I couldn't do that before,' " Louis said. "You sit there and go 'This is ridiculous.' It's very humbling that you could have that big of an impact on this local community."
The operation runs all week long, but trees are planted only on Wednesdays and Fridays for two hours in the morning. When it's time to plant, it's like an assembly line. "A machine," as Louis described it.
That machine keeps getting better and better. The program has drastically increased production, doubling the number of trees it plants almost every year.
In December the workers planted what they thought was the program's millionth tree, but a counting mistake meant they were about 3,500 trees short. Instead of waiting until planting resumed in 2017, they sprang into action the very next day.
"All the nursery managers were really disappointed, so they just got together and they planted more than 3,500," Louis said. "Everyone mobilized and did it. They're proud of this program."
So is the zoo. Dr. Lee Simmons, former zoo director and chairman of the Omaha Zoo Foundation, said he supported Louis' work early not because Madagascar was necessarily a target by the zoo but because he knew Louis had a passion for the island and would do good work.
"We were smart enough to see that's where the fire in his belly was and we supported it," Simmons said.
Louis' work in Madagascar is the zoo's most expensive conservation effort, accounting for $1.2 million of the zoo's estimated $1.7 million conservation spending in 2016.
"Our Madagascar program is a cornerstone of our entire conservation portfolio," said Dennis Pate, the zoo's executive director and CEO. "Dr. Louis and his staff have earned highest honors as the top international conservation program among accredited zoos, and we are all very proud of his extraordinary commitment to saving lemurs."
The Association of Zoos & Aquariums, which oversees American zoos, awarded the project its 2010 AZA International Conservation Award and has given the partnership its Conservation Grants Fund grant twice, totaling more than $25,000.
"Dr. Louis does excellent work and works with communities to help guide his approaches and activities in conservation and science," said Rob Vernon, senior vice president of external affairs for the association. "Only the strongest projects most likely to be successful receive funding support."
In 2014, the Nebraska-based Arbor Day Foundation got involved with the project. The foundation sent an email to gauge the interest of its members, and the response was a resounding yes. To date, the foundation has funded more than 600,000 seedlings.
"Our members love this," said Woodrow Nelson, the foundation's vice president of marketing communications. "I don't see that anything is going to slow down. We're able to help Ed more and more every year."
When Louis retires or leaves the island — a not-too-distant reality for the 57-year-old — he wants to ensure the partnership will be in good hands.
Currently he's the only non-Malagasy person in an executive position with the organization, and when he steps down he'll hand over control to the locals. He has been building it that way on purpose.
"The whole idea is to transfer all this stuff, that we can spread the word and the methodology and other people can get involved and do this," Louis said. "That's the whole point besides helping the local people and the local animals there."
Hand in hand with that mission, Louis' wife, Susie McGuire Louis, heads the separate international NGO Conservation Fusion, which is focused on education at primary, secondary and university levels. They're teaching kids, and adults, how to live alongside the wildlife in a way that benefits all.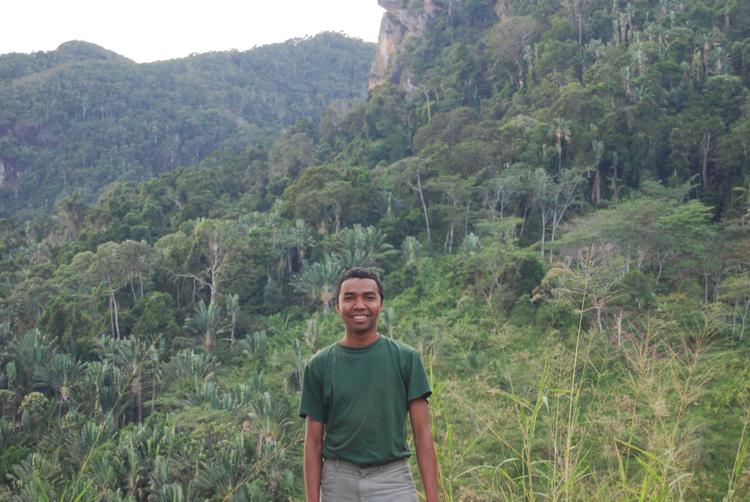 "When we first got there, when we asked the kids 'Who are hunting and who are eating lemurs?' " said Tahiana Andriananjamanantsoa, a Ph.D. botanist and Madagascar native who is currently a supervisor in the MBP, "most of them raised their hands. But after the education class, etc., now we can say that all of the people in the area that got the information, none of them are doing the hunting anymore."
Of course, they have a long way to go. The push to promote habitat gain is about so much more than just planting trees.
For instance, the partnership is heavily reliant on grant funding. It's something Louis hopes to change before he's done.
They could sell some trees from their nurseries, propagated using lemur poop, to raise funds. But the real untapped opportunity, Louis said, is ecotourism.
His sites offer some of the highest chances to see an aye-aye — the world's largest nocturnal primate — in the wild, he said. But the tourism infrastructure is poor: Not only does the island lack hotels and restaurants, but also in many places restrooms and roads.
The process starts by earning official protection for some of its worksites. From there they can further develop the areas and try to bring in some revenue to expand the reforestation program. That, of course, takes time.
"What we have now is just the beginning," Andriananjamanantsoa said. "We hope that we will bring sustainability to the local people because this is still a huge deal and a huge challenge for us. The whole goal is to have the local community self-sufficient."
"Right now, we can say that we didn't reach the target yet."
Just as with reforesting the lost habitat on the island, the conservation war is fought and won with small battles. Each seed planted and every scoop of lemur poop is a step in the right direction.
It's a long process. An exhausting one.
But that hard work is already showing results.
"I'm walking under 5- or 8-meter (26 feet) forests in some areas now, it's crazy," Louis said. "There was nothing there, and now there's a forest."