ROCK COUNTY, Neb. — From the high point on Dave Hutchinson's 5,000 acres in the Sand Hills, you can look in any direction and see nothing but waving green grass and vast blue skies.
"This is the last frontier, you might say," Dave says, nodding toward the view.
It's the frontier where this rancher, who looks like any other Nebraska rancher in his plaid shirt and work boots, runs his business and lives his life in a fashion that's anything but usual.
Hutchinson's land has been certified organic since 1980 and his animals since 1990. The rolling hills surrounded by even more rangeland have never seen a sprayer or a drop of pesticide, and all the plants are native. His animals are antibiotic-free, free-range and organic.
Dave's way of life, the land he owns and the food he raises have attracted the attention of tourists from as far away as Europe, who want to take in a slice of the Plains; of healthy eaters, who track Dave down to learn his ways; and of chefs, who come to Dave for the bison meat.
"I think it's just his respect for the animals, and the respect for the land," said chef Clayton Chapman of Omaha's Grey Plume on why he first decided to work with Dave. "It's just his overall approach. It's his whole life."
Dave will take visitors on long drives around his property, past his cows and donkeys; his 40 beehives; his chickens and massive vegetable gardens; his artesian springs water, which gurgles into wells in 17 spots; and his favorite old tree, a massive cottonwood.
But the real attraction — what everyone wants to see — are the bison.
The bison are peaceful, standing at attention and staring back, the opposite of skittish. Tails swish. Grass crunches. The brave ones move slowly toward the four-wheeler.
"They can be curious," Dave says.
The herd came from about 27 different locales: some from Canada, some from the Pine Ridge, some from other places. There's Yellowstone blood in the diverse herd, Dave said, and he breeds only within the animals he already owns, about 200 now.
He used to have many more — around 900 in the early 2000s — but after a drought, he cut the herd's size.
"It was a bad economic choice, but a good one for the land," he says.
The day we visit, the small buffalo calves are starting to change color, from a buckskin brown to the deeper hues of their parents. It's a hot day — 102 degrees — and the bison are bothered by flies, so Dave and daughter Sarah pour out big bags of white diatomaceous earth, a natural insect eliminator made of crushed freshwater marine organisms.
A big male, almost-black bison lets out throaty snorts and does just what Dave said he would: stomps through the powder, kicking up great white clouds, and then gleefully rolls over on his back, transforming his hide from dark to stark.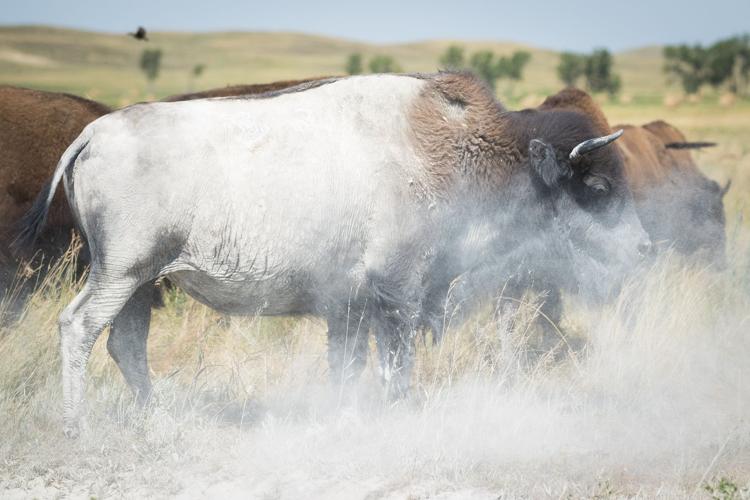 All these bison — and the rest of the animals, too — are raised and finished on grass, and Hutchinson has a sort of mantra — "If it's not grass-fed, it's not gourmet" — that he repeats over and over. Dave used to distribute his meat more widely but now works with a butcher in Table Rock and another in Colorado and sells directly to his restaurant clients in Omaha and Burwell.
Dave butchers his bison at all different ages, ensuring that the herd is a mix of generations.
"The great-great-grandmother and -grandfather teach them how to be bison," he says.
The U.S. Department of Agriculture's 2012 Census of Agriculture counted about 23,000 bison in Nebraska and 88 operations raising the animals, making Nebraska the second-highest producer, behind South Dakota. The USDA doesn't keep statistics on how many of those ranches are organic.
Though there aren't good statistics on bison, Jay Parsons, associate professor of agricultural economics at the University of Nebraska-Lincoln, said he'd guess many are raised organically.
"They are a beast," he said. "If you have pastureland in the Sand Hills, it makes sense to raise them grass-fed."
Parsons said he's seen buffalo finished in feedlots elsewhere, such as in Colorado, for instance.
The number of bison raised in Nebraska has declined, Parsons said, when comparing the 2012 census with the one in 2007.
Declines are common with niche species, including animals like alpacas and emus, Parsons said.
"It starts as a breeding industry, and then as it becomes more competitive, those numbers level off," he said. "At that point you have to grow the marketplace in stores or restaurants. And in Nebraska, you have to compete against beef."
The number of bison processed for consumption in the U.S. annually equals just half of one day's beef production, the National Bison Association reports.
But the association says that the only thing limiting the growth of the bison market — which in 2016 hit $350 million in sales in the retail and restaurant industries — is the small supply of animals.
Hutchinson started working with restaurants in the 1990s; the first one was a now-closed restaurant in Lincoln. Sometimes customers buy a whole bison — that's what Clayton Chapman does.
When Chapman came to the ranch, he said he was immediately taken with both Dave's process and his animals. The Grey Plume served bison from the start, Chapman said, beginning in 2011. Typically the restaurant buys an animal that yields about 450 pounds. It's butchered at the Provisions space across from the restaurant.
"We really try and showcase the animal," Chapman said.
He's cooked it sous vide (vacuum sealed in a water bath) or braised it. The restaurant has done a bison burger. He's also cured it into bison salami and pastrami.
Bison is also on the menu in Burwell, where the Sandstone Grill's co-owner, Tenise Jarecke, met Dave when he was a customer. He asked if the restaurant might be interested in his product, so they bought a sample and tried it. In 2012, bison made it onto the menu. The grill serves bison burgers and, periodically, bison ribeye on Saturday nights.
"We have done that special twice in the last six months, and sold out each time," Jarecke said. "People call ahead and reserve them."
Burgers are just as popular, especially in the spring and summer. They advertise Dave's bison as "locally raised."
" 'Local' means different things to different restaurants," Jarecke said. "When customers ask 'How is this local?' we tell them the ranch is just 50 miles north of the restaurant."
Dave said that with time, people have begun to understand bison meat.
"It's considered exotic," Dave said. "But I think the health aspect is important. And they're some of the best steaks I've had."
He cooks it low and slow. If it's pink inside, he says, nothing to worry about. "It's organic."
He makes bison into sausage, jerky and burgers and uses the bones for stock and bone broth. He'll cook the meat at 225 degrees in a slow cooker, save half, and the next day slice it thin and cook it in cast iron with sea salt and olive oil, just to warm it through.
"You can use it for a fancy meal in the evening, and then use it as a sandwich for the lunch hour," he said. "It's just a different kind of steak you're eating."
Dave leans back in his kitchen chair after the tour, over a plate of bison sausage and local cheese, and thinks about what he'd want people to know about the place where he lives and his life there.
"I would want them to know about the heritage, the culture, the way of life," he says. "The open spaces, the pure water. The wildlife."
And, really, what's at the heart of it is that Dave wants to find a way to save the place that means so much to him, to preserve it so it won't disappear, and to preserve the animal breeds, like the bison, that live on it.
"We have to protect the land, or else there won't be a place like this," Dave says. "Really, we are caretakers of the buffalo."
Food critic Sarah Baker Hansen is from Omaha. Columnist Matthew Hansen grew up in Red Cloud. As a married couple they travel Nebraska to share with each other little-known people, unexpected stops and memorable foods. Come along and discover more of what the state has to offer in "The Better Half," an occasional series prepared with support from the Nebraska Community Foundation.