Modern Love and its vegan translations of classical comfort foods has found a home in Omaha.
But a majority of its patrons aren't vegan, said owner Isa Moskowitz.
"As long as you're getting that comfort food fix, people will keep coming back."
Cooking vegan comfort food at home is easy, Moskowitz said. Her advice: "Use the foods you love and find vegan translations for them instead of forcing yourself to find flavors you don't like."
Here are three classics to try meatless.
Nachos
Using fresh ingredients, tacos and nachos are great vegan foods.
» Fresh ingredients. Make guacamole using avocado and pico de gallo with tomato, red onion and cilantro for flavor.
» Add protein. Moskowitz offers a meatless version of nachos with walnut and sun-dried tomato chorizo. Grocery stores sell similar faux meats such as crumbled sausage, beef and chicken substitutes.
» Don't forget rice and beans. Serve rice and beans, both naturally vegan, a staple in Mexican cuisine.
» Add texture. Use a corn and cabbage slaw for crunch and a hint of sweetness.
Burgers
With a good base vegetable or two, there are many ways to make a veggie burger.
» Create texture. Use a vegetable such as beet root or sweet potatoes as base. Lentils, chickpeas, beans, quinoa or grains such as barley, oats and rice, are good for fiber and texture.
» Flavor. Use garlic, onion and spices such as cumin, turmeric or curry for flavor.
» Don't forget the glue. Eggs or egg substitutes can keep it all together.
» Grill. Making sure it has a nice chard flavor on a grill helps. Top with avocado and crispy smoked mushrooms.
Lasagna
Lasagna doesn't need to include meat to be delicious. Italian food is vegan at its core.
» Add protein. Use tofu, walnut chorizo or lentil meatballs for texture and protein. These meat alternatives are commonly found at local grocery stores.
» Up the flavor. Use garlic, onion and fragrant herbs such as basil or thyme.
» Make vegetables the focus. Use portobello mushrooms, onions and bell peppers, for example, for substance.
» Try a new noodle. Traditional lasagna noodles are vegan, but for more vegetables, create an alternative using zucchini, carrots or butternut squash.
Vegan cheese? Yep, it's a thing.
If you want to try vegan cheese, it's available at most metro grocery stores. Chefs at Modern Love make vegan cheese using cashews and nutritional yeast. Here are some ways they recreate cheese flavors without dairy.
» Cheddar. Roasted red peppers infused with soybean miso give a sharp, cheddar flavor. Sprinkle vegan cheddar on tortilla chips for nachos or stir into pasta for macaroni and cheese.
» Swiss. Truffle oil and onion power give it a mild nutty Swiss flavor. Add vegan Swiss cheese to a grilled portobello Reuben sandwich or use in a cheese fondue.
» Ricotta. Probiotics help age the cheese and give it the tangy, smooth ricotta flavor. Add vegan ricotta to fries and gravy to make a poutine or use to make a cheesecake for dessert.
» Mozzarella. Gelatin and tapioca starch hold ingredients together and create a milky Mozzarella flavor. Slice vegan mozzarella to make a caprese salad with tomato and basil or crumble and sprinkle on pizza.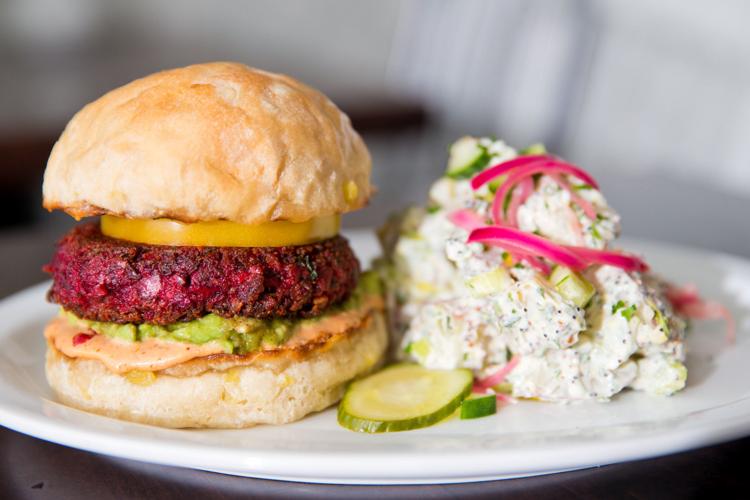 Quarter Pounder Beet Burger
1¼ cup cooked, cooled brown rice
1 cup cooked brown or green lentils, cooled, drained well
1 teaspoon thyme, rubbed between your fingers
½ teaspoon ground fennel (or finely crushed fennel seed)
3 tablespoons very finely chopped onion
2 tablespoons smooth almond butter
½ cup very fine breadcrumbs
Peel beets and shred with a food processor, then set aside. Change the attachment to a metal blade. Pulse the brown rice, shredded beets and lentils about 15 to 20 times, until the mixture comes together, but still has texture. It should look a lot like ground meat.
Transfer to a mixing bowl and add all the remaining ingredients. Use your hands to mix very well. Everything should be well incorporated. It could take a minute or two.
Chill mixture in the fridge for a half-hour.
Heat a cast iron pan over medium-high. Form the patties. Each patty will be a heaping ½ cup of mixture. To get perfectly shaped patties, use a 3½-inch cookie cutter or ring mold. Otherwise, shape them into burgers with your hands.
Pour a thin layer of oil into the pan and cook patties for about 12 minutes, flipping occasionally. Do two at a time if your pan isn't big enough. Drizzle in a little more oil or use a bottle of organic cooking spray, as needed. Burgers should be charred at the edges and heated through.
Serve immediately. Or, refrigerate, then gently heat in the pan later.
Recipe courtesy of Isa Moskowitz