Meg Jones loves making banana bread from her mother's favorite recipe.
Ethelyn Major Nanfito wrote out the directions, creating a cherished heirloom on a 3-by-5-inch notecard. It's been beat up with 45 years of use.
"Every time I see her handwriting, it brings back great memories of what a wonderful mother and cook she was,'' Jones said. "Every day when we came home from school, there were always home-baked goodies waiting for us.''
The bread is comfort food, she said.
"Put a pat of butter on it when it's warm, and it melts in your mouth.''
Denise Spelic also has a treasured banana bread recipe from her mom, Joann Pritchard of Spalding, Nebraska.
"Growing up on the farm, a big family and always baking in the kitchen, this is the one we used,'' Spelic said. "Years later, it is still one of my kids' favorites, and sometimes we even throw mini chocolate chips in it.''
Mary Jochim said her mom baked with love, whether it was for her kids, the shut-ins she visited or the hundreds of hospital patients she prepared meals for each day.
"Vanilla. Cinnamon. Apples. Butterscotch. Chocolate chips. No one loves you like your Mother,'' Jochim said. "I like to think her baking reminded others of their mother's love as well."
So, for Mother's Day, we share some of their favorite recipes and memories. Most are from moms, but a few are from friends and just as treasured.
Pecan Pie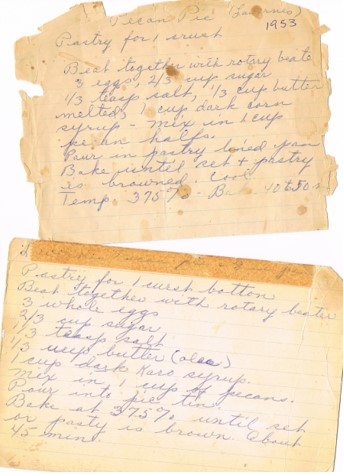 Pastry for one bottom crust
Place pastry crust in 9-inch pie tin; crimp edge.
With electric mixer, beat eggs, sugar, salt, butter and corn syrup. Mix in pecans. Pour into pie tin.
Bake in oven at 375 F for 40-50 minutes (until set or pastry is brown).
Pie can be served with whipping cream or ice cream.
Margaret Ann Fouts from mother Margaret Cernin
Chicken Artichoke Kapama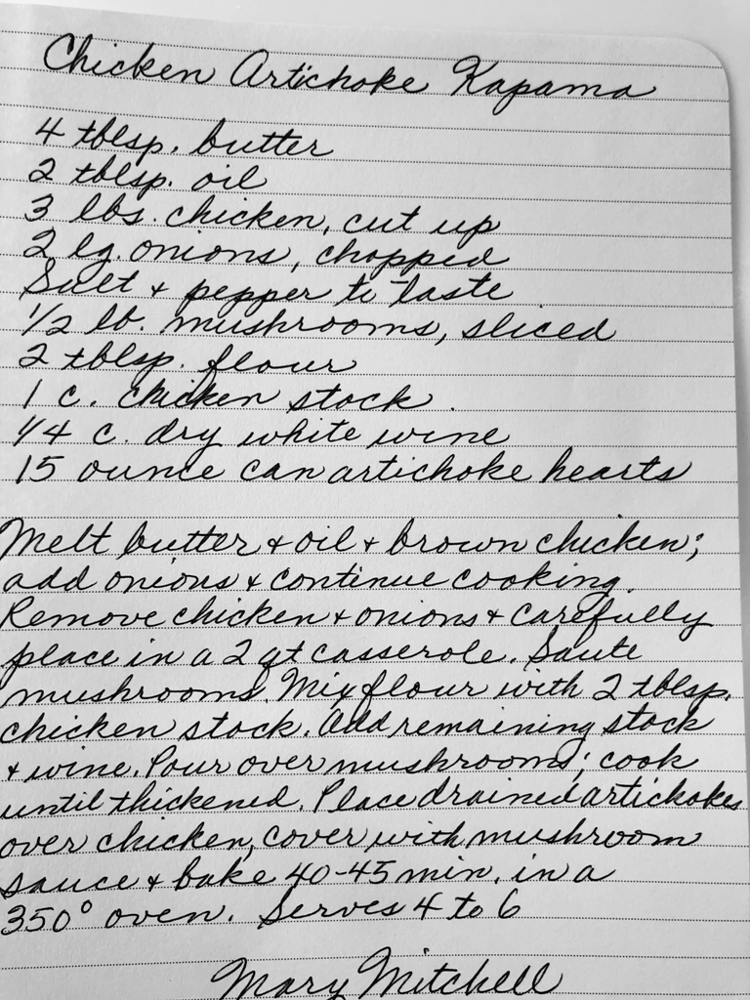 ½ pound mushrooms, sliced
15-ounce can artichoke hearts
Melt butter and oil and brown chicken. Add onions and continue cooking chicken. Remove chicken and onions and place in a 2-quart casserole dish.
Sauté mushrooms in butter and oil left in pan. Add butter if needed. Mix flour with 2 tablespoons chicken stock. Add remaining stock and wine. Pour over mushrooms; cook until thickened.
Place drained artichokes over chicken and onions, cover with mushroom sauce and bake at 350 F for 40 to 45 minutes.
Emily Mitchell from her grandmother Mary Mitchell
Banana Bread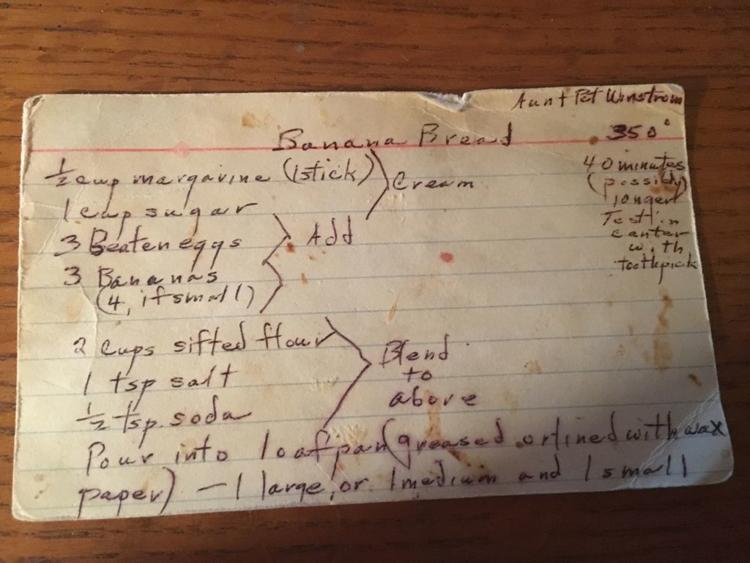 ½ cup margarine (1 stick)
3 bananas (four if small)
Mix together margarine, sugar, eggs and bananas. Then add flour, salt and soda. Pour into a greased loaf pan.
Bake at 350 F for at least 40 minutes. Test center with toothpick for doneness.
Meg Jones from mother Ethelyn Major Nanfit. The recipe was from her sister, Pat Winstrom.
My Nana's Gnochi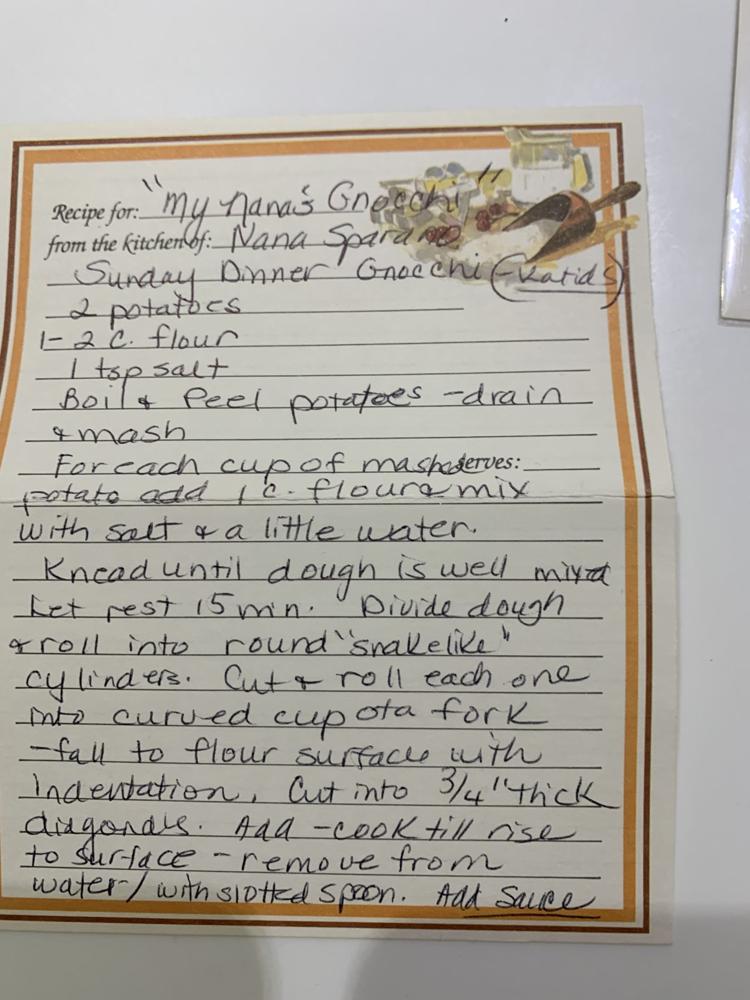 Peel potatoes and boil until fork tender. Drain and mash.
For each cup of mashed potatoes add 1 cup flour and mix with salt and a little water.
Knead until dough is well-mixed. Let rest 15 minutes. Divide dough and roll into round "snakelike" cylinders. Cut into ¾-inch-thick diagonals. Roll over tines of fork to mark each uniformly.
Cook in boiling salted water until rises to surface, then remove immediately from water with slotted spoon or drainer. Add any type of sauce and serve immediately.
Cheryl Wild Goodrich from Nana Angelina Romeo Sparano.
Inez's Cabbage Salad (Coleslaw)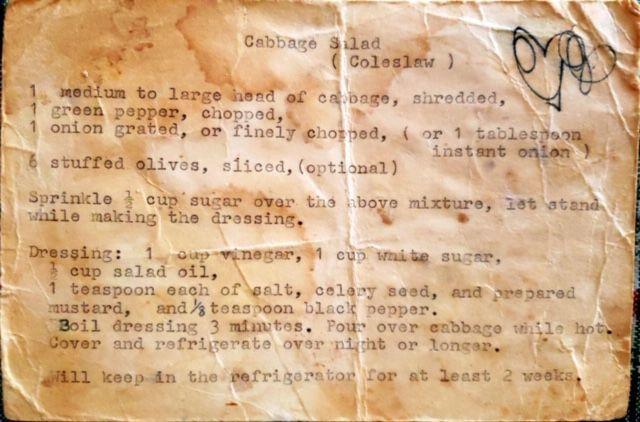 1 medium to large head of cabbage, shredded
1 onion, grated (or finely chopped)
6 stuffed olives, sliced (optional)
1 teaspoon prepared mustard
1/8 teaspoon black pepper
Combine cabbage, pepper, onion and olives in a large bowl; cover with sugar and let stand while making the dressing.
Combine dressing ingredients in a saucepan; boil for three minutes. Pour dressing over cabbage while hot. Cover and refrigerate overnight or longer.
Will keep covered in the refrigerator for at least two weeks.
Scott Fouts from Inez Throener
Fruit Cocktail Torte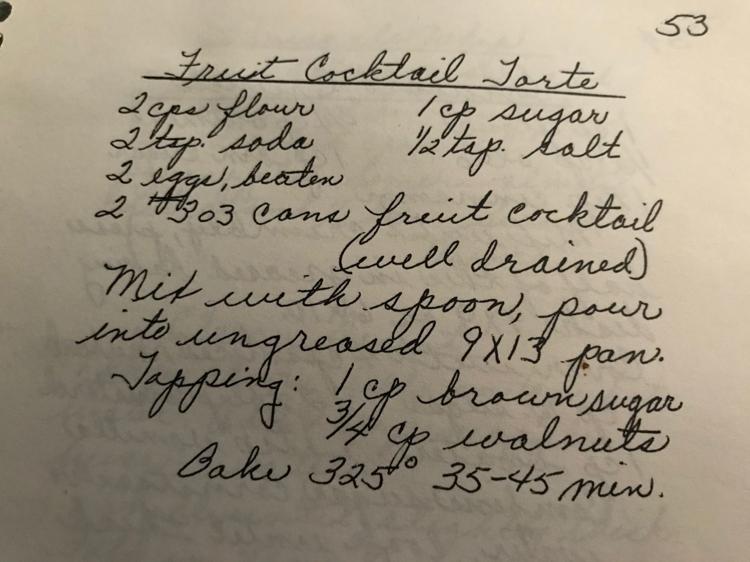 2 cans fruit cocktail, well-drained
Mix eggs, sugar, fruit cocktail, flour, salt and soda together with a spoon.
Pour into an ungreased 9-by-13-inch pan.
Mix together brown sugar and walnuts for topping. Sprinkle over batter and bake at 325 F for 35 to 45 minutes.
Marjie Ducey from mom Darlene Ducey
Wassail
2 quarts apple juice or cider
1 teaspoon aromatics bitter
1 teaspoon whole all spice
1 small orange studded with whole cloves
Put all ingredients in a crock pot. Cover and cook on high 1 hour. Turn down to low and cook 4 to 8 hours longer.