Nichole Aksamit still remembers pulling out her mother's beat-up Betty Crocker cookbook and ringed-binder community cookbooks to make things like key lime pie with meringue crust when she was in grade school.
She used to help feed her younger siblings — and could take advantage of lots of wonderful fresh ingredients from her mom's sizable garden.
Growing up, she kept on cooking but fell in love with journalism, too.
The former World-Herald reporter is now able to combine both passions as executive editor of Allrecipes magazine. She recently gained the title after more than five years as its senior editor.
Despite a rigorous work schedule, she still has time to cook. She and husband Chad Purcell, also a former World-Herald writer, trade off making dinner on weeknights.
"I tend to either try new recipes or just wing it with good ingredients, while he likes to repeat and refine old favorites,'' she says.
She'll often bring the leftovers for lunch, turned into a grain bowl or salad. The couple typically enjoy a big brunch on Sundays that involves oven-baked bacon, fresh fruit, an egg dish or waffles or French toast, and homemade lattés. And a newspaper, she notes.
Aksamit doesn't entertain as much as she once did, but she still loves bringing something novel or just plain delicious to a friend's party.
"I like experimenting when I cook,'' she says. "I made some team-colored deviled eggs for a Super Bowl party this year, using beet pickle juice for red and butterfly pea flower tea for the blue.
"Whether it's in the magazine or just on my Instagram, it's always fun to share those learnings with people. Even the most introverted people will ask you about the blue deviled eggs.''
People who read the magazine love to tell Aksamit stories about their favorite recipes. She says readers seem to have a genuine connection with the community of cooks on the site and the magazine's pages.
"There's this sense that we're all in it together, figuring out food together, finding solutions together, exploring new flavors together,'' she says. "It's just really gratifying to know that one good recipe can affect someone — maybe for life.''
Here are some of Aksamit's favorite recipes from the February-March issue of Allrecipes.
Beef Bulgogi
Thinly sliced, marinated grilled beef, or bulgogi (BOOL-goh-gee), is a Korean household staple. Try it over rice or in lettuce wraps with kimchior kongnamul. Some traditional recipes add a chopped Asian pear to the marinade. Enzymes from the pear tenderize the beef even more.
Active cook time: 15 minutes
Total cook time: 1 hour, 15 minutes
1 pound beef flank steak, thinly sliced (Freeze steak until partially frozen to make slicing easier.)
5 tablespoons reduced-sodium soy sauce
¼ cup chopped green onion, plus more for garnish
2 tablespoons minced garlic
2 tablespoons sesame seeds
8 butterhead lettuce leaves
1 recipe Kongnamul (recipe follows)
Put beef in a zip-top plastic bag set in a shallow dish. Stir together soy sauce, green onion, sugar, garlic, sesame seeds, oil and pepper in a small bowl. Pour over beef. Seal bag and turn to coat. Chill at least 1 hour or up to overnight.
Heat a grill pan over medium-high heat. Lightly oil pan.
Remove beef from bag, discarding marinade. Grill until slightly charred and cooked through, 1 to 2 minutes per side. Serve beef mixture in lettuce leaves with Kongnamul. Garnish with additional chopped green onion.
Nutrition information per 2-wrap serving: 310 cal; 15g fat (4g sat);29g pro; 13g carb; 2g fiber; 484mg sodium; 8g sugars.
Kongnamul
This soybean sprouts side dish (kung-nahmool) is a Korean favorite for good reason: It's fast and cheap. You just toss blanched sprouts in a spicy sauce.
Active cook time: 15 minutes
Total cook time: 1 hour, 15 minutes
8 ounces soybean or mung beansprouts
1 tablespoon reduced-sodium soy sauce
1 teaspoon rice wine vinegar
2 tablespoons sliced green onion
Bring a pot of lightly salted water to a boil. Add soybean or mung beansprouts; cook, uncovered, until tender yet crisp, about 15 seconds. Drain and immediately immerse in ice water several minutes; drain again.
Whisk together sesame oil, soy sauce, gochugaru, sesame seeds, rice wine vinegar and garlic in a bowl. Stir in sprouts; toss to coat. Top with green onions.
Chill at least 1 hour or up to 3 days before serving.
Note: Gochugaru (GOH-choo-gah-roo)is ground Korean red chilepepper flakes. It adds heat and a little smoke to dishes.It can be coarsely or finely ground. Sometimes it's labeled "red chile powder."
Gochujang-Butter Shrimp
Gochujang is a Korean mother sauce — a sweet and spicy base for so many recipes. Gochujang-flavored butter is delicious with shrimp and scallops.
Active cook time: 20 minutes
Total cook time: 25 minutes
1 teaspoon toasted sesame oil
3 green onions, chopped, white and green parts separated
16 ounces fresh or frozen medium shrimp, thawed if frozen, peeled, and deveined
1 teaspoon reduced-sodium soy sauce
1 tablespoon toasted sesame seeds
8 butterhead lettuce leaves
Heat butter and sesame oil over medium heat in a large skillet. Stir in white parts of green onion and the garlic; cook until softened and fragrant, about 1 minute. Add shrimp; cook, stirring, until shrimp are opaque, 3 to 5 minutes. Stir in gochujang, soy sauce and honey; toss to coat.
In a small bowl, stir together cucumber, carrot, green parts of green onion and sesame seeds.
Top lettuce leaves with shrimp mixture and cucumber mixture. Serve with lemon wedges.
Nutrition information per 2-wrap serving: 188 cal; 9g fat (4g sat);21g pro; 8g carb; 1g fiber; 296mg sodium; 4g sugars.
Reuben Pizza



The original recipe used a thawed 1-pound loaf of frozen whole-wheat breaddough for the crust. We thought a rye crust would make this pizza even more Reuben-y. It makes enough for one 14-inch crust or two thin crusts.
Active cook time: 30 minutes
Total cook time: 2 hours, 30 minutes
1 teaspoon packed brown sugar
1 (¼ ounce) package active dry yeast
½ cup Thousand Island dressing
2 cups shredded Swiss cheese
6 ounces deli sliced corned beef, cut into strips
1 cup sauerkraut, rinsed and drained
¼ cup sliced pickles (optional)
Make rye crust: Mix together flours and salt in a bowl and set aside. In another bowl, stir brown sugar into ½ cup hot water until dissolved. Stir in yeast and let stand until bubbling, about 10 minutes. Pour yeast mixture into flour mixture.
Stir together oil and remaining ½ cup hot water in a bowl, then add to flour mixture. Knead dough, adding more flour if necessary, until smooth and holding together. Shape into a ball and transfer to a bowl. Cover with a damp towel and let rise until doubled in size, about 1 hour.
Punch down dough and transfer to a lightly-floured work surface. Roll out to desired pan size. (If you have extra dough, it keeps up to 3 months, frozen, in a greased zip-top plastic bag.)
Make toppings: Heat oven to 375 F and grease a 14-inch pizza pan. Transfer crust to prepared pan; build up edges and pierce center with a fork so it won't form a dome when baking. Bake until golden, 20 to 25 minutes.
Spread half of salad dressing over hot crust. Sprinkle with half of the Swiss cheese. Arrange corned beef over cheese, then drizzle with remaining dressing. Top with sauerkraut and remaining Swiss cheese.
Sprinkle with caraway seeds.
Bake until cheese melts and toppings are heated through, about 10 minutes. Top with sliced pickles (if using) and let stand 5 minutes before slicing.
Nutrition information per slice: 470 cal; 24g fat (9g sat); 19g pro;44g carb; 4g fiber; 886mg sodium; 4g sugars.
Buffalo Chicken Mac and Cheese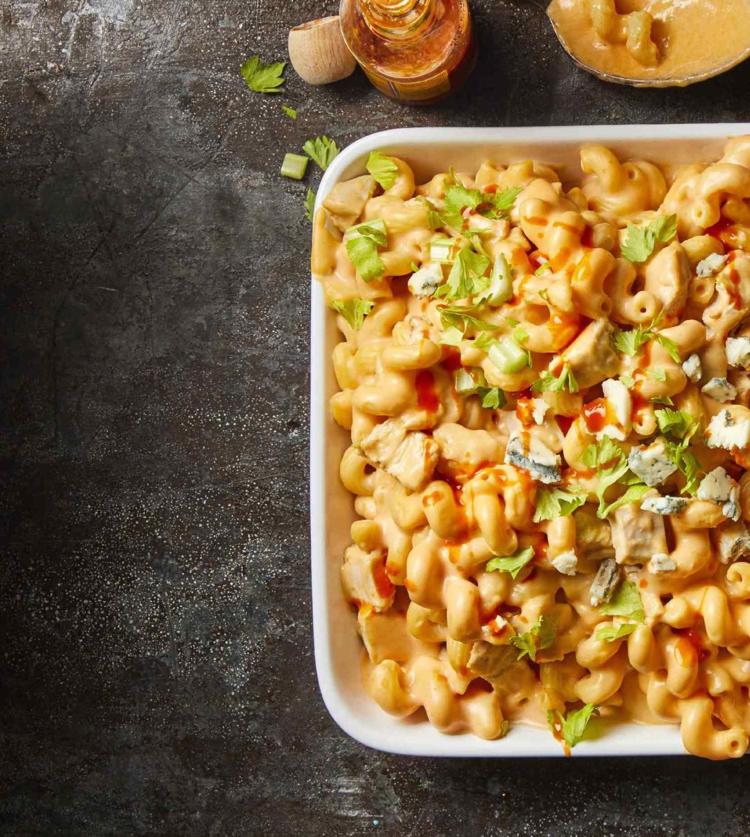 Here's a quick stove top mac that combines two of our favorite things: mac and cheese and Buffalo wings.
Active cook time: 15 minutes
Total cook time: 35 minutes
1 (16-ounce) package cavatappi
2 cups (8 ounces) shredded cheddar cheese
2 cups (8 ounces) shredded Monterey Jack cheese
¼ cup hot sauce (such as Frank's Red Hot), or more to taste
½ cup crumbled Gorgonzola cheese, plus more for garnish
1½ cups chopped cooked chicken meat (from 1 rotisserie chicken)
Chopped celery leaves, for garnish
Cook cavatappi according to package directions until al dente; drain.
Meanwhile, melt butter in a large Dutch oven over medium heat. Whisk in flour; cook, whisking constantly, until golden, about 1 minute. Add milk; cook, whisking constantly, until smooth, thickened and bubbly, about 6 minutes.
Reduce heat to medium-low. Add cheddar and Monterey Jack cheeses; cook, stirring, until melted. Stir in pepper and hot sauce to taste.
Fold in Gorgonzola, chicken and cavatappi; cook, stirring, until heated through. Garnish with additional Gorgonzola and celery leaves.
Nutrition information per 1¼-cup serving: 680 cal; 36g fat(21g sat); 35g pro; 53g carb; 2g fiber;957mg sodium; 6mg sugars.
Hot Muffuletta Dip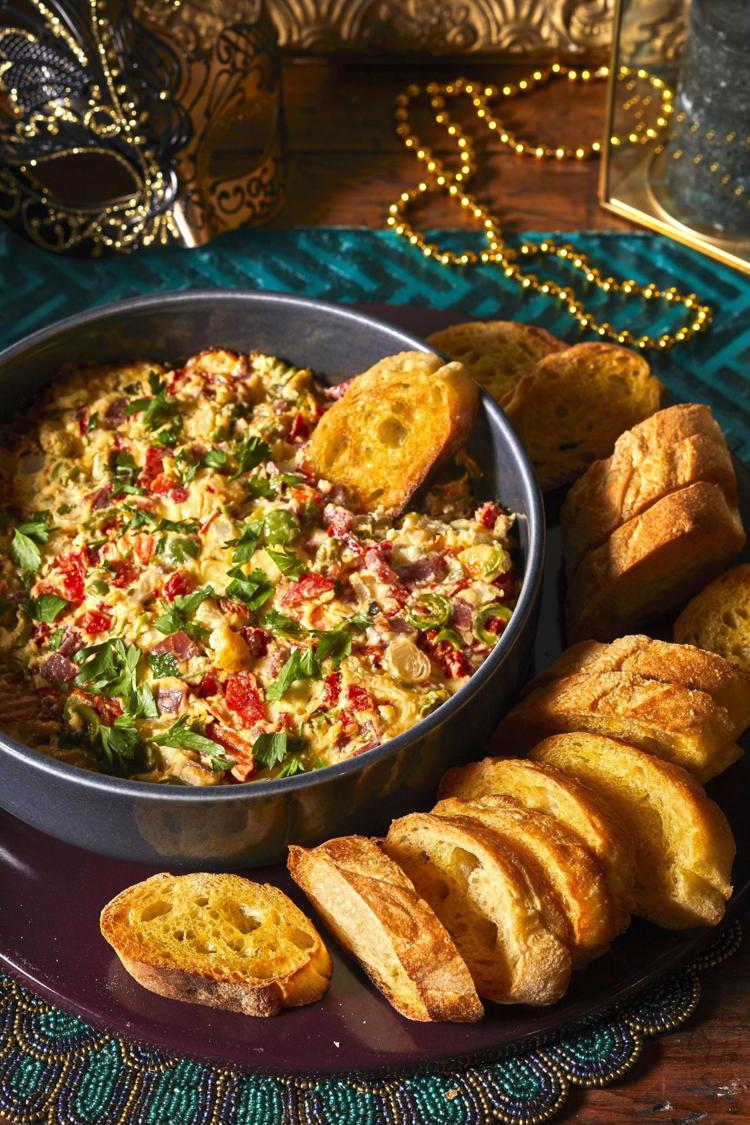 Inspired by the salty, spicy, pressed deli sandwich that's a New Orleans fave, this cheesy muffuletta dip can be prepped ahead and popped in the oven just before guests arrive.
4 ounces provolone cheese
6 ounce jar pitted green olives
½ cup giardiniera (pickled carrots, cauliflower, celery and hot peppers)
Cut cream cheese, provolone cheese, and salami into ½-inch cubes and put in a 9-inch pie plate or 2-quart baking dish.
Drain and coarsely chop pitted green olives, roasted red peppers and giardiniera. Add to pie plate along with minced garlic and hot sauce.
Toss together. (Dip can be made to this point and chilled, covered, up to 1 day.)
Bake until bubbling and hot, about 30 minutes. Sprinkle with 1 teaspoon chopped fresh parsley. Serve with crostini.
Nutrition information per ¼ cup: 153 cal; 14g fat (7g sat); 6g pro; 2g carb; 0g fiber; 532mg sodium; 1mg sugars.
Cheater Gumbo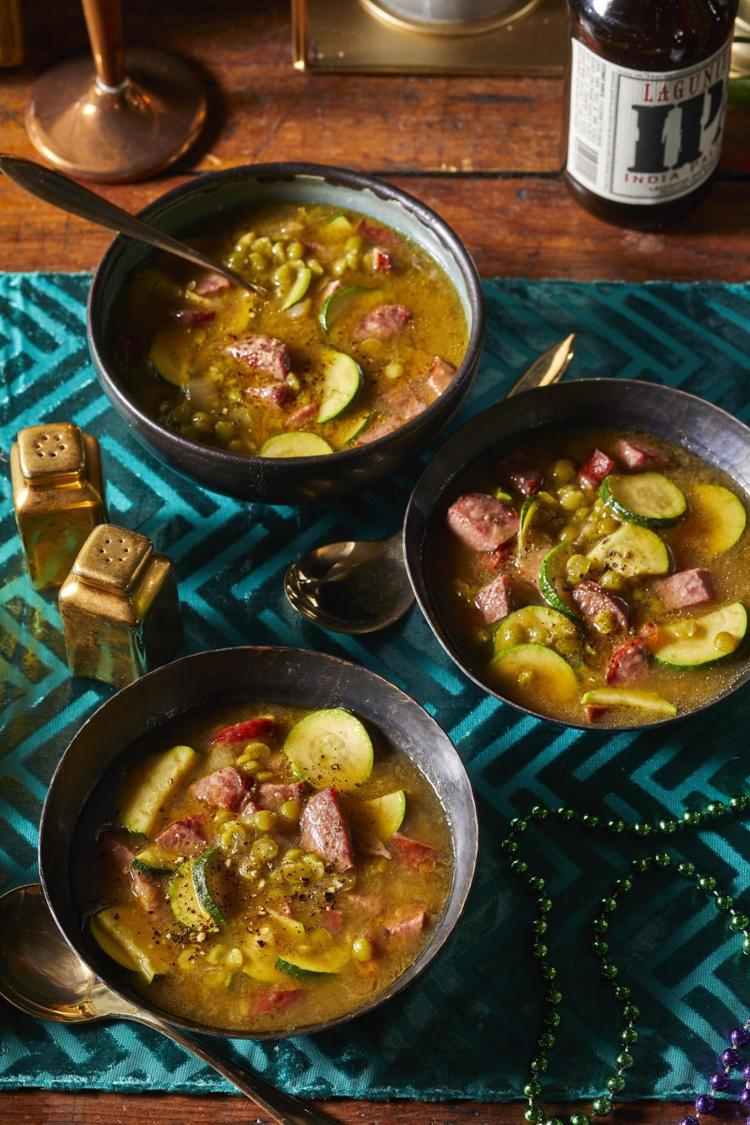 This started as a use-it-up soup and came out tasting remarkably like gumbo. The split peas and zucchini magically create the thickness, color and flavor you get from the traditional roux, bell pepper, celery, gumbo file powder and rice — without using any of them.
Active cook time: 20 minutes
Total cook time: 45 minutes
12 ounces chopped andouille sausage
4 cups low-sodium chicken broth
Heat olive oil in a 4-quart Dutch oven over medium heat. Add chopped onion and a pinch of salt; cook, stirring, until softened but not browned.
Increase heat to medium-high. Add andouille sausage; cook, stirring occasionally, until browned on most sides, about 10 minutes. Add chicken broth, split peas and bay leaves; bring to a boil. Cover, reduce heat to low, and simmer until peas are tender and beginning to collapse, 25 to 30 minutes.
Add sliced zucchini and simmer uncovered until tender, about 5 minutes more.Season with salt and pepper, if desired. Discard bay leaves.